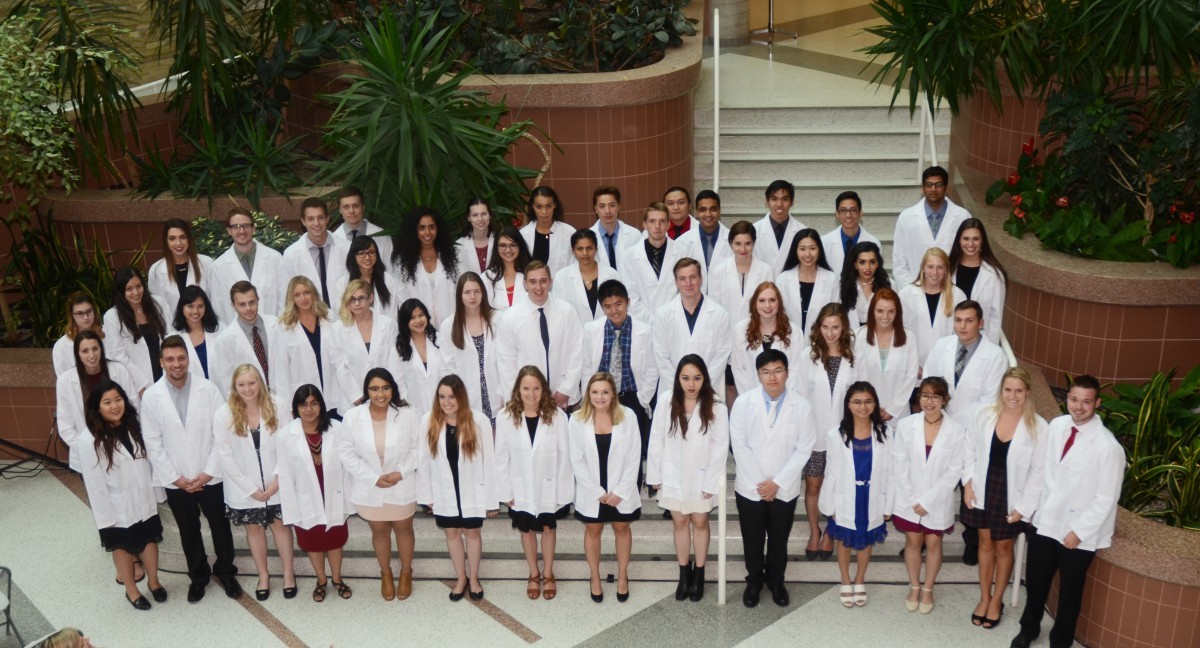 Welcome new Pharmacy students:
Class of '66 present white coats to future pharmacists
September 28, 2016 —
Both the past and the future of the pharmacy profession crossed paths last week as the class of 1966 helped welcome 52 students into the profession at this year's White Coat Ceremony on Friday, September 23 at the University of Manitoba's Bannatyne campus.
"The white coat is a symbol of dedication to responsibility, inspiration or excellence and designation of profession," said Dr. Xiaochen Gu, Interim Dean, College of Pharmacy, Rady Faculty of Health Sciences. "We believe that today will be an important milestone in your professional life and we want to assure you that the College of Pharmacy will stay with you in the coming years to train you, to support you until you become competent and productive health care providers."
Members of the pharmacy class of 1966 – who were also celebrating their 50-year reunion as part of U of M Homecoming events – took to the stage in a poignant moment to drape the future class of 2020 with their white coats.
Susan Lessard-Friesen from the College of Pharmacists of Manitoba put it best when she said the students were being passed a "virtual torch of trust from the profession of pharmacy, a profession that is proud of its long history of pharmacists making a difference each and every day of others."
Dr. Keith Simons, a guest speaker and Professor Emeritus, Class of 1966, advised the incoming students that to be effective pharmacists they must consider their own strengths and preferences when making career choices.
"Over the next four years you will hear about the changing face of pharmacy," Simons said. "You will need to identify the new challenges and opportunities that arise as you consider your personal career options in pharmacy. It is important that you choose a career path that is right for you, a career that utilizes your unique talents and abilities."
Student Award winners
Jenna-Julie Esteban – Marguerite Hulme Scholarship in Pharmacy
Jenifer Sharshonov – William G. Eamer/College of Pharmacists of Manitoba Undergraduate Scholarship
Emily Klekta – Pharmacy Class of 1966 Scholarship
Madison Vassart – Pharmacy Class of 1966 Scholarship