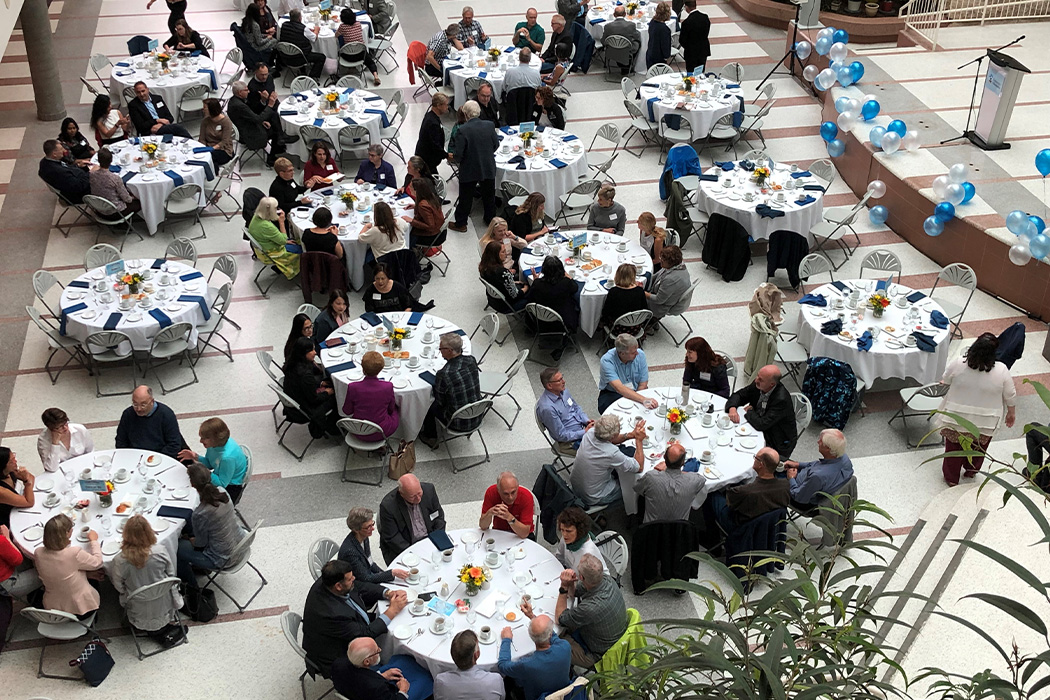 Welcome back to Rady Homecoming events!
September 22, 2022 —
The Rady Faculty of Health Sciences is pleased to welcome alumni back in person to campus to celebrate milestone reunions, university, faculty and college-wide events for UM Homecoming 2022, which takes place from September 21- 24, 2022. This year, 15 milestone class reunions from across Rady colleges are taking place!
It is the first time since 2019 that in-person events have returned, bringing back many of the traditional celebrations like the Rady Dean's Homecoming Breakfast for University of Manitoba alumni and community. If you are unable to attend in person, there are some virtual options available as well. Come together and celebrate what it means to be part of the University of Manitoba community past, present and future.
DISTINGUISHED ALUMNI AWARDS CELEBRATION OF EXCELLENCE GALA
Date: September 22, 2022
Cocktails: 5:30 p.m.
Dinner: 6:30 p.m.
Location: Manitoba Room, UMSU University Centre
Join the UM community during Homecoming 2022 to celebrate the accomplishments of five remarkable UM alumni.
This year's recipients are:
Arnold Naimark [B.Sc.(Med.)/57, MD/57, M.Sc./60]
Charlie Spiring [BComm(Hons)/80]
Peter McPherson [B.Sc.(Hons.)/86, M.Sc./88]
Pam Klein [M.Ed./83]
Carly McLellan [BA/16, MD/20]
Learn more about the Distinguished Alumni Awards.

MAX RADY COLLEGE OF MEDICINE
Class of 1972 Dr. Arnold Naimark Lecture in Medicine and Society
Date: Friday September 23, 2022
Time: 12:00 noon
Location: Frederic Gaspard Theatre, Bannatyne campus
"Mindfulness in Medicine"
Speaker: Edward Berinstein [MD/72] is a Fellow in the College of Family Physicians of Canada.
His clinical work includes all facets of family practice. Dr. Berinstein's introduction to Mindfulness
Medicine occurred in the 1970s when he arrived on BC's Sunshine Coast. He began hosting meditation groups in the 1990s which led him to the work of Jon Kabitt-Zinn in 2003.
Dr. Berinstein trained at the Centre for Mindfulness at the University of Massachusetts in Boston.
The lecture lecture can be viewed by livestream here: https://media1.cc.umanitoba.ca/TheatreA.html
For more info see the event listing.
DR. GERALD NIZNICK COLLEGE OF DENTISTRY
UMDAA Alumni of Distinction Awards
Date: September 23, 2022
Cocktails: 6:00 p.m.
Dinner: 7:00 p.m.
Location: Fort Garry Hotel
The University of Manitoba Dental Alumni Association in partnership with the Dr. Gerald Niznick College of Dentistry, Rady Faculty of Health Sciences and the University of Manitoba School of Dental Hygiene Alumni Association is pleased to present their annual celebration of alumni.
DEAN'S HOMECOMING BREAKFAST
Date: September 24, 2022
Registration: 8:30 a.m.
Program begins: 9:00 a.m.
Location: Brodie Atrium, Bannatyne campus
This event is open to Rady Faculty of Health Sciences alumni who are celebrating milestone reunions.
COLLEGE OF NURSING
College Tour and Reception
Date: September 24, 2022
Time: 1:00 p.m.
Location: Helen Glass Centre for Nursing, Fort Garry campus
Open to all nursing alumni. Tour of the College of Nursing including the simulation centre. Immediately following the tour there will be a reception with refreshments.