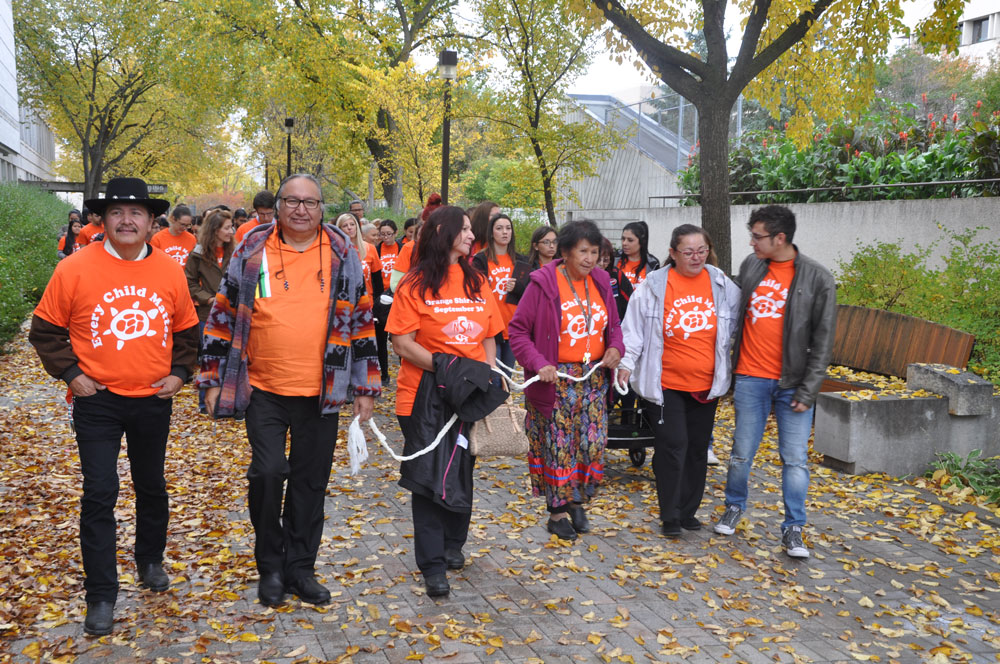 Walking the walk for a good cause
October 3, 2017 —
Close to 200 College of Nursing students and staff participated in this year's Every Child Matters – Orange Shirt Day Oct. 2 honouring the survivors of residential schools and pledging culturally safe nursing care.
Every Child Matters – Orange Shirt Day, is a now annual event that grew out of the Truth and Reconciliation Commission (TRC). Part of the event involves an awareness walk to the National Centre for Truth and Reconciliation (NCTR) on the Fort Garry campus, providing an opportunity for nursing students to honour the survivors of residential schools.
The Orange Shirt Day began in 2013 when organizers asked participants to wear an orange shirt for Phyllis Webstad, a residential school survivor who had her new orange shirt taken away on her first day of school in Williams Lake, BC.
At the end of the walk, nursing students delivered a pledge to the NCTR. Written by the University of Manitoba Nursing Students' Association and the Canadian Nursing Students' Association, the pledge states that students will practice culturally safe nursing care and will ally "with Indigenous children, youth, and their families to create an environment that supports, affirms, and celebrates all peoples."
By offering the pledge and wearing orange shirts, Every Child Matters – Orange Shirt Day provides an opportunity for nursing students to acknowledge and recognize the multi-generational impact of residential schools on the current and future health status and health services of Indigenous peoples.
After the walk, students and staff heard from Elder Marlene Kayseas and artist Elaine McIntosh who shared their personal stories as residential school survivors and the tragic legacy the experience has left behind.
For Kristen Pot, a fourth-year nursing student and Indigenous representative for the Nursing Students' Association, the Orange Shirt Day is a valuable eye opener for students.
"I think it gives nursing students a deeper understanding of the impact of residential school systems and how we can promote healing in our communities and promote culturally sensitive and safe care for anyone and everyone," she said.
Elaine Mordoch, Associate Professor in the College of Nursing, Rady Faculty of Health Sciences' also feels it's important to hear the experiences of those who lived through the residential school system.
"I hope that students hear the story but also hear the impact and then be able to see with compassionate eyes some of the problems Indigenous people still have now that still needs to be healed," she said. "There were addiction and health outcomes and family dynamics and all of that falling out from residential schools. Sometimes it's hard to get the whole picture but here we can hear from someone's lived experience."