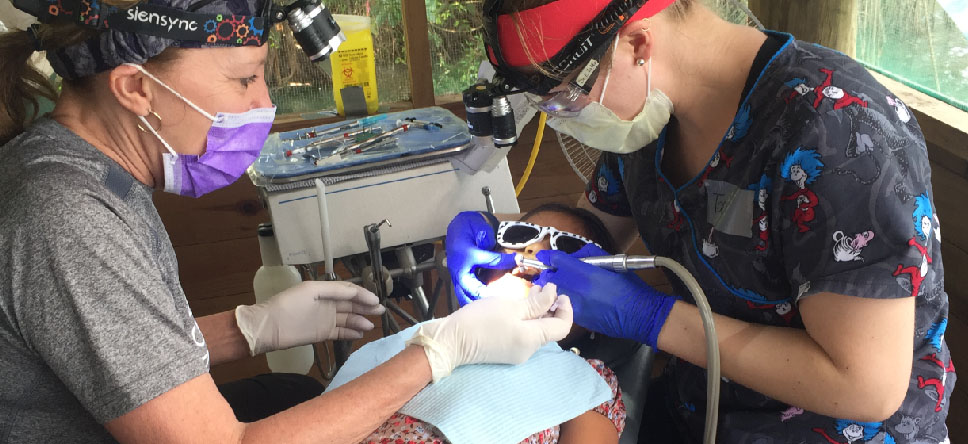 Volunteer dentists offer care abroad
October 29, 2018 —
Volunteer dentist Dr. Tara Kennedy knows all the words to her favourite song from the movie Frozen.
And now, so do a group of Spanish-speaking children in rural Guatemala who were receiving free dental care from the non-profit organization Dentistry For All (DFA).
Kennedy, a first-time volunteer with DFA in March of this year, estimates she sang Do You Want to Build a Snowman? about 100 times while performing dental procedures, from fillings to tooth extractions, to distract her young patients and put them at ease. "It doesn't matter that they didn't speak English," says Kennedy. "It was just something for them to pay attention to instead of the procedure."
The Calgary-based DFA is run and supported by volunteers. It provides dental education and preventive, surgical and restorative care in developing countries. Oral health professionals and students, who cover the cost of their own travel, typically volunteer for a two-week stint in Guatemala or Nicaragua.
Dr. Brad Krusky, director of operations at DFA and a part-time instructor in preventive dental science at the Dr. Gerald Niznick College of Dentistry, wishes more dental schools would embrace externships like the ones offered through DFA and allow students time off to participate in volunteer humanitarian work.
"I want more dental and grad students to get this kind of experience before entering the 'real world' of the business of dentistry in Canada. It changes people," he says. "It helps us to become better people."
Kennedy, who is in her final year of the master's of pediatric dentistry program at the U of M, plans to start a pediatric dentistry fellowship in Melbourne, Australia next August. She still struggles with how the children feel about their sometimes multiple, sometimes painful dental treatments.
"I'm always worried that kids will just remember the discomfort of having the dental procedures done," she says.
A case that stands out for her in Guatemala was that of a four-year-old boy who arrived at the clinic in a great deal of pain. After a round of antibiotics, days of treatment and evaluation, the DFA team determined that he would need multiple extractions.
"They were some of the most difficult extractions I have ever done. But even though there was a language barrier between us, I think he really understood that I was just trying to help," Kennedy says. "Afterwards, he came up to me and hugged me." His support worker later told her that he was back to happily running around, playing and eating.
Krusky recounts a time when the DFA team not only addressed someone's oral health, but also saved a life. Fifteen-year-old Eddy came in with mouth pain that ended up leading to extensive work. The team pulled seven infected teeth, temporarily stabilizing and restoring six more. Two days later, the teen fell very ill and had to be rushed to the hospital. There, they diagnosed him with a heart condition.
"In his weak state of health, the dental treatment had overwhelmed his system, and we were told that with his heart condition and the state of the infections in his mouth, he likely would have died of heart failure and no one would have ever known what happened," Krusky says. The boy made a full recovery.
With so little time at the Guatemala clinic and so many patients to treat, Kennedy was impressed with how well the whole DFA team worked together.
"Everyone was ready to step up and do whatever needed to be done, even if it was just hanging something up or cleaning," she recalls.
While this was Kennedy's first year volunteering with DFA, it won't be her last. "I'm so grateful for the opportunity and I'm sure my experience with them will be a long-term commitment," she says.