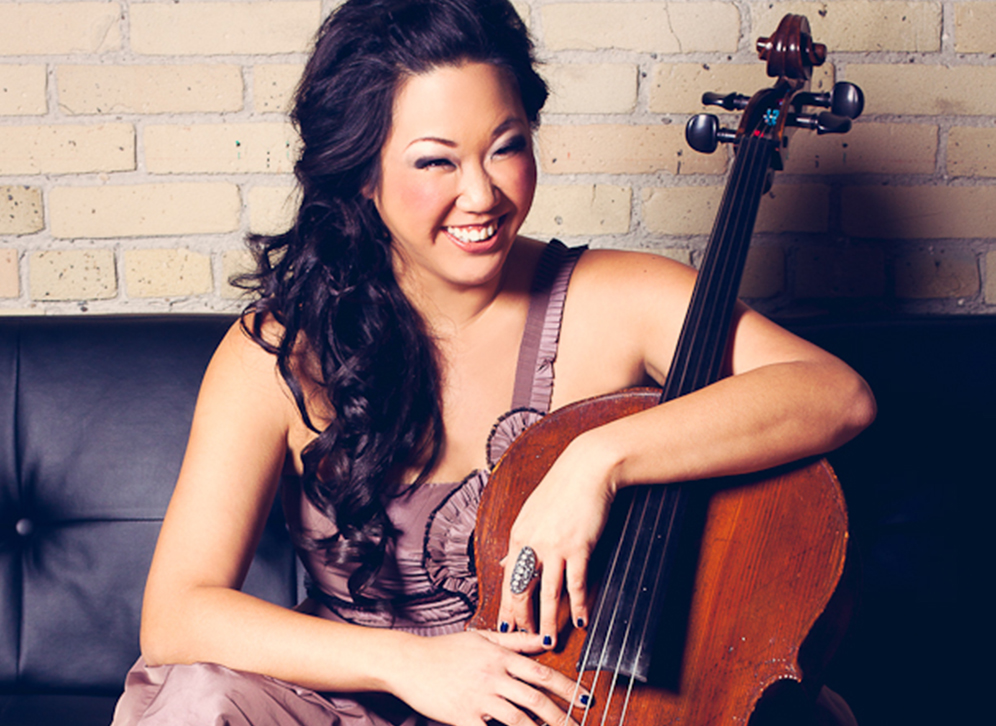 Viva revolutionary Beethoven!
March 27, 2015 —
"You have to believe in something," cellist and Desautels Faculty of Music music professor Minna Rose Chung often tells her students.
Belief is key, a commitment, passion and energy that inform her approach to her instrument and to her playing. And for the past year, in celebration of her tenure, Chung has been pouring it all into a special project to play all five of Beethoven's "revolutionary" cello sonatas, as she calls them. On Monday March 30, along with special guests and friends from the Desautels Faculty of Music, Chung will perform the final two.
The concert will feature the final two Beethoven sonatas, Op. 102, No. 1 and Op. 102, which Chung will perform with Desautels Faculty of Music's Laura Loewen and guest artist Katherine Lee on piano. Guest artist Desiree Abbey (cello) will also perform the Beethoven Twelve Variations on a Theme by Handel. Ticket sales will go the Rose Scholarship for musical excellence at the Desautels Faculty of Music, a new university endowment started by Chung. With all donations being matched by the U of M, the goal is to raise $30,000 in the next five years.
Virtuosic and exciting, the seminal works composed by Beethoven between 1796 and 1815 are considered revolutionary because they mark a first in pairing the cello and piano as equal partners. The sonatas are also quite a feat for pianists, Chung says, since the composer himself was a pianist. She notes the "immense amount of technique and artistry that goes into the piano part which allows the cello part to sing."
Chung: "I don't have much fear about what people think."
In her travels she's noticed a massive output of the Beethoven sonatas over the past five or six years.
"Now cellists are playing all five in one concert — like with the J.S. Bach Cello Suites, all in one candlelit night. All five in one concert — sometimes with the same pianist and sometimes with different ones."
For Chung, these sonata performances are also a stepping stone to recording the works, which she will do next with her British management company. Recording is something she's not yet tackled, preferring instead the energy of the live performance.
She's been called "a bright light on the Winnipeg cello scene; her intelligent musicality and rich resonance [are] valuable additions to any ensemble … devoted and playing with admirable gusto!" (Winnipeg Free Press).
How does Chung describe herself as a player? "I really don't have much fear about what people think. And I don't seek out reviews either. Luckily, up to date all of my performances are live; I haven't recorded and nothing is imprinted permanently. In the next chapter, I'll have to think about that."
Chung: 'A bright light'
And in a live performance, she always has an urge to do something different, she says. "It's fun. And all the pianists I work with are keen on [changing]. I'm very spontaneous. When I come back to a piece, I will always change the bowing of a phrase, or the fingering or the colour of something — because I feel like if I don't do that, then I haven't grown, as a musician, as an artist…. It keeps things really fresh."
In fact, Chung would rather risk a negative reaction than none at all.
It's the same advice she has for students. "I tell my students to avoid YouTube before your first blush with the piece — as famous as it is or is not. Don't fill your ears with what other people have done. I think that's a great disservice. I think the more important thing is to be true to yourself.
"You're always going to have someone who doesn't like your interpretation, but at least they'll have a violent reaction to it! At least they will tell you they don't like it — or maybe they do. there's a value of imitation when you're young. There are certain boundaries you have to respect [but] when you're in college and in your exploratory years, the best thing you could do is surprise me. Do something completely different."
Chung tours internationally as a soloist and chamber musician and is also director of Project Rio, a multi-collaborative program that supports the Rio International Cello Encounter through master classes and faculty performances in Brazil.
In 2014 she was awarded the U of M's Rh Award for her contribution in the Outstanding Creative Works category for her cello pedagogue research, collaborations and international performances, and she is currently co-authoring a modern cello pedagogue book, The Cello Mind, A Guide to Great Intonation and Cello Technique.
Technique backed up by commitment, passion and energy is clearly what Chung herself lives and plays by. When students are "struggling to find the essence of the piece, and it's just not there for them," she says, "I tell them, 'You just have to believe in something.' As crazy as it is, you just have to, for the first few days, just pretend an emotion and then develop that bit of inspiration or intuition that you have — and from there, just put everything you have into it. In a sense that's what it is.
"If the performer doesn't believe it, the audience won't either."
— Mariianne Mays Wiebe
Concert: "Beethoven's Revolutionary Cello Sonatas"
Monday March 30
7:30 p.m. Eva Clare Hall, 65 Dafoe Road
The Late Beethoven Sonatas for Piano and Cello Op. 102 no. 1 & Op. 102, no. 2. Written in 1815 during the composer's final creative period, these sonatas exploit the cello's cantabile potential more fully than was previously possible, treating both instruments equally as partners.
Also on the programme: The Beethoven Twelve Variations on a theme by Handel.
Performances by cellist Minna Rose Chung and pianist Laura Loewen.
Special guest artists: Winnipeg cellist Desiree Abbey and pianist Katherine Lee.
Tickets at the Door: $15/general $5/student ID.