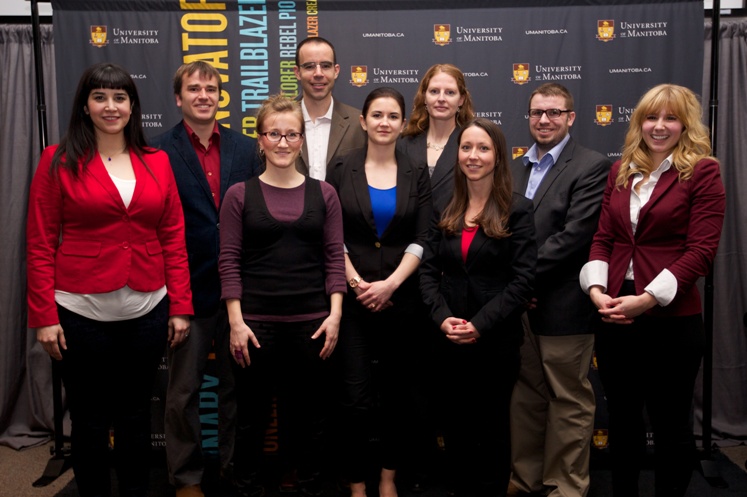 VIDEOS: 3MT winners show off their skills and brains
March 17, 2014 —
On Feb. 25, nine University of Manitoba graduate students shared new frontiers of knowledge in the second 3MT® competition at the University of Manitoba.
The Three-Minute Thesis competition challenges graduate students to compress years of research into one short, interesting, straightforward three-minute presentation using only one slide.
"The calibre of this year's finalists was exceptional and we are very proud of all of them," says Jay Doering, vice-provost of graduate education and dean of graduate studies. " Collectively, they have showcased the diverse and relevant research taking place at the University of Manitoba."
This year's winner is Andrea Edel, a doctoral student in physiology, who presented "Flaxseed: A Modern Prescription for High Blood Pressure and Cholesterol." She won $5,000 to help further her research.
"3MT was a personal challenge for me" Edel says. "My goal in participating was to see if I could actually summarize my research into 3 minutes in a way that was meaningful to everyone, be able to memorize it and then say it in front of my peers without blanking or missing a beat.  It was both terrifying and exciting and I'm encouraging other graduate students to go out there next year and challenge yourself to participate in 3MT.  It was such a personally rewarding experience.
"A definite awareness of our research has also been a real benefit to myself and my supervisors.  People are constantly telling me now how they are adding flaxseed to their diet to improve their health!  Way to go!"
Edel is heading to the regional competition in May, and although we'd love to show you her video, we don't want to give away her secrets (spies abound). But here are some other videos showcasing this year's incredible talent.
"Today's research scientists have to communicate their ideas and results effectively to colleagues and the general public alike, be it orally or in writing," says Peter Cattini, head of the department of physiology. "The 3MT is the perfect opportunity to develop, refine and demonstrate these skills, and I'm proud that three students from Physiology, Andrea Edel, Emma Hauch and Stephanie Caligiuri, made it to the final nine, and of course that Andrea ultimately was awarded top prize. Brilliant!"
Second Place winner
Olivia Sylvester, a doctoral student in the Natural Resources Institute, won the second prize and was awarded $2,000. She explained how protecting rainforest biodiversity is at odds with Indigenous rights to food.
"3MTs are quick, engaging, and empowering; my 3MT experience allowed me to share my research, about human rights to food, to a new and expanded audience that may not have otherwise heard about these important issues," she says. "The 3MT has opened doors to talk about my work, on CBC radio and in other social settings, and to plant tiny ideas that can generate big social changes."
"People's Choice" award winner
Havva Filiz Koksel, a doctoral student in food science. She described how high-tech analytical devices can help scientists create the perfect loaf of bread.
"The highlight of the competition for me was being able to share the 3MT experience with the top notch graduate students from various departments at the University of Manitoba," she says. "It once again let me see how diverse and cutting edge the research is at the University of Manitoba."
To watch more 3MT presentations from this year, click here.
Research at the University of Manitoba is partially supported by funding from the Government of Canada Research Support Fund.