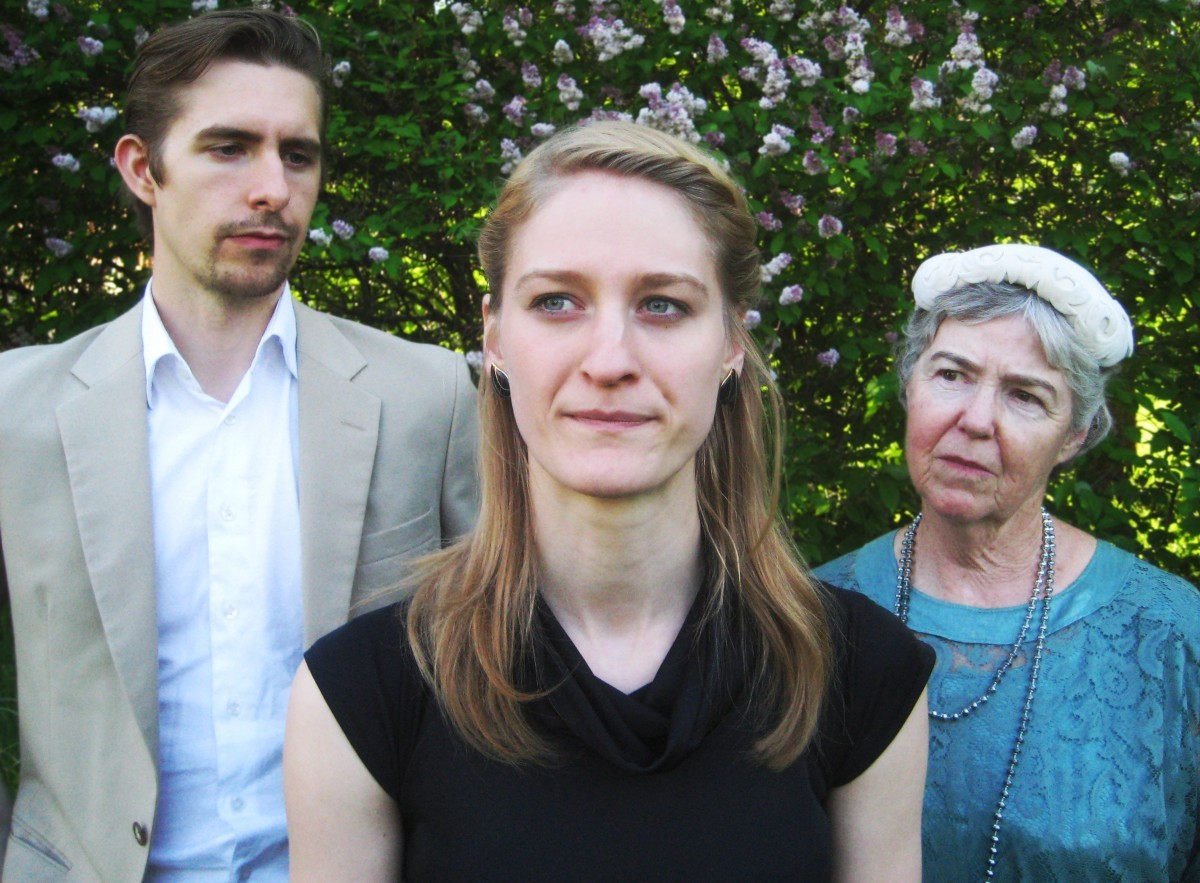 Vice, lobotomy and other unthinkable summer delights at the Winnipeg Fringe Festival
July 18, 2014 —
The Winnipeg Fringe Festival is chock-a-block with U of M alumni, staff, faculty and students, starting at the top. The executive producer of the Fringe is alumnus Chuck McEwen, while alumnus Jason Neufeld takes on the role of festival manager. Alumnus Tim Webster and his wife, Xian, coordinate the Kids' Fringe; alumni Ainza Bellefeuille, Eric Bosse, Garrett Rusnak and Karen Schellenberg are venue technicians. Schellenberg is also production manager of the Black Hole Theatre at the U of M. With more than 170 companies from across Canada, the 10-day festival, which runs until July 27, offers fare for every palate. Here are some that feature UM folks.
***
Tennessee Williams' Suddenly Last Summer is kind of a spooky play, like a Southern Gothic version of The Eternal Sunshine of the Spotless Mind. The story centres on Catherine, a young woman threatened with a lobotomy that will cleanse her mind of horrible memories — or lies. To avoid it being "cut out of her brain," she must convince her doctor that her story is true. Since the story concerns both the brutal fate of her male cousin and his very character — and since his mother refuses to imagine anything other than her own purest fantasy about her child — Catherine is in a difficult spot.
If you like your theatre rife with questions and bristling with the mystery of human behaviour, this play's for you. It's being mounted at the Winnipeg Fringe Festival by The 28th Minute, directed by Kevin Ramberran, department of English, film and theatre grad student and alumnus, with the assistance of alumnus and UM Rhodes Scholar Thomas Toles. A stellar cast includes Faculty of Arts students Erin Thorleifson, Lyndon Radchenka, Laurie MacDonell and Sarah Putnam, and alumna Katilynn Porath. It's stage managed by Winson Jackie Lee, a current student.
UM Today spoke with the play's director about why the company chose to stage Suddenly, Last Summer, and what the audience can expect from this production.
Why Tennessee Williams' Suddenly Last Summer?
Kevin Ramberran: Selecting a play to produce for the Winnipeg Fringe Festival, The 28th Minute (the theatre company started by Thomas Toles and myself) looks for full plays with a lot of depth. The Festival is a great opportunity for audiences to check out all sorts of different types of theatre. There's sketch shows, improv shows, one person shows, dance shows and shows by local playwrights. I like to see the Fringe as a rare opportunity to stage a larger scale production. The 28th Minute wants to be the theatre company you look for at Fringe when you want to see a full-on play. When I picked up Suddenly, Last Summer I was immediately grasped by the beautiful language that Williams uses. He has a fantastic way of conveying images and stories through his characters and dialogue. Though the play seemed like it would be quite a difficult script to produce, I wanted to meet the challenge head on. I'm drawn to the fact that the play takes both the actors and the audience to emotional places that are unusual (and sometimes frightening). Upon reading it, I knew it wasn't a play that the audience would simply be able to leave on the stage.
What can the audience look forward to from the cast of Suddenly Last Summer?
KR: One of the beautiful things about Suddenly, Last Summer is that the characters aren't extremely spelled out for the actors. Though Williams loves to describe situations and characters with poetic language, it's never quite clear how he wants them portrayed. I find this exciting as it allows for the cast to really have an active hand in the way the play comes together. Erin Thorleifson's interpretation of Catharine Holly is one that we worked on quite a bit and I'm very proud of all the work that she's done. Jane Burpee is one of the most kind and gentle individuals you could ever meet and yet she brings a wicked ferocity to Mrs. Violet Venable that just works so well. I think the audience can look forward to watching a forward thinking, innovative cast add their ideas to some superbly written classic characters. The real force behind this show is the cast and their ability to paint vividly beautiful (and unsettling) pictures with their words.
Do you have a favourite scene?
KR: Picking a favorite scene is tricky. I can describe some of my favourite moments. There's a beautiful occurrence at the top of the show as Mrs. Venable (played by Jane Burpee) has a lovely conversation with Dr. Cukrowicz (played by Justin Otto). Both actors have done lots of work in the city but Jane Burpee has been acting for years whereas Justin Otto has broken out of the gates quite recently. It's wonderful to see that two actors who have such differing levels of experience can have such chemistry. The play is quite intense and can really get quite wrought with tension. There's some hilariously spectacular moments that occur when Mrs. Holly (played by Kaitlynn Porath) and George Holly (played by Lyndon Radchenka) take the stage. It momentarily subdues the tension and allows the audience to really laugh at some of the things going on onstage. I'll be vague so as to not give anything away, but the ending of the play is also just so excellently performed by the entire cast that it's near impossible for the audience not to be drawn into the intensity of the show.
***
Only Just… by Broken Still Productions also explores the dividing line between the real and ideal. Written by alumna Megan Andres, Only just … is being directed by Professor Chris Johnson from the department of English, film and theatre, and the cast includes alumni Jeremy Rampton, Natashia Durand, Tim Gray and Andres. The play is stage managed by current Faculty of Arts student Dan Tompkins.
Johnson calls it a "very clever play" that deconstructs the romantic comedy genre, while poking a bit of fun at it. "The play also has a serious side," he says, including a lot of subtext and undercurrents. It's billed as "a fast-paced, honest and at times uncomfortable roller coaster of dramedy exploring love, friendship and thwarted dreams."
***
See this UM Today story on the U of M folks behind two more productions:
In this House: Vices, Virtues and Vixens is written and directed by current Arts student, Shaylyn Maharaj-Poliah, and performed by an all Arts student cast: Kaeleigh Ayre, Jeremy Zloty, Ian Bastin, Renata Echtenkamp, Kat Petrash, Lindsay Bodnar, Jayse Meyer and Loren MacDonald.
Wang Dang by Tom Noonan, directed by Professor George Toles, department of English, film and theatre, and performed by alumni Ivan Henwood and Kerri Wolosyzn and Jane Walker, who is an alumna and a U of M support staff employee. The stage manager is alumna Carol Moriyama.
***
Other shows by Faculty of Arts student, staff, faculty and alumni:
Substitute Teacher from Hell: A one-woman show directed by alumna Erin Essery and performed by alumna Vicki Rutkowski. GOD by Woody Allen: Directed by Natalie & Emma Dacquisto (alumni) and performed by a cast which includes Arts students Dan Grant and Mark Finnbogason, and alumni Logan Stefanson, David Fox and Tim Gray. The stage manager is current student Laurie MacDonell. Quo Vadis composed by Olaf Pyttlik, book by alumnus Angus Kohm: ctors include alumni Jeff Strome and Gord Tanner. Making Believe: A one man kids' show written and performed by alumnus Jason Broadfoot. Spec. Ed.: A one man show written and performed by alumnus Leith Clark. Lies of a Promiscuous Woman: The cast includes alumna Theresa Thomson. In Wonderland: Created by alumna Theresa Thomson and performed by her students at MTYP. Communion by Daniel MacIvor: Directed by alumna Carly Gallant, and stage managed by current student Meaghan Labossiere. Cast includes alumna Karen O'Brien. Little Red by alumna Frances Koncan, who also directed. Bloodsuckers by alumnus Joseph Aragon and directed by alumnus Leith Clar: The cast includes alumni David Fox and Kelly Rae Jenken. MITTELSCHMERZ: A one woman show written and performed by alumna Kim Zeglinski. Undress Me by Kevin P. Gabel: Directed by alumnus Ivan Henwood. The War and Peace Show by Debbie Patterson: The cast includes alumni Sarah Constible, Ross McMillan and Gordon Tanner. XHL By alumnus Raphael Saray , directed by alumnus Paul Madziak. Cast includes alumna Sandy Krahn. Brain Cravers: Performers include alumni William O'Donnell and William Jordan. Cursed. Performers include alumnus Mike Trakalo. Mennonite's Guide to Savage Street Fighting, Part 2: This Time It's Cultural: Performers included alumnus Tim Webster. Chubrub Cabaret. Performers include alumna Ray Eskritt. Vampire Lesbians of Sodom: Performers include alumnus Tony Porteous. Cruisin' in September is presented by The Marketplace Players and the on-air personalities of Winnipeg's Energy 106 — it includes support staff member Chris Reid. Godspell features several Desautels Faculty of Music students and alumni, including alumnus Paul De Gurse (jazz piano) as the musical director, second year voice student Elliot Lazar as associate musical director, cast members alumna Jacqueline Harding (voice) and alumnus Adrian Pecold (voice) and fourth year voice student Wes Rambo. The band is comprised of 3rd year jazz guitar student Cole Moreau, percussion alumnus Matt Abraham and current second year piano student Rachel W.R. Dueck.
If you know of other U of M related shows, please let us know in the comments below!
Research at the University of Manitoba is partially supported by funding from the Government of Canada Research Support Fund.