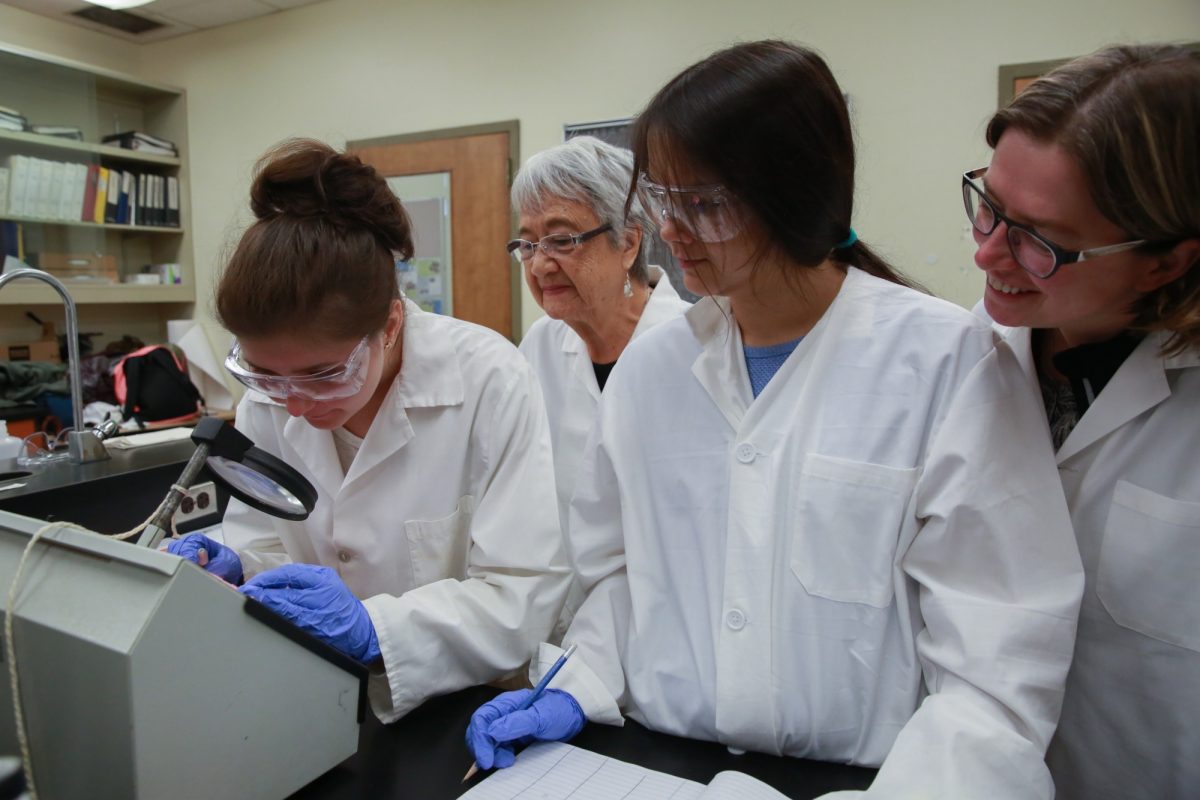 Verna J. Kirkness program returns to UM campus
May 10, 2023 —
The Verna J. Kirkness Education Foundation (VJKF) program returns to UM May 8-12 as part of the 2023 program with universities across Canada. During their week on campus, high school students will experience the excitement of doing research and learning about the supports available on campus. The goal of the VJKF Program is to involve motivated role models to foster the importance of high school and postsecondary education among Indigenous youth across Canada.
The Foundation was originally established in 2008 as the Family Food Research Foundation to increase enrollment of First Nations, Métis, and Inuit students in post-secondary science programs. In 2010 the program caught the attention of Indigenous education leader Dr. Verna J. Kirkness, who agreed to lend her name and sponsorship. The first VJKF program was offered in 2012 with UM as host, and quickly expanded to universities across Canada, bringing Indigenous high school students for a week of interaction and learning with university professors.
"UM has a long history of support for young Indigenous scholars, which also includes the Manitoba Indigenous Science and Engineering Fair, another event that returned in-person event earlier this year. This year is no different, with an overwhelming response from UM researchers to participate," says Annemieke Farenhorst, Associate Vice-President (Research). Farenhorst was among UM's first faculty mentors for the VJKF program in 2012, and currently serves as a board member for the Foundation.
"The opportunity to interact with Indigenous youth from across Canada and work as a team on water quality research is a highlight of each school year for me. Many of the young people I've met through the VJKF program enrolled in university programs and graduated with science degrees. It is the VJKF program that helped provide youth with an opportunity to see themselves as an integral part of a bright future."
Recently Governor General Mary Simon also took notice of the VJKF program and granted the Foundation Viceregal Patronage. The Governor General plays an important part in promoting Reconciliation and education, which aligns with the Foundation's work to support Indigenous youth and students.
"It's an honour that Her Excellency The Right Honourable Mary Simon has accepted to become a Patron of the Foundation," says Verna J. Kirkness, "Being Indigenous, she will provide considerable motivation to our students who view her as a role model of distinction. We look forward to supporting Her Excellency with her ongoing priorities and work with Indigenous Peoples through our work at VJKF."
For further information about Governor General Mary Simon's Viceregal Patronage for VJKF, read the full press release.
Research at the University of Manitoba is partially supported by funding from the Government of Canada Research Support Fund.