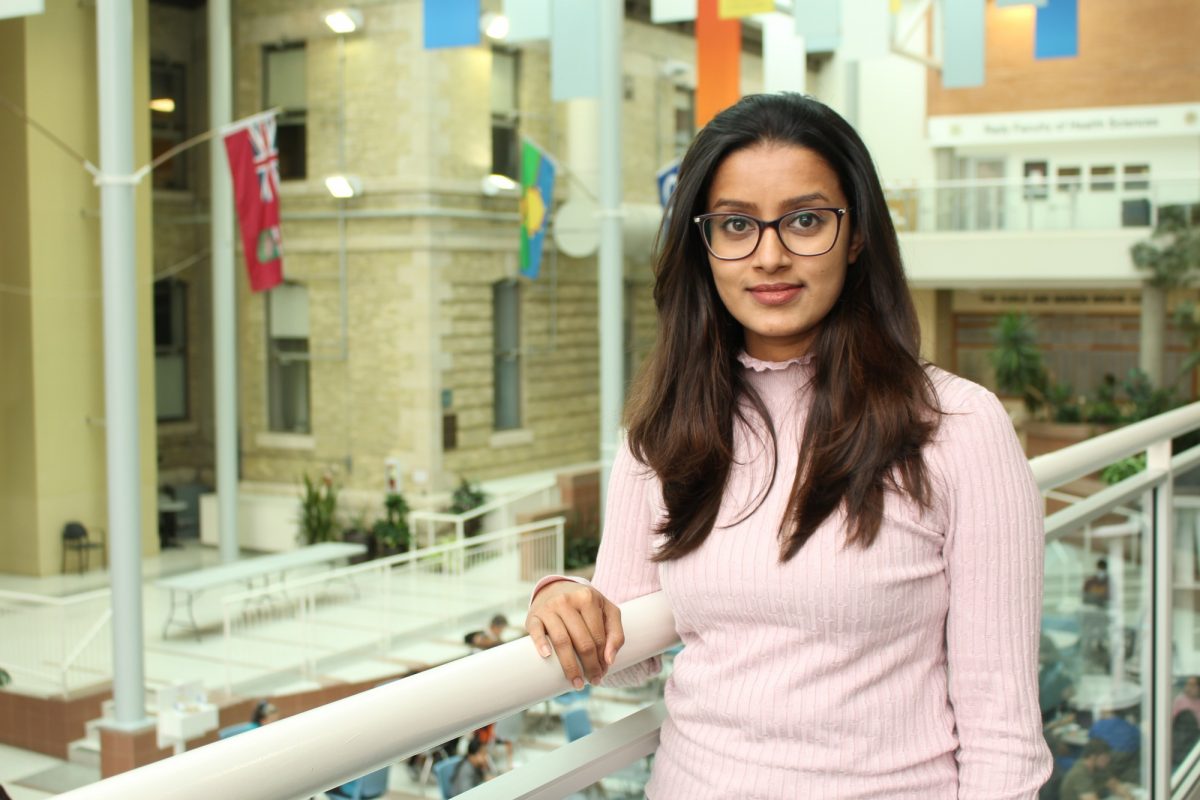 VADA program focuses grad student research on health data, patient well-being
November 23, 2022 —
The Visual and Automated Disease Analytics (VADA) program, a joint initiative between the University of Manitoba and University of Victoria, trains graduate students in cutting-edge visual and analytic techniques enabling them to translate complex health data into insights that can be used to improve the health of populations, detect and manage infectious disease outbreaks, and support health professional decision making.
Muditha Bodawatte Gedara is in her last year of the VADA program and the second year of her PhD in Community Health Sciences at UM. She completed her undergraduate degree in Sri Lanka and came to Canada in 2019 to do her master's degree in Statistics.
Why did you choose to apply to the VADA program?
I did both my undergrad and master's in statistics. I was interested in working with health data and using statistical techniques to analyze them.
I found out about the VADA program from my PhD supervisor Dr. Lisa Lix, director of the Data Science Platform, professor of community health sciences and Canada Research Chair in methods for electronic health data quality. I saw this program as an opportunity to put the knowledge I gathered into practice in public health. I did my bachelor's, master's and PhD all back to back, so my experience in real-world health data analysis was limited. I saw the VADA program as an opportunity to get that experience.
What's the focus of your research?
It focuses on patient-reported outcome measures (PROMs) which are appraisals from patients about their well-being and quality of life. This data provides information related to health-care interventions like surgery. However, patients' interpretations of these outcomes may not be consistent over time. They may change their responses when they have knee replacement surgery or a major health event. It's called a response shift. Ignoring this bias can lead to incorrect conclusions about the effectiveness of health-care interventions.
My research creates methods to detect response shifts in PROMs data and groups patients with similar patterns of response shifts. I will develop a statistical model for data collected over time that uses unsupervised machine learning techniques and combines them with item-level statistical models to test for response shift. This project will lead to valid and sensitive PROMs that can be used to tailor health care to the patient's needs.
Where did you do your internship? What did you learn there?
I did my internship at Manitoba Health. I was given a project where I could apply the skills I developed through the VADA program like the use of tools to analyze and visualize health data.
My project set out to find out how take-home naloxone kits are distributed and used. We created an e-form to automate the data flow, designed a database and a report by analyzing the collected data to distribute among the community organizations, and presented it to distribution site members and stakeholders to get their feedback.
What have you found most rewarding in the VADA program?
Everything about the VADA program is rewarding. It's a collection of all these opportunities in one place. We were able to collaborate with students and researchers from several disciplines like computer science, statistics, health sciences and psychology. The summer school and internship helped me to network with experts in several fields and learn from their experiences. I learned about interactive data visualization software like Tableau. The skills I have now are so much stronger than when I first joined this program.
What's next once you complete the VADA program?
I really enjoy working in an academic environment with professors and other students and contributing to new research projects. I'd like to be a researcher in biostatistics and quantitative epidemiology. I have always wanted to work in a field where I can contribute my knowledge to make an impact on the public good. I think research in biostatistics will be a good opportunity to contribute to public health in Canada.
Applications for admission to the VADA program open on November 21, 2022 and are due January 30th, 2023. To learn more or apply, visit the VADA program website https://vada.cs.umanitoba.ca/.