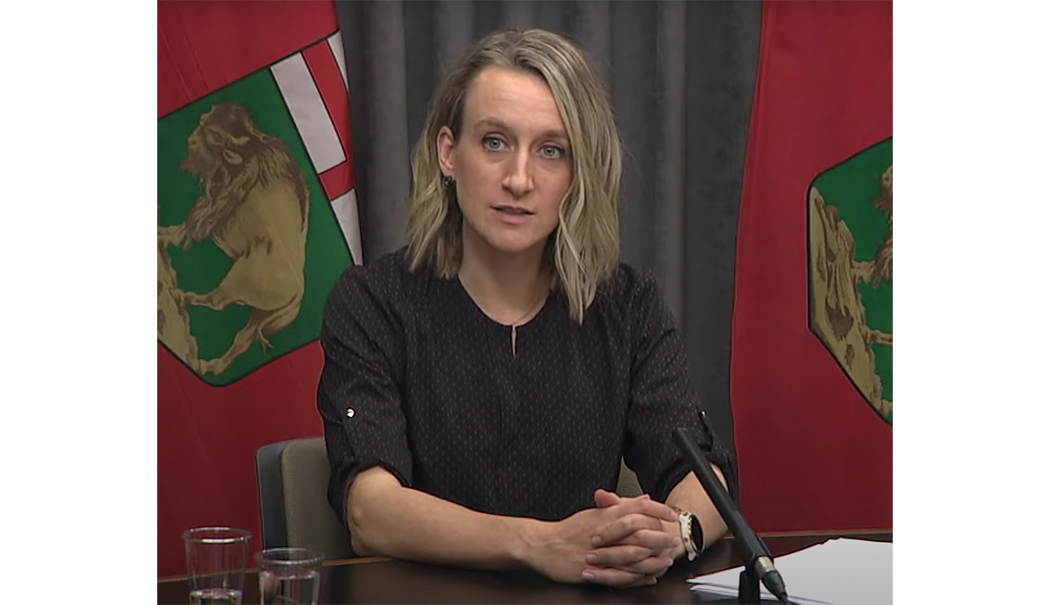 Vaccine Voice
December 8, 2021 —
When Manitobans need the latest news about the provincial rollout of COVID-19 vaccines, Joss Reimer [MD/08, MPH/13] is their official source.
The UM alumna in medicine and public health is the medical lead for the Manitoba Vaccine Implementation Task Force. She has become a familiar figure, reaching the public via print, broadcast and online news outlets, as well as social media.
Outside of the COVID-19 pandemic, Reimer works mainly as the medical director for population and public health at the Winnipeg Regional Health Authority. When she was offered the vaccine medical lead position in December 2020, she didn't think the job would be as big as it is now.
"Becoming the public face was a bit of a surprise," Reimer says.
She says it's an emotionally challenging job because it generates a lot of criticism, regardless of what decisions her team makes. To overcome the critics, she encourages her team members to keep working hard and stay focused.
Reimer and her team review the latest data from scientific studies to decide how to implement the vaccines in the safest and most effective ways possible. They make decisions about what part of the population to prioritize, where to send doses and how to send them safely.
"Scientifically, this is really difficult work because the science changes every single day, so we're having to flip our approaches all the time," Reimer says. "But that's part of a pandemic. The whole world is learning at the same time."
As of mid-May 2021, Reimer and her team had co-ordinated the distribution of more than 765,000 vaccine doses across the province.
"I love being able to represent a team that is working so hard," says Reimer, who grew up in Winkler, Man. "I love being part of the solution. We've spent the last year and a half with public health being the bearer of bad news. It's so rewarding to be able to share some of the light at the end of the tunnel."
Reimer has been a medical officer of health since 2012, focusing on sexually transmitted infections, such as syphilis, and on drug policy.
In 2017, she led the creation of the provincial distribution program for naloxone, the drug that can save the life of someone who has overdosed on an opioid, such as fentanyl. "I'm really proud of my work to get Manitoba to provide naloxone kits for free," she says. "I think I'll look back on that as a great achievement in my career."
Reimer earned her medical degree in 2008 and her master's in public health in 2013. She says her residency training at UM was the best professional preparation she could have had.
"The instructors and the supervision I had on rotations were amazing," she says. "The public health team that provides leadership to the residents is so strong.
"I was able to learn from so many experts who had managed the H1N1 pandemic and who manage influenza every year. The training I got through them really drove me into the career that I'm in."