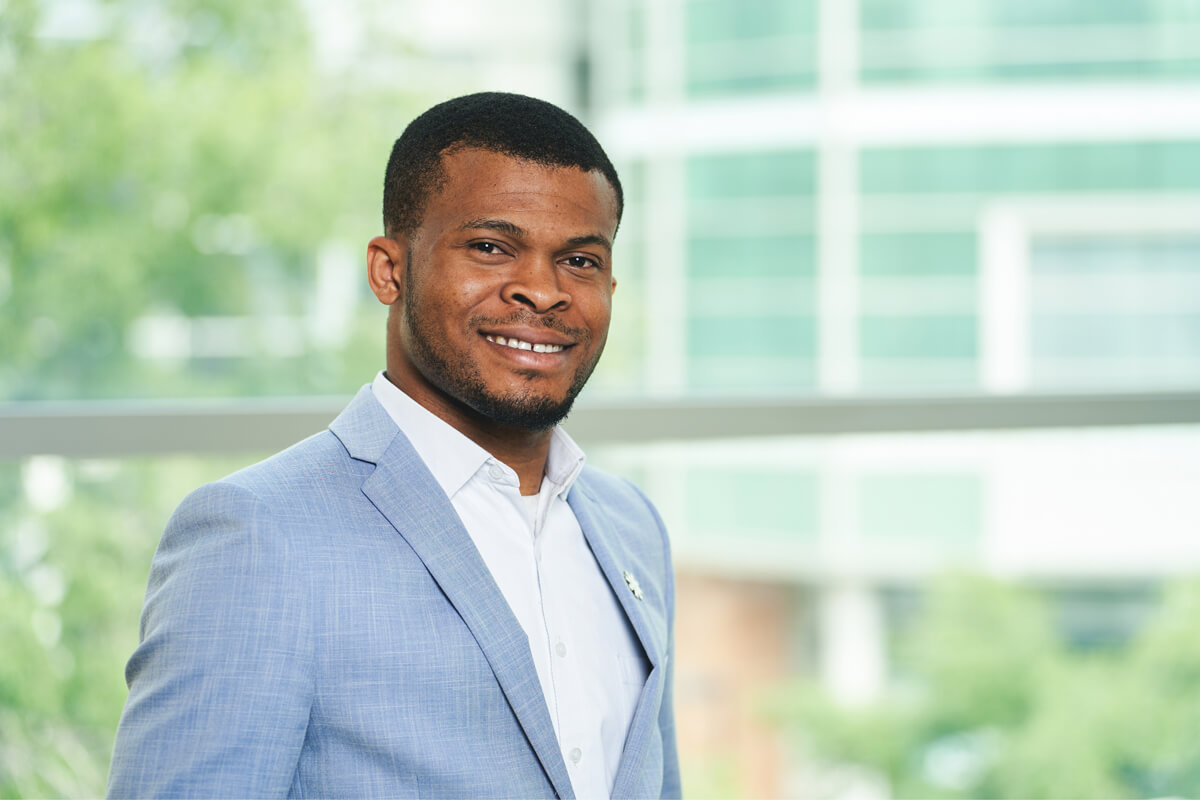 Unravelling the mystery between genes and human diseases
Samuel Ogunsola named as Vanier Scholar for his genetics research at UM.
August 29, 2023 —
All of us have genes, but not everyone's genetics performs the same. The differences are what can lead to disease in humans – and they are also what drives Samuel Ogunsola's curiosity and passion for genetics research.
Ogunsola is one of four UM PhD students who have been awarded the Vanier Canada Graduate Scholarship for 2023. Vanier Scholars are considered Canada's top graduate students and receive a scholarship of $150,000 over three years towards their research.
UM Today caught up with Samuel Ogunsola to learn more about him and his research.
WHAT ARE YOU WORKING ON IN THE RADY FACULTY OF HEALTH SCIENCES?
In living organisms, genes undergo multiple processing steps before they can perform their functions. One crucial process is called splicing, where regions of genes that do not make into the final RNA transcripts (introns) are removed, and the regions that do so (exons) are joined together. Through splicing selection of different exons, a single gene can produce different forms of proteins necessary for complex cellular activities. This phenomenon is known as alternative splicing (AS).
Surprisingly, more than 95% of human genes undergo AS, allowing around 20,000 genes to code for over 500,000 proteins. Errors in the AS process have been associated with numerous diseases, including cancer and brain disorders. However, scientists have yet to fully understand the factors contributing to these errors. In the Xie RNA laboratory at UM, we have identified a novel group of elements, known as REPAG, within gene introns that regulate AS. Many of these elements have been found in genes related to cancer. The aim of my research is to delve deeper into how REPAG influences AS and explore methods to target it for diagnostic and therapeutic applications.
WHY DID YOU CHOOSE UM TO PURSUE YOUR RESEARCH?
After completing my undergraduate program in biochemistry at the Federal University of Technology Akure, Ondo State, Nigeria, I embarked on a search for professors conducting research that aligns with my interests. During this process, I came across Dr. Jiuyong Xie at the University of Manitoba, whose depth and significance of the research on splicing mechanisms greatly impressed me. As I delved further into my research on UM, I discovered that the University is a member of the esteemed group of fifteen, a coalition of research-intensive universities across Canada. The university's research programs have consistently made significant contributions to global development. These findings served as a powerful source of inspiration for me to pursue my graduate studies at UM. I firmly believe that the graduate program at UM will provide me with the necessary resources, mentorship, and collaborative environment to thrive as a researcher.
WHERE DO YOU SEE YOURSELF IN FIVE TO 10 YEARS?
My interest lies in integrating clinical research, leadership, and innovation to address complex health disorders. In five years, I strive to be working in a prestigious pharmaceutical or biotechnology company such as AstraZeneca, Moderna, or Pfizer. I aspire to contribute my expertise towards developing ground-breaking solutions in the field. Looking further ahead, I see myself emerging as a thought leader and innovator in the global bioscience industry. My goal is to drive transformative change by harnessing advancements in scientific research and technology. Through these means, I aim to discover novel approaches that can effectively prevent or treat genetic disorders in humans.
WHAT DOES IT MEAN TO YOU TO BE THE RECIPIENT OF THE VANIER SCHOLARSHIP?
Winning the Vanier scholarship is a dream come true for me, reaffirming my belief in the power of having faith in God. Receiving the prestigious scholarship has ignited in me a sense of responsibility to continue to give back to my community and to trust in my own abilities to accomplish remarkable feats. It serves as a reminder that with dedication and determination, any goal I set my heart on can be achieved. Additionally, I firmly believe that the Vanier scholarship will provide me with invaluable opportunities, extensive networks, and impactful platforms to make a significant contribution to the field of bioscience not only within Canada but also in Africa and globally.