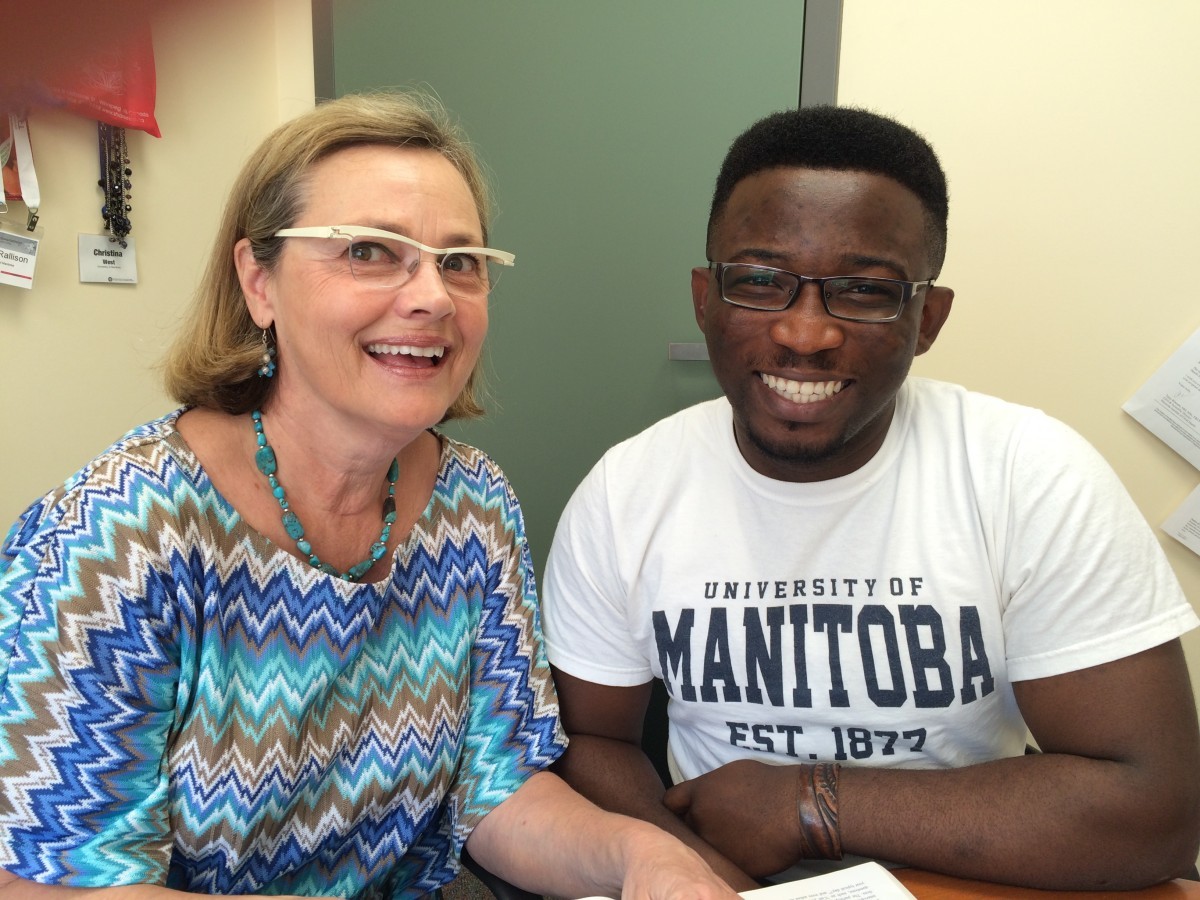 Undergraduate Research Award Recipient Develops Important Pain-Assessment Guidelines
August 15, 2016 —
When you're in pain, it can be hard to describe what it feels like beyond IT HURTS!
If you're an ER nurse, you're going to have to push past those feelings so that you can assess and manage your patients properly. New guidelines developed by nursing student Bariadora (Samuel) Gbara are about to help take some of the sting out of the process.
Gbara, entering fourth year, could have spent his summer sitting poolside or working a typical summer job. Instead, he decided to get taste of research life by applying for an Undergraduate Research Award (URA), offered by the Vice-President (Research and International) Office.
This award experience allows students to be mentored full-time with a professor of their choice for 16 weeks, to receive a $6,000 award, and to gain valuable experience in their field of interest. This year, the University of Manitoba offered 102 awards.
With the support of his URA award, this summer Gbara conducted a critical review to identify current evidence and best practices in pain assessment and management in emergency rooms. Then he created a chart-audit tool, which he used to review patient records.
This enabled him to develop a clinical practice guideline for ER nurses to assess and manage patients presenting with pain. The guideline will be piloted in the near future.
"It's exciting," says Gbara. "This award gives students an  experience that you wouldn't necessarily get within the four walls of a classroom."
To his supervisor Donna Martin, RN, PhD, Assistant Professor in the College of Nursing, the award is vital not only to help strengthen a student's academic performance, but also to build a strong foundation for future researchers.
Along with solid skills in the field, Martin says it's one more way of moving healthcare in Manitoba forward. "Students who have received the Undergraduate Research Award are truly inspirational—they provide me with so much hope for a bright future," says Martin. "My students are not only bright and full of curiosity, they are compassionate and want to make a real difference in the lives of others."
For current University of Manitoba students, it's never too early to start thinking ahead. Applications are now being accepted for future Undergraduate Research Awards; deadline is February 15, 2017.