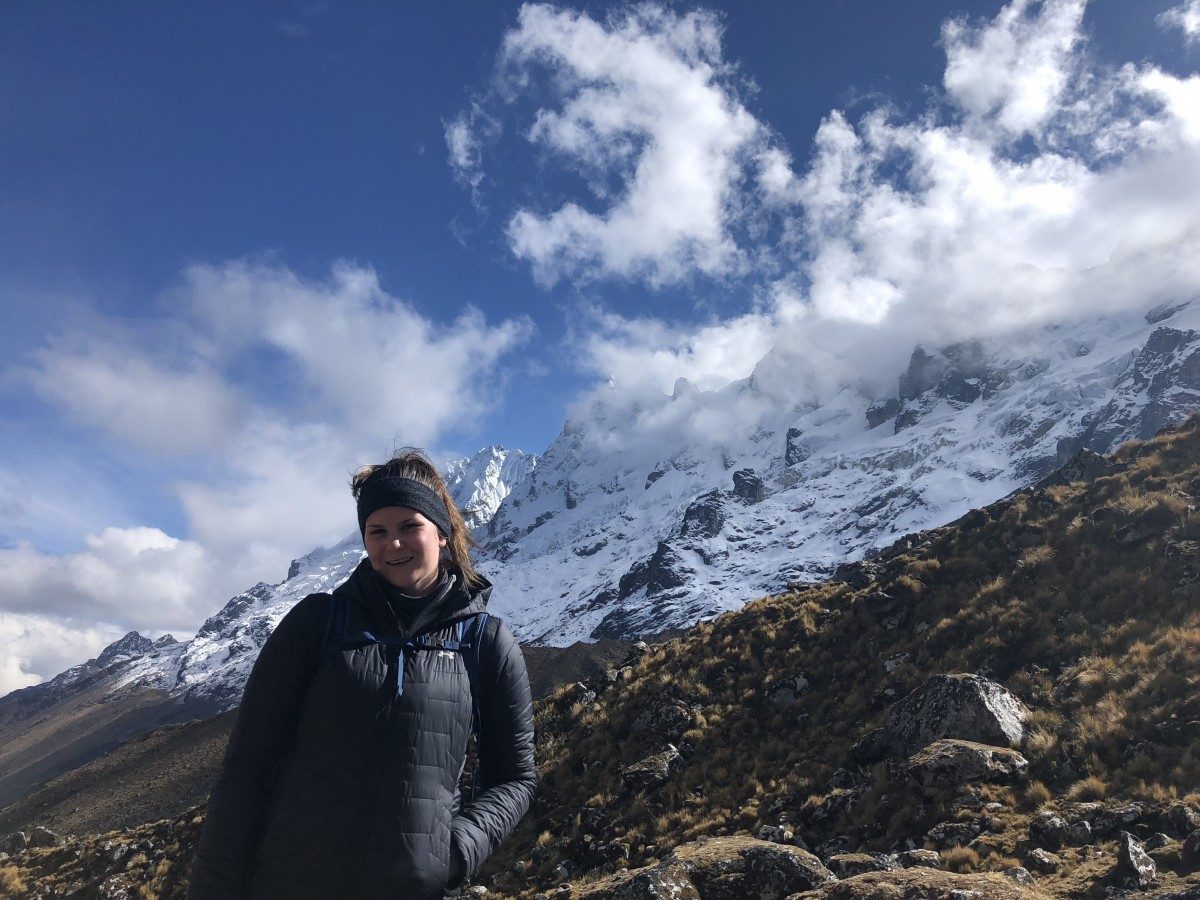 Undergraduate research award leads to sky-high international opportunities
December 3, 2018 —
Kaitlyn Tymko was on top of the world this summer (literally) studying how to improve the outcomes of people traveling and climbing at high altitudes.
The fourth-year Faculty of Kinesiology and Recreation Management student's chance to embark on a research journey to the sky-scraping mountains of Peru came via the U of M's Undergraduate Research Award (URA).
The URA provides an exciting opportunity for students with a thirst for knowledge and aspirations of research experience to spend 16 weeks immersed in their field of interest. It's also coupled with a $7,000 monetary award.
The Office of the Vice-President, Research and International, in partnership with the University of Manitoba Student Union (UMSU) offers this exciting opportunity for up to 172 students. Ten awards will be dedicated to Indigenous students and two awards dedicated for community-based research projects. Student are also encouraged to present the results of their research, scholarly work or creative activity at the annual Undergraduate Research Poster Competition.
Tymko spoke with UM Today about her URA experience while shedding light on the application process:
UM TODAY: What made you decide to apply for an undergraduate research award?
TYMKO: I wanted to explore the possibility of research within the field of Kinesiology. Typically, when students enter our faculty they have an end goal in mind (CSEP, physiotherapy, athletic therapy, physical education) but research is sometimes neglected. With a field as ever-changing as ours, I think being involved in research is extremely beneficial not only for us as future professionals, but to the community that we are helping by conducting these studies.
What was the application process like? What did you have to do?
"The application process was extremely simple."
Interested applicants must interview two eligible university professors of their choosing to learn more about their past and present research interests. Students must then write a 150-word summary on each of these professors. Finally, the student chooses one of the interviewed professors and writes a 250-word report on why they would like to conduct research with them, and how this research would benefit them as a student. Apart from this, there's a simple online application form that must be completed.
Can you break down what happened after your application was successful? What happened next?
Upon notification that my application was successful, I contacted my chosen professor to inform them. I then provided them with a 250-word abstract of how I'll fit into their research project and how they, as a mentor, will help me develop as a student. Lastly, I submitted a form to the Undergraduate Research Award director confirming my acceptance.
What was the experience like for you? Can you describe what you did for your research?
"The experience was absolutely unforgettable. I travelled to Cerro de Pasco, Peru, a small town in the Andes mountain range sitting at 4380 m in altitude."
During my time spent in this town, myself and a team of nearly 50 researchers from around the globe conducted 15 studies regarding high-altitude physiology. My aim was to measure respiratory acclimatization in a large cohort of young, healthy low-landers, after rapid ascent to 4380 m for 21 days. We hypothesized that the steady state chemo-reflex drive (SS-CD) would be elevated upon arrival at altitude (i.e. day one) compared to sea-level, however, it would be reduced at day 21 at high-altitude compared to day one. The results were an increase in SS-CD that was stable after seven days of acclimatization.
What's your biggest take away from the experience?
To be open to new experiences and career paths that you may not have considered otherwise. Since high school, physiotherapy has always been my long-term plan. Upon exploring the option of research, I've gained a new appreciation for the importance of academia, and have investigated the possibility of incorporating it into my plans for the future.
Would you recommend others to also apply for the award? What advice would you have for them?
I recommend those who are interested in applying for this award to investigate what current research is being done in their field of study and what professors are conducting these studies. Taking part in a study you're genuinely interested in will make the summer enjoyable while gaining invaluable experience and knowledge.
---
The deadline to apply for the 2019 Undergraduate Research Award is January 25, 2019. Visit the URA website for full application details.