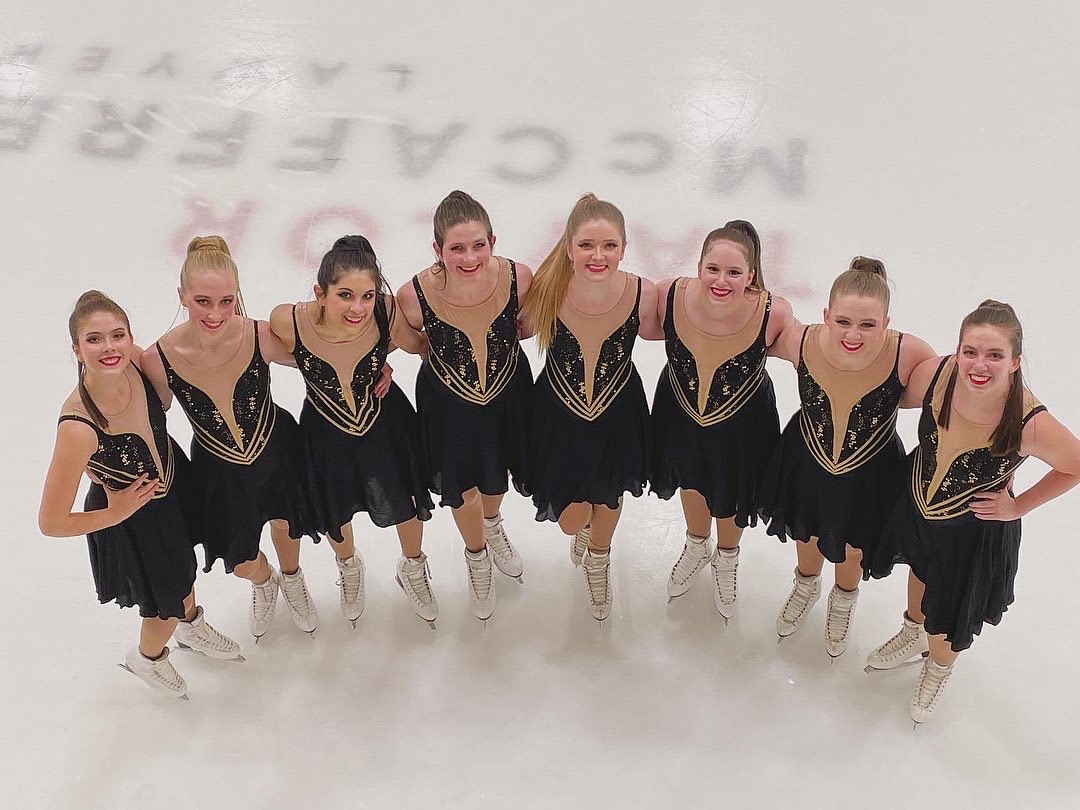 UM's synchronized skating group hits the ice with an all-rookie team
Ice Intrepid's new members are getting synched up with the help of their alum coach Jessica Watson
March 10, 2022 —
This year, UM's synchro-skate team, Ice Intrepid, is a fully rookie team, but they've been lucky to have their path cross with some experienced alumni who have helped them along their way.
The team practices on Monday, Wednesday and Friday at 6:30 a.m. in the Wayne Fleming Arena, with an optional evening skate on Monday evenings at 7:15 p.m., attended by several alumni Intrepid skaters.
Team member and social media person Maurin Smith explains that things are a bit different this year. Having an optional evening timeslot is a new luxury for UM's synchronized skaters, who have previously only seen early mornings on the ice. Due to the pandemic and the fact that intramurals were on pause, Intrepid was able to secure an evening slot that allows current team members to skate alongside more experienced alumni.
Smith says that though not all the current team members attend the evening alumni skates, a few do, and it's "tons of fun."
"[The alumni] do drills that they used to do . . . We kind of learn from the people who did it before."
She notes that their coach Jessica Watson, who also skated with Intrepid in the past, has been an instrumental figure in assembling the team and getting everyone on the same page.
"She's been helping us figure out how it all works because we don't have anyone who has done it before," Smith says, "she's amazing."
About half of Intrepid's current team doesn't have a background in synchronized skating, and everyone has different strengths and areas they are developing. Some of the members who do have experience, like Smith, haven't been on a synchro skating team for several years.
"I graduated (from high school) in 2017, and this is my first year back skating, so it's been a while, but it's been tons of fun," she explains.
Since getting back into it, Smith has been working on building up her endurance and re-perfecting her turns.
She notes that staying active has been particularly difficult these last few years because of the pandemic, and that being "cooped up inside" has really given her perspective on the importance of staying involved a team sport that she loves.
"Meeting people and finding what I love to do again has been amazing," she says. "You have this automatic group of friends, and you all get to share the same passion, and I really missed that."
Smith explains that this winter most competitions moved online, including a recent competition aired by Skate Canada that the team took part in. However, last weekend the team was able to perform in-person, in the Manitoba Open in Hazelridge, MB, which Smith says, "was lots of fun."
Ice Intrepid is looking forward to building their skillsets even more and growing as a team as the year progresses. Though skaters are usually added in at the beginning of the school year in September and October, Smith encourages anyone interested in joining to get in touch and see if there are openings.
"It's just a really great space," she says. "If you have any background in skating and you feel like you could be on the team please reach out and we'll see if we can add you to the team, because we love new members."
If you'd like to learn more, please email Jessica Watson: jesscoachesskating [at] gmail [dot] com