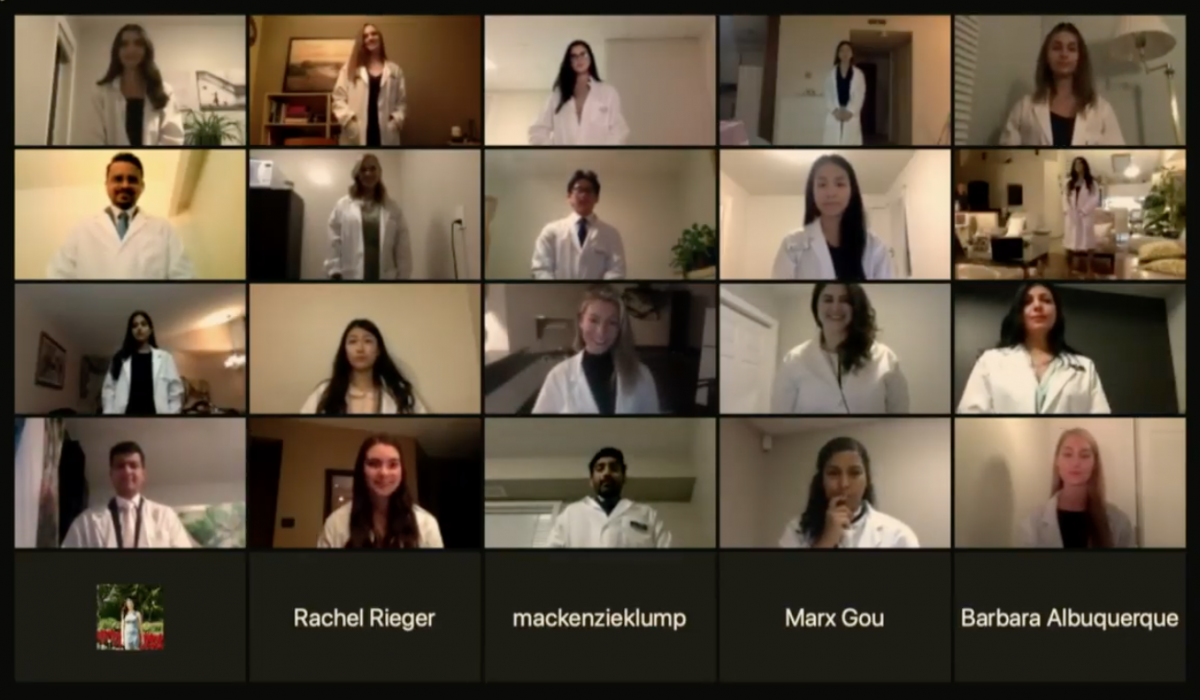 UM welcomes new class of future dentists and dental hygienists
October 9, 2020 —
The Dr. Gerald Niznick College of Dentistry's Opening Assembly has taken place annually since the late 1950s, but this year was unique.
The Opening Assembly and White Coat ceremony was held virtually via Zoom. When students from the Dr. Gerald Niznick College of Dentistry and the School of Dental Hygiene slipped on their white coats for the first time yesterday, they were all participating from home.
While the event's format was different, the message from Dr. Anastasia Kelekis-Cholakis, dean of the Dr. Gerald Niznick College of Dentistry, remained the same.
"The white coat they will don tonight will be a symbol of what the profession and society will expect of them," Kelekis-Cholakis said during her opening remarks. "Students, wear your white coat with pride but also with an understanding of what your responsibilities are."
Mary Bertone, director of the School of Dental Hygiene, said that although the ceremony looks a bit different this year it is an important tradition.
"This is a ceremony to take the time to look forward with pride to your studies and the career you're about to embark upon, and what a time to start that journey," Bertone remarked in her welcome to the dental hygiene students. "These are novel times and collectively we are facing the greatest, most impactful public health crisis of our lifetime."
The ceremony featured 10 speakers, including Dr. Michael Benarroch, UM president and vice-chancellor, Dr. Brian Postl, dean of the Rady Faculty of Health Sciences and vice-provost (health sciences), Dr. Marc Mollot, president of the Manitoba Dental Association, and Dr. Laura MacDonald, past president of the Manitoba Dental Hygienists Association.
Alumna Donna Scott gave the School of Dental Hygiene keynote address and shared strategies that have made her career more rewarding.
"Be part of your community," Scott said. "At your local level, your colleagues and peers, your provincial associations, your national associations. Community isn't just about location. It really is about a sense of belonging, sharing and fellowship, understanding, trust and growth. Our dental hygiene profession has a strong sense of community and I'm proud and thankful to be a part of such a forward thinking, growing and exciting profession."
Alumnus Dr. Alexander "Sandy" Mutchmor, former president of the Manitoba Dental Association and the Canadian Dental Association, gave the Dr. Gerald Niznick College of Dentistry's keynote address. As a student, instructor and parent of two dental school graduates, he has seen the college change over the years.
"Now, by evidence of tonight's virtual ceremony, COVID-19 is causing another shift in the way things will be done, and again this school will rise to the challenges of providing a quality education," Mutchmor said.
The Dr. Gerald Niznick College of Dentistry welcomed 29 doctor of dental medicine students, including 21 women and eight men, and seven International Dentist Degree Program students from four different countries. The School of Dental Hygiene welcomed 26 students, which includes 24 women and two men.
The students all have the same goal of becoming dentists or dental hygienists, but their journeys to this point and the reason for entering the two professions are unique.
Navi Mann, a first-year dental student, was inspired to become a dentist by her orthodontist. Mann wore braces for four years and didn't realize the impact a nice smile had on one's confidence until the braces came off.
"Experiencing this firsthand really inspired me to want to do the same for others," Mann said. "The impact dentists make on improving people's health and helping them love their smile is what keeps me going."
Working with Indigenous community members is one of the main reasons why first-year student Evan Loeb decided to become a dentist. After talking with Elders and parents while visiting First Nations communities, the Métis student heard about dental decay problems and the adverse effects of dental issues on daily life. Loeb knew dentistry was the path he wanted to pursue.
"Oral health is something that is often overlooked but is linked to various health conditions, and oral health diseases are extremely prevalent in the Indigenous community," Loeb said. "These issues undoubtedly impact the quality of life for our people. As a dentist, I will have the ability to advocate for my patients and better oral health in the Indigenous community."
For first-year dental hygiene student Emili Trpkoska, it was the positive experience she encountered when visiting her dental hygienist that inspired her to pursue this profession.
"I used to have some insecurities about my teeth, but every time I left the hygienist, I felt so much more confident in my smile because of how healthy my gums and teeth were," Trpkoska said. "It boosted my confidence."
Arunava Raychaudhuri, a first-year International Dentist Degree Program student, came to Canada from India in 2015 with the goal of obtaining a dental degree at a Canadian university. He was impressed with what the Dr. Gerald Niznick College of Dentistry had to offer.
"When I saw that I was able to come to Canada, the University of Manitoba was a program where the amount of clinical exposure and lab exposure is unparalleled to any other program that I know of." Raychaudhuri said. "I'm very fortunate to be here. It was a very tough competition amongst a lot of other graduates from other countries."