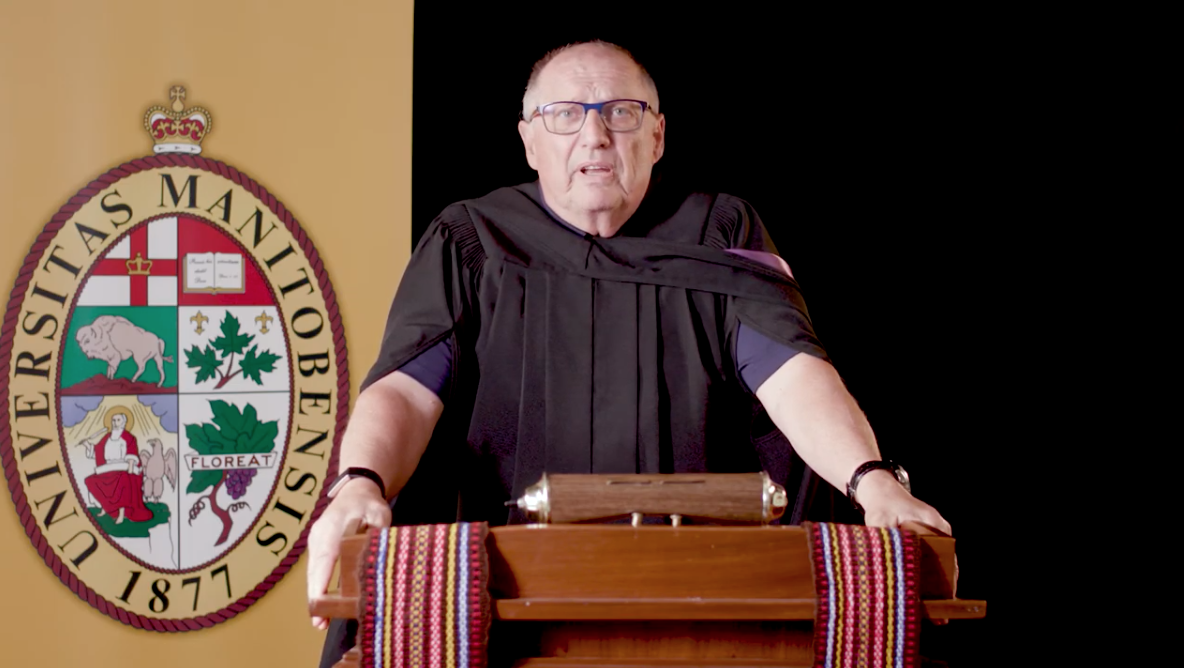 UM virtual convocation celebrates Rady Faculty Class of 2020
June 30, 2020 —
Instead of crossing the stage at a typical graduation ceremony, Rady Faculty of Health Sciences students participated in an unprecedented UM virtual convocation – and had the opportunity to view the celebration alongside family and friends on their digital devices.
When the students began their Rady Faculty programs, they never expected this is how they'd mark the end of their academic journeys. While convocation was moved online because of the COVID-19 pandemic, the satisfaction and elation of accomplishing what they set out to do remained unchanged.
"I want to congratulate the Class of 2020. You've shown resilience and determination in not allowing the challenges you've faced to impede your goals," said Dr. Brian Postl, dean, Rady Faculty of Health Sciences. "You've shown that you can overcome adversity and this will serve you well in your future endeavours. I applaud your achievements and I wish you the best of luck."
The students had the option of submitting a photo and a personal statement to appear on the livestream at the time their name was announced during the virtual convocation.
The Max Rady College of Medicine Class of 2020 included 107 graduates. As they move on to residency training, 69 of the graduates are staying in Manitoba. Of the 36 undertaking residencies in family medicine in the province, six will be in northern and remote locations and 18 in rural locations.
The class includes eight students of self-declared Indigenous ancestry and five French-speaking students who are graduating in the college's bilingual stream.
Amir Ali, Max Rady College of Medicine Class of 2020 graduate, said that his time in medical school has been some of the best years of his life.
"I've loved my university life here," said Ali, who is a former UM Bisons basketball player. "I've had some of my fondest memories because of the relationships I've built with some of my closest friends, as well as all the ups and downs and the emotions you go through in medical school."
Carly McLellan, Max Rady College of Medicine Class of 2020 graduate, took part in UM's Health Career Quest Summer Camp as a high school student and the experience had a profound impact on her. She said she will remember her time in medical school fondly.
"I've created a lot of great memories and formed a lot of great relationships here," McLellan said. "But I also think I'll remember it as a transformative experience because it's the time that I had to learn what kind of physician I wanted to be."
Dayna Bradburn began her UM studies with the Aboriginal Nursing Cohort Initiative Pre-Nursing Program, and was one of 104 students graduating from the College of Nursing with a bachelor's degree.
"I chose this program at UM because I liked how integrated the Indigenous culture was on campus, and it felt right," said Bradburn, who is from Norway House Cree Nation, Man. "Every exam, clinical and presentation I went through was worth it, to be where I am now – both personally and professionally."
Sufia Turner, who earned a master's degree in nursing, said she appreciated how the program let her specialize in an area that interests her, as well as how closely she got to work with other researchers.
"These researchers have so much knowledge and wisdom, and getting to know them on a different plane as a master's student was really beneficial," Turner said. "It helped me feel like I mattered. There was unending support."
Derek Milani, Dr. Gerald Niznick College of Dentistry Class of 2020 graduate, said the college prepared him for his future as a dentist.
"One of the best parts about the school at the U of M is how much clinical experience we get," Milani said. "There's so much knowledge you need to have to become a dentist but at the same time a lot of it is your hand skills. You don't learn that from a textbook. You learn that by doing."
Vanessa Bromley, School of Dental Hygiene Class of 2020 graduate, said she is ready for her career because of the education she received.
"The School of Dental Hygiene has really prepared me for the future," Bromley said. "They've really set us up to succeed. They have really good clinical staff, really good educational staff, and I think they've given us all the tools we need."
Mariam Guindi, College of Pharmacy Class of 2020 graduate, wanted to thank the faculty and staff for providing an outstanding experience.
"They really served as not only amazing teachers for us, but also great mentors, and figures for us to look up to and to turn to for help if we ever needed or for guidance," Guindi said. "I think that's what really allowed us to become what we are, and what we will be in the future as well since we're just getting started on our careers."
Caitlin Wilkinson, College of Pharmacy Class of 2020 graduate, said that exams were less stressful knowing that she was going through it with her classmates.
"What I would remember the most is the relationships I formed with my classmates," Wilkinson said. "Many that I know will last a lifetime."
All of the college deans offered congratulatory messages, sent to their graduates along with their diplomas. Each wished the future UM alumni good luck as they embark on their careers in the health sciences and go on to improve patient care and become leaders and champions of their health professions.