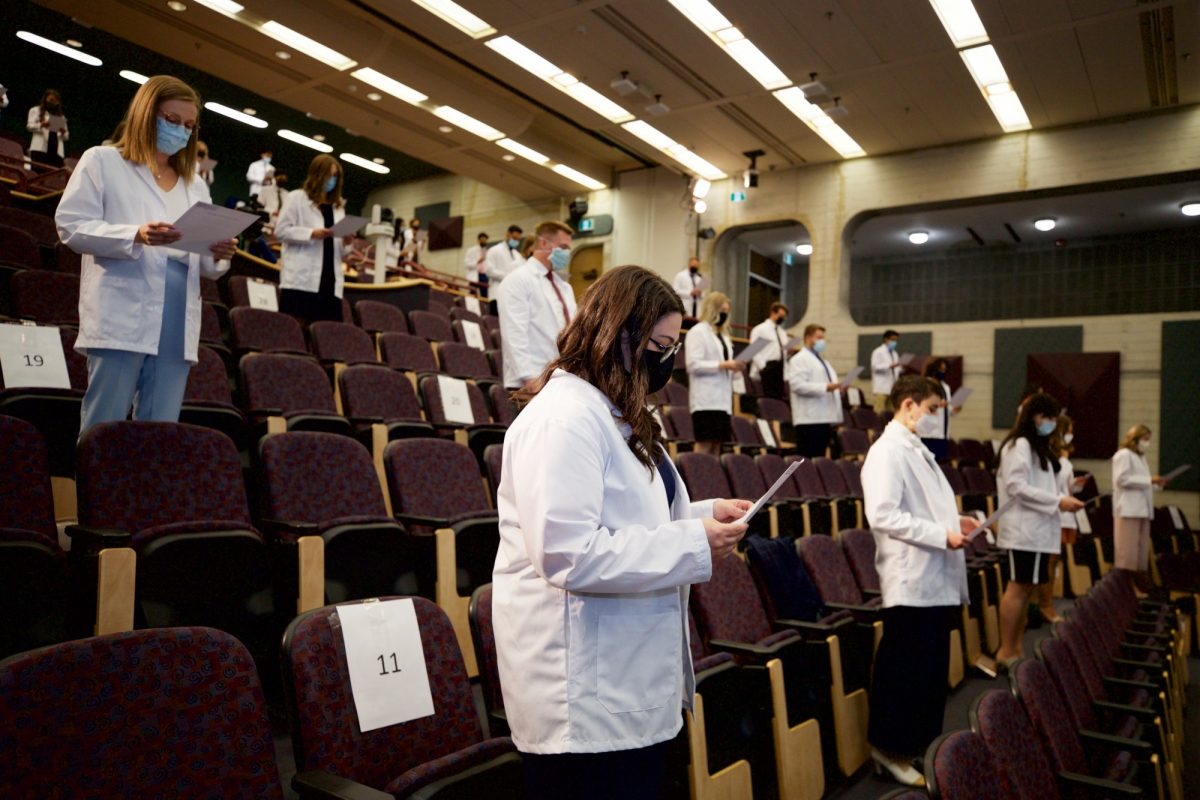 UM welcomes new medical students at White Coat Ceremony
August 24, 2021 —
When first-year University of Manitoba medical students recited the Physician's Pledge at this year's Inaugural Day Exercises and White Coat Ceremony on Aug. 25, the learners from a cross-section of ethnic, cultural and socio-economic backgrounds began their journey to become doctors.
In order to practice safety protocols and physical distancing during the COVID-19 pandemic, the 110 members of the Class of 2025 were split into two groups and took part in separate ceremonies while maintaining social distance. Special guests gave virtual greetings and family and friends watched the livestream of the Inaugural Exercises from home (re-watch at https://youtu.be/vrzcJrQld5c).
"You will all be able to graduate in four years' time. You have the horsepower to get there. The rest is just about commitment, hard work, and ultimately, over that time, the development of empathy, humility and caring," Dr. Brian Postl, dean of the Max Rady College of Medicine and dean of the Rady Faculty of Health Sciences, told the students.
This year's class of 61 women, 45 men and four identifying as non-binary, includes 17 students of self-declared Indigenous ancestry. This is the largest group ever of Indigenous students entering the Max Rady College of Medicine. Thirty-six students have rural attributes, meaning they have rural roots, rural work experience or rural volunteer or leadership experience. There are six students enrolled in the bilingual stream. The future physicians range in age from 20 to 42.
The class's ethnic and socio-economic diversity reflects the Max Rady College of Medicine's inclusive admissions policy. To remove barriers to participation and more accurately reflect Manitoba's population, the college advantages qualified candidates from traditionally under-represented socio-economic and socio-cultural backgrounds.
Among the Class of 2025, 23 students are the first generations of their family attending college or university. Forty-three students were raised in a family with annual household incomes below the median for Canada. Thirty-five students consider themselves to be members of a visible minority. Twenty-two individuals' primary language is other than English or French.
The class also includes students who identified as living with a disability, students (or their families) who came to Canada as refugees and students who worked in their teen years in order to contribute to family income.
Dr. Jared Bullard, a 2004 MD alumnus from UM, gave the Alan Klass Memorial Address. He is an associate professor of pediatrics and child health, and medical microbiology and infectious disease at the Max Rady College of Medicine, Rady Faculty of Health Sciences. He is also the section head of pediatric infectious diseases, serves as a liaison to the Manitoba HIV Program for pediatrics and laboratory medicine and is the associate medical director of Cadham Provincial Laboratory.
"When I look into the audience, I see a diverse group of faces who will serve the people of this province," Bullard said. "Patients will look at their physician, and see themselves in you, and it matters. I was one of two Black medical students among a cohort of 300. I was the 14th Black man to graduate from the University of Manitoba with a medical doctorate, while my friend, colleague and sister, Dr. Telisha Smith-Gorvie was only the second Black woman to do the same in 2005. I am particularly proud to see so many faces like mine in the audience today. I see you."
Bullard told the students to get to know their colleagues.
"Learn from each other's diversity and be able to openly discuss both your differences and similarities," he said. "The communication skills you master in forming bonds that will last a lifetime will serve you in talking to equally diverse patients."
Bullard also advised the students to keep their minds open to the possibilities of their future.
"It's okay not to know what you want to do and you may find that even if you are certain, one rotation can change your life," he said. "Find mentors, ask them questions and experience different specialties. The more obscure specialties of public health and laboratory medicine have now become essential in how we deal with the pandemic."
The Class of 2025 was also congratulated and welcomed by Manitoba Minister of Health and Seniors Care the Honourable Audrey Gordon; UM President and Vice-Chancellor Dr. Michael Benarroch; Elder Margaret Lavallee; registrar of the College of Physicians and Surgeons of MB Dr. Anna Ziomek; and Provincial lead, medical specialist services and chief medical officer, Shared Health, Dr. Perry Gray.
Meet a few of the first-year students
Stephen Dueck, who grew up in south-east Manitoba, earned a master of science in computer engineering and has worked in industry for almost 20 years in Canada, Europe, Nigeria and Saudi Arabia. During this time, he has volunteered to help others, realizing that his life goals include the application of science and math but go well beyond them. Dueck's life experiences have inspired him to become a physician to integrate his knowledge and skills with society, health and human behaviour.
Kirsten Fleury, a 24-year-old Métis woman from St. Francois Xavier, Man., was motivated to apply to medical school by her friends and supporters within the University of Manitoba's Indigenous campus community. Her desire to become a doctor stems from her experiences working as a researcher on Indigenous health projects. As a physician, Fleury hopes to provide culturally-safe health care to patients and work as a researcher partner with Indigenous communities to help gather data to create change and erase the systemic gaps that negatively affect Indigenous Manitobans.
Hamza Shah was born in Islamabad, Pakistan, and immigrated to Canada when he was six years old. He applied to the Max Rady College of Medicine four times before being accepted. He knew he has what it takes to practice medicine and persevered despite the rejection. Shah's volunteer experience with St. John Ambulance, Victoria General Hospital and Harvest Manitoba were a crucial part of his decision to pursue medicine. He is interested in the field of family medicine and wants to do his part in serving underserved populations by providing equitable care and advocating for changes in the health-care system.
Anna Tourtchaninova was born in Russia and immigrated to Canada at the age of four. She graduated from UM's Robson Hall law school and practiced for about a year. She enjoyed law, but felt that she missed the element of science in her day-to-day work. Growing up in an immigrant family, Tourtchaninova witnessed first-hand the language and cultural barriers that her family faced in accessing health care. This inspired her to want to become a physician with the goal of helping those who struggle to access care.
Caitlin Wachal is a 32-year-old Métis mother of four (an eight-year-old son and three daughters aged two, four and six). As a physician, she would like to mentor and empower Indigenous youth and work in the area of mental health and wellness. Wachal recently lost a cousin to mental illness. He was a strong advocate for mental health and she would like to honour him by continuing the work he started by supporting individuals and families struggling with mental illness and suicide loss.