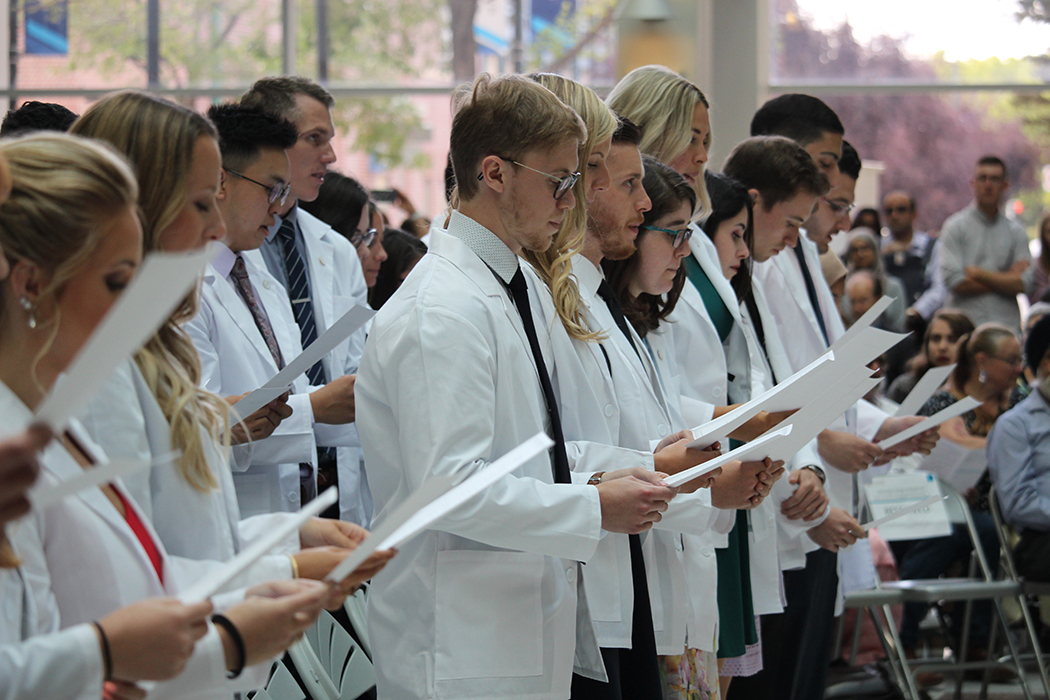 UM to welcome new medical students at White Coat Ceremony
August 24, 2022 —
When first-year University of Manitoba medical students don their white coats at this year's Inaugural Day Exercises and White Coat Ceremony on Wednesday, Aug. 24, the learners from a cross-section of ethnic, cultural and socio-economic backgrounds will begin their journey to becoming doctors.
The Inaugural Day Exercises are an opportunity for the Max Rady College of Medicine to welcome the students into the medical profession. The event includes the White Coat Ceremony, the recitation of the Physician's Pledge and the Alan Klass Memorial Address, which will be given by University of Manitoba alumnus Dr. Hugh Smith (see bio below).
The Inaugural Day Exercises begin at 10 a.m. in the Brodie Centre Atrium on the Bannatyne campus. The event will be livestreamed.
"I want to congratulate the Class of 2026 and welcome them to the Max Rady College of Medicine," said Dr. Peter Nickerson, incoming dean of the Max Rady College of Medicine and Rady Faculty of Health Sciences. "This is their first step in their medical education. They'll look back on this special day and remember just how far they've come."
This year's class of 62 women and 48 men, includes 13 Indigenous students. Forty-one students have rural attributes, meaning they have roots, work experience or volunteer or leadership experience in a rural area. There is one student enrolled in the bilingual stream. The future physicians range in age from 20 to 41.
The class's ethnic and socio-economic diversity reflects the Max Rady College of Medicine's inclusive admissions policy. To remove barriers to participation and more accurately reflect Manitoba's population, the college advantages qualified candidates from traditionally under-represented socio-economic and socio-cultural backgrounds.
Meet a few of the first-year students
Sheila Le is a 20-year-old student who was born and raised in Winnipeg. She is the youngest student in the Class of 2026. Her father, a refugee from Vietnam, raised her and her sister as a single parent for more than half her life. When she becomes a physician she hopes to make patients with a similar background feel seen, understood and heard, because she's witnessed people in her community hesitate when accessing health-care services out of fear of being judged or dismissed for their English or physical appearance. Over the past few years, she volunteered at a personal care home and a hospital.
Brothers Bilal Raja, 25 and Muhammad Usman Raja, 23, moved to Winnipeg from Pakistan 11 years ago. Their father was a radiologist in Pakistan. Muhammad says that this father's knowledge of medicine and his ability to care for others motivated him to become a doctor. Bilal recalls a time when his mother had to be rushed to hospital. Had his dad not been there it could have been a much worse outcome. He remembers putting all his faith in the doctors treating her at the hospital. He realized how much of an impact a good doctor can have and the incident had a major impact on his motivation to pursue medicine. Bilal is interested in family medicine and Muhammad sees himself working as an emergency physician.
Mercedes Stemm, 24, is a Mi'kmaq woman born and raised in Natoaganeg First Nation in New Brunswick. One of the main motivating factors driving her to pursue medicine is to decrease barriers that Indigenous people face while trying to receive health care. She says she will strive to treat all her patients with a holistic perspective. During her undergraduate degree, Stemm created a mentorship program for Indigenous students interested in medicine. She volunteered in hospitals and the different experiences have helped her prepare for medical school. She is interested in becoming a neurosurgeon.
Alan Klass Memorial Address
Hugh Smith, [MD/65, B.Sc. (Med.) /65, D.Sc./08], will give the Alan Klass Memorial Address. He obtained a National Research Council (Canada) fellowship in 1968 for cardiopulmonary research at the University of Washington. Dr. Smith then obtained an American Heart Association research fellowship and transferred to the Mayo Clinic. This research was exciting, leading to many developments, including the finger pulse oximeter and NASA astronaut G suits, but he missed clinical practice, and joined Mayo Clinic staff in 1973.
Dr. Smith was one of the first to perform coronary angioplasty in the United States and he performed the world's first basilar artery angioplasties. His teaching, clinical practice and research led to more than 200 peer reviewed publications, book chapters and abstracts and promotion to professor in 1985.
Dr. Smith served as CEO, Mayo Clinic from 1999 until he retired in 2007. As CEO, he developed the regional Mayo Clinic Health System with 56 clinics and 17 hospitals across Minnesota, Wisconsin and Iowa. Despite his heavy CEO administrative duties at Mayo Clinic, he maintained his clinical cardiology practice, albeit at a reduced workload, because of the relevance and above all, the joy and satisfaction that patient care provided. Since retirement Dr. Smith has served on boards, or as chair, of several American corporations, academic medical centres and non-profit charities.