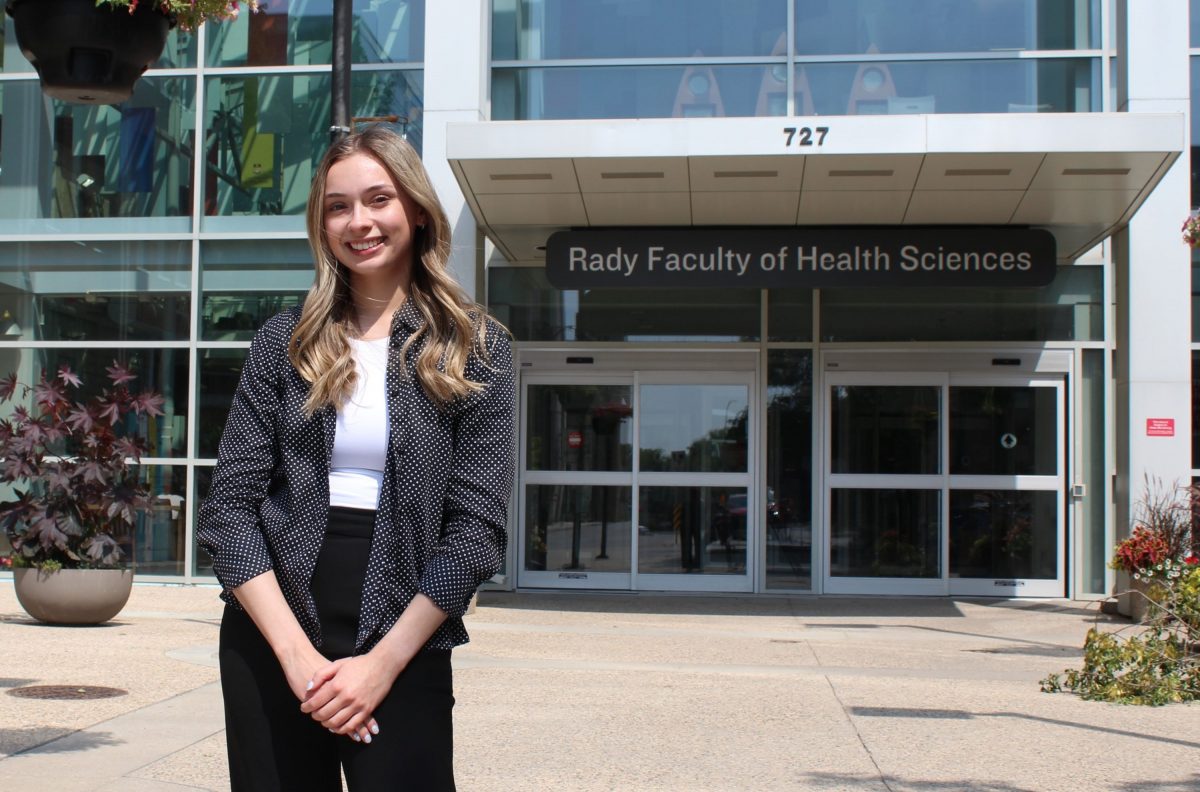 UM student researches virtual care solutions for managing chronic cough
August 17, 2023 —
A study conducted this summer at the College of Rehabilitation Sciences, Rady Faculty of Health Sciences suggested virtual care strategies that became more common during the COVID-19 pandemic can also be effective in assessing and managing patients with chronic cough.
Alexa Pommer, a fourth-year bachelor of health sciences student, worked on the scoping review as a summer research assistant for Dr. Diana Sanchez-Ramirez, assistant professor in the college's respiratory therapy department.
The virtual strategies identified from this review included diagnostic websites, online clinics and remote follow-up appointments to assess effectiveness of in-person visits. Results indicated these approaches can be useful to assess the causes of chronic cough, treat and track chronic cough symptoms.
Pommer, 21, was drawn to the project because of an interest in clinical research and respiratory diseases.
"My grandma had COPD and struggled with that for several years. I saw first-hand how that affected her, and how she was able to manage her condition a bit better with different interventions, medications and health-care professionals that worked with her," she said.
Pommer says virtual care has a "growing landscape" since the pandemic. She said it can benefit patients who face barriers in accessing care, such as those with mobility issues or living in rural areas.
"As far as we know, this is the first literature review to specifically look at the virtual assessment and management of chronic cough. We hope this might be valuable for informing clinical practice and further research," she said.
Pommer began a four-month placement working with Sanchez-Ramirez in May, funded by a UM Undergraduate Research Award. The term was just extended into September to finish other projects she has been assisting with, including research into long COVID.
"One study has to do with the association between physical activity, cardiorespiratory responses and symptom exacerbation in patients with post-COVID syndrome. People were given wearable biometric technology – a smart watch and a smart shirt that they wore on a day-to-day basis – that tracked different physiological parameters, like heart rate, breath rate and sleep," Pommer said.
Currently, they are working on a report based on an event in June that brought together 30 participants with long-COVID symptoms.
"We're working on a report which will present the patient perspective about their experiences with long COVID – how they feel, what they have seen, their interactions with the health-care system and their perceived needs for the management of their condition," Sanchez Ramirez said.
Pommer said after she completes her bachelor's program in Spring 2025, she is looking at either studying medicine or public health.
"That's where I'm at right now. I'm interested in a career that has an aspect of research within it," she said.
"I am very grateful to be working under the supervision of Dr. Sanchez-Ramirez. This research position has been a great opportunity to learn and gain experience in an emerging field. The skills I've developed will serve me well in my future career."