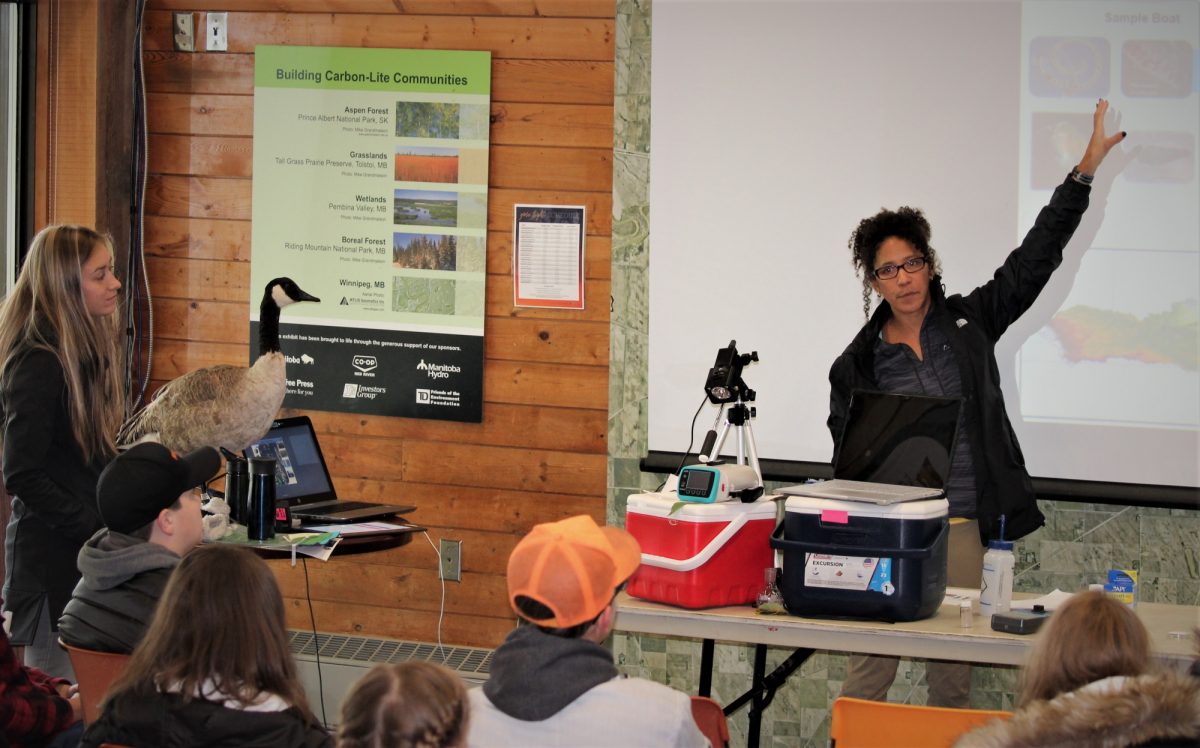 UM scientists teach water quality essentials to young learners
CEOS makes a splash at Freshwater Ecology Day
October 4, 2019 —
Water is fundamentally important to life on earth. Today's youth are especially aware of this fact. On September 28, 15-year-old Autumn Peltier addressed the United Nations at its 2019 Global Landscapes Forum.
"When you ask the question about why is the water so scared, it's not just because we need it and nothing can survive without water, it's because for years and years our ancestors have passed on traditional oral knowledge that our water is alive, and our water has a spirit," Peltier told the UN.
Environmentally-minded Manitoba students – many the same age as Peltier – gathered at Fort Whyte Alive on October 2 for Freshwater Ecology Day. The next generation of water quality specialists visited learning stations about water sampling, water chemistry, shoreline erosion, aquatic invasive species, invertebrates, and their interactions within the watershed.
Water quality needs to be continually monitored to gauge the health of ecosystems. Researchers measure conditions in lakes and rivers by collecting samples of water that are then analyzed with special instruments.
Aspiring ecologists had the opportunity to learn from water quality experts at the University of Manitoba's Centre for Earth Observation Science (CEOS), as well as the International Institute for Sustainable Development.
CEOS graduate students Katelyn Rodgers and Agoston Fischer gave demonstrations and facilitated workshops on how to analyze the levels of key nutrients like nitrogen and phosphorus in water samples. Students also learned about testing for chlorophyll and sediments.
"The students got hands-on experience using some of the newest software for measuring nitrogen in the water," says Rodgers. "They also learned how we are moving toward using satellite imagery for measuring algae blooms in the Manitoba Great Lakes."
Poor water quality can be harmful to aquatic life and can affect the condition, growth, survival and reproduction of freshwater organisms. A common threat to many aquatic species is eutrophication. This occurs when a body of water becomes overly enriched with nutrients that induce the excessive growth of algae.
Some toxic algae blooms that exist in the local watershed are understood to develop due to the fact that Lake Manitoba retains 86% of the phosphorus and 31% of the nitrogen from in-flowing water.
Claire Herbert is the coordinator responsible for CEOS's involvement at Freshwater Ecology Day. Herbert also leads the Canadian Watershed Information Network (CanWIN). CanWIN is a web-based, open access data and information network created as part of the Lake Winnipeg Basin initiative under Canada's Action Plan on clean water.
"Anthropogenic, or man-made eutrophication, is leading to increasing incidents of larger and longer-lasting toxic algae blooms in Lake Winnipeg," says Hebert. "The resulting decreased water clarity has the potential to negatively impact recreational use and create economic loss for communities surrounding these lakes."
As much as is known about water quality, there is still a lot more to learn according to Herbert.
"We still know little about the in-lake processes that determine the amount of nutrients exported into Lake Winnipeg," she says. "Without understanding the state of nutrients in the Manitoba Great Lakes system, we will not be able to adequately inform, manage or mitigate the ongoing challenges of nutrification and climate change on Lake Winnipeg or the Hudson Bay watershed."