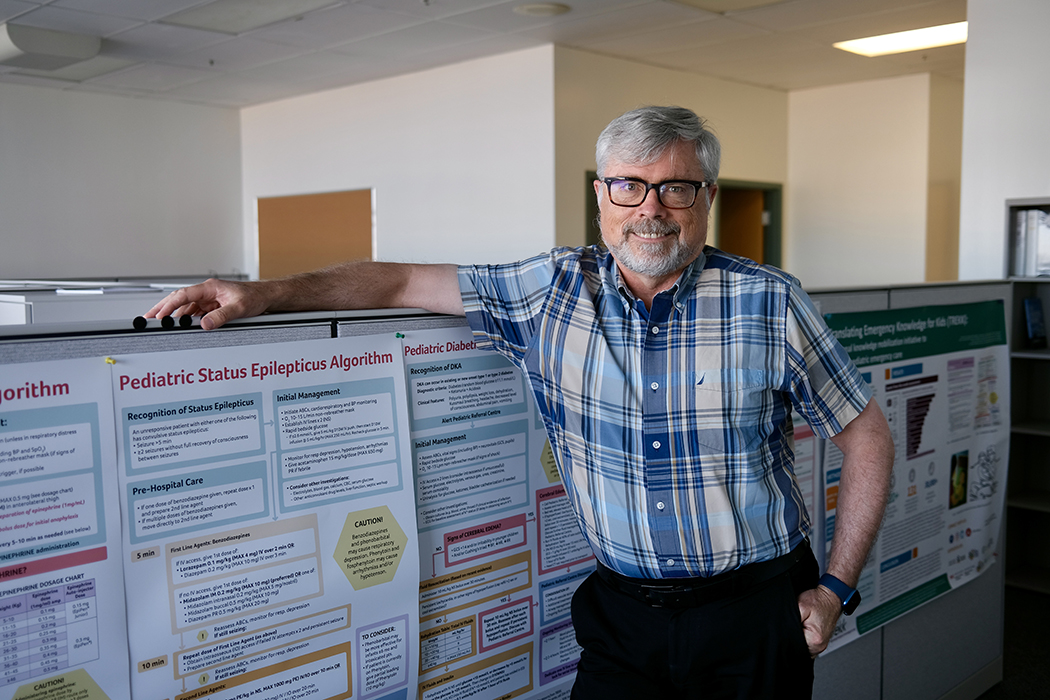 UM researchers to develop COVID-19 resources related to kids coming to Emergency
August 15, 2022 —
A University of Manitoba project aimed at providing emergency department health-care professionals with the latest information about conditions related to COVID-19 and children has received more than $433,000 from the Canadian Institutes of Health Research (CIHR). The grant is part of CIHR's Addressing the Wider Health Impacts of COVID-19 funding.
The study builds off of the Translating Emergency Knowledge for Kids (TREKK) program, for which UM is the host institution. Through its website and app, TREKK provides parents and health-care providers from across the country with evidence-based information and resources on more than 50 topics related to children.
"Receiving this funding is really exciting," said Dr. Terry Klassen, professor of pediatrics and child health at the Max Rady College of Medicine, director of TREKK and principal investigator of the study. "The funding allows our team to put together evidence, identify the latest research and put it in a format that health-care providers can access and use. I'm delighted that we can help improve the health outcomes of children and families in this country."
The study will look at 10 conditions related to the COVID-19 pandemic. Researchers will update resources for conditions like asthma, bronchiolitis and croup. The research team will also add new topics on conditions like pneumonia to the TREKK database.
"I think the pandemic has changed things and made certain conditions more common," said Klassen, UM Canada Research Chair in clinical trials, CEO of the Children's Hospital Research institute of Manitoba (CHRIM) and scientific director of the George & Fay Yee Centre for Healthcare Innovation. "So with this changing dynamic, and what health-care providers are seeing in the emergency departments, it's important they have the resources that best meets their needs."
To reflect the needs of emergency departments, the research team will survey health-care professionals to see what additional topics should be added to TREKK's resources. The researchers will also ask parents and youths about what information is important for emergency health-care providers to know.
The researchers will then test the usability of the resources they create and make changes as needed.
"These days we can Google basically anything, but that doesn't assure the accuracy of the content and whether it's evidence based," said Dr. Veronica Lai, a UM postdoctoral fellow at CHRIM, and a co-investigator on the study. "At the end of the day, we hope that the resources we develop are going to be used by someone who needs the information, so we need to hear from them, and use their feedback so we can improve the resources."
Klassen said they've found that some emergency department health-care providers experience a lot of anxiety when dealing with kids because they don't treat them often and are used to seeing adult patients. He said it's helpful and empowering for them to be able to quickly find evidence-based information on TREKK's website or app.
"This is about improving the outcomes of children when they visit an emergency department," Klassen said. "We want any child, anywhere, to have the best care possible. TREKK's resources provide doctors, nurses and respiratory therapists with information to feel more confident when dealing with a child."