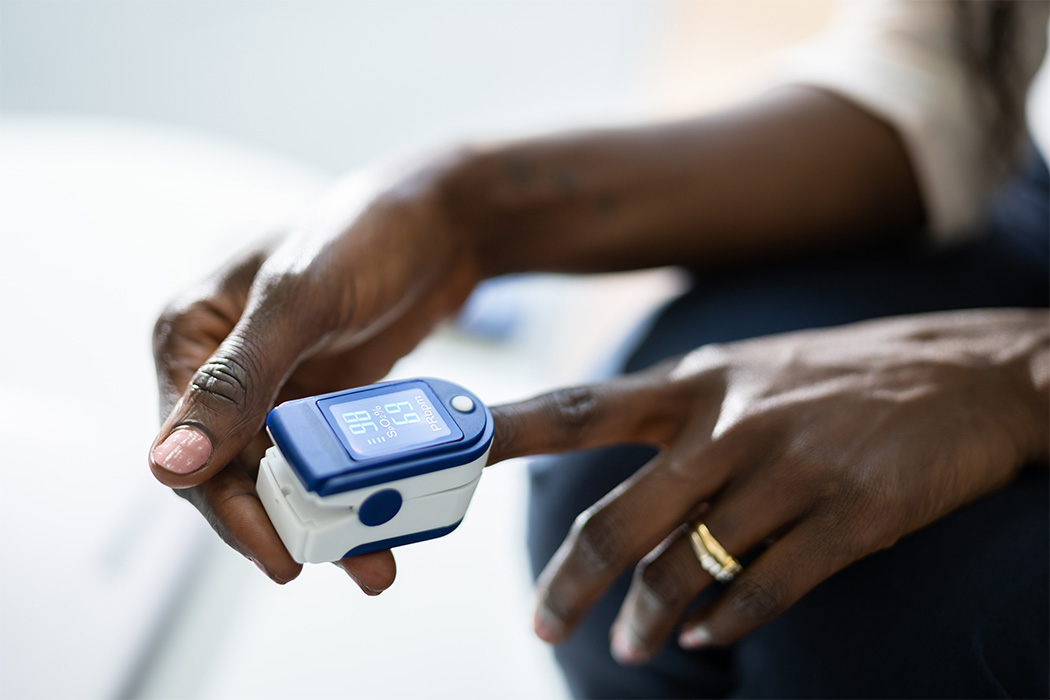 UM researchers find racial disparities in patient care associated with inaccurate medical device
August 3, 2022 —
Critically ill Black, Asian and Hispanic patients receive less supplemental oxygen than white patients – a discrepancy associated with a flaw in the fingertip device used to measure oxygen in the blood, a new study has found.
Dr. Barret Rush, assistant professor of critical care, and Dr. Jennifer Ziegler, critical care fellow, both in the department of internal medicine in the Max Rady College of Medicine at UM, co-authored Assessment of Racial and Ethnic Differences in Oxygen Supplementation Among Patients in the Intensive Care Unit.
The study was published last month in JAMA Internal Medicine. It was led by Dr. Eric Raphael Gottlieb and Dr. Leo Celi from Harvard Medical School and Massachusetts Institute of Technology, respectively.
A pulse oximeter clamps on the patient's finger and sends a beam of light through the finger to monitor the oxygen level in the blood. The device is crucial for health-care workers to determine how much supplemental oxygen a patient needs.
Scientists have known for decades that pigmentation, such as skin colour or nail polish, can affect pulse oximeter readings. More recently, several studies have shown that pulse oximeters overestimate the oxygen levels of non-white patients. However, the just-published study is the first to document the effect on patient care.
The study looked at anonymous data for more than 3,000 seriously ill patients who were admitted to a hospital intensive care unit in Boston, Mass., in the period 2008 to 2019. It found that the oxygen levels of Black, Asian and Hispanic patients were overestimated by pulse oximeters, and that these patients received significantly less oxygen than they should have.
Rush and Ziegler were dismayed to discover this association between the devices' failure to capture accurate readings and non-white patients receiving poorer quality care.
Pulse oximeters were developed in the 1970s and mostly tested on healthy white male patients, Rush says. They haven't been recalibrated to accurately monitor non-white patients.
"This shows that systemic racism is built into the technology we use and affects health-care outcomes for minorities," Rush says. "Not only is our medical technology giving us biased and incorrect information, but clinicians are also using that inaccurate information to make clinical decisions that cause harm."
Rush's research focuses on health disparities in critical care. Technology is just one element of health care that may cause patients of colour to have negative experiences or be subjected to bias, he says.
"Technology is supposed to be objective. But we found that it still has biases towards non-white patients, and that it's contributing to overall worse outcomes for non-white patients," Rush says. "Our ultimate goal is to identify barriers and improve the outcomes for these patients."
For this study, each patient's data included results from both pulse oximeters and lab tests. In the U.S., such data includes documentation of a patient's race/ethnicity, whereas in Canada, data on race/ethnicity is not typically collected, Rush says.
The research team compared the pulse oximeter data to the oxygen levels directly measured from blood samples. Compared to white patients, Black, Asian and Hispanic patients received less supplemental oxygen for a given oxygen saturation level, likely because of faulty oximeter readings.
"Pulse oximeters are in every hospital ward, clinic and emergency room," says Ziegler, whose research focuses on epidemiology and using "big data" in health care. "They're contributing to worse outcomes in non-white patients. That's something that should change."
As part of next steps, along with their colleagues in Boston, Rush and Ziegler have consulted with bioengineers in the U.S., aiming to solve the issue of racial bias in pulse oximeter technologies.
Their groundbreaking research has attracted international media attention, including coverage by CNN, BBC, NPR, Reuters, Good Morning America and more than 100 other news outlets around the world.