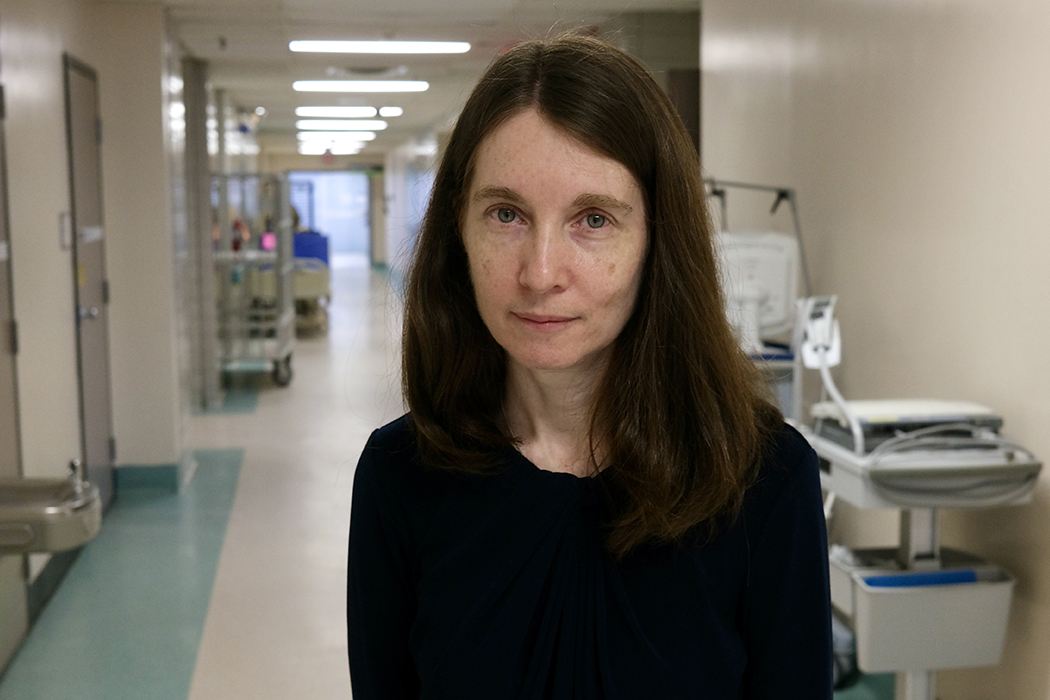 UM researcher wins Barancik Prize for Innovation in MS Research
February 1, 2023 —
A University of Manitoba researcher is the recipient of the prestigious Barancik Prize for Innovation in Multiple Sclerosis Research.
The United States-based National Multiple Sclerosis Society honoured Dr. Ruth Ann Marrie, professor of internal medicine and community health sciences, Max Rady College of Medicine, Rady Faculty of Health Sciences, with the prize for her discoveries that deepen the understanding of how and when multiple sclerosis (MS) evolves.
"It's a great honour to receive this prize," said Marrie, who is also the Waugh Family Chair in Multiple Sclerosis, director of the Multiple Sclerosis Clinic at the Health Sciences Centre and an adjunct scientist at the Manitoba Centre for Health Policy. "It provides validation that the work we're doing is important, and that we should persist in doing it even in the face of all the challenges that researchers encounter."
The 10th annual prize recognizes Marrie as an innovator in the world of MS research. She has focused her research on new areas of study that have led to important discoveries that could one day lead to preventing MS.
"Dr. Marrie brings her perspective as a neurologist to ask research questions that are very relevant to improving people's quality of life and providing answers that will increase our ability to stop and even prevent MS in the future," said Dr. Bruce Bebo, executive vice-president of research programs at the National MS Society. "She is also incredibly generous and very effective as a volunteer who provides critical leadership to MS research initiatives on a global scale."
Marrie and her team were the first researchers to delve deeply into comorbidity in people with MS. Comorbidities are coexisting health conditions that a patient might have, such as diabetes, high blood pressure and heart disease.
Marrie showed that comorbidities are common in people with MS. She found that people with MS experienced delayed diagnosis, more relapses, faster disability progression, more hospitalizations, lower cognitive function and higher mortality rates.
Addressing comorbidities may reduce the impacts of MS, Marrie said. Her findings have informed treatment guidelines by the American Academy of Neurology, international MS Brain Health group and the Canadian Network of MS Clinics.
"I want to sincerely congratulate Dr. Marrie on this well-deserved honour and thank her for her tireless devotion to solving the mysteries of MS, particularly in a province with such a high rate of the disease. Her pivotal work has inspired researchers from around the world to study comorbidities in people with MS and in the time before diagnosis," said Dr. Peter Nickerson, vice-provost (health sciences) and dean, Rady Faculty of Health Sciences, University of Manitoba.
In another trailblazing study, Marrie showed that people with MS increased their visits to see a doctor during the five years before their first MS symptom. She said this raised the possibility that MS has a prodromal phase, which is a period when a person experiences non-specific symptoms such as fatigue, and precedes onset of specific MS symptoms. This phase indicates that the disease has already started.
Marrie said the next step is for researchers to look at whether they can identify people before MS symptoms begin, which could be an opportunity to prevent the disease.
"Receiving this award is an opportunity to make people aware of what we're doing and hopefully bring it more attention and move the work forward," Marrie said.
Her current research is setting the stage to determine whether more effective treatment of comorbidity in MS patients might offer a new avenue for slowing disease progression, Marrie said. She is also participating in a study to look at the prodromal phase in children.