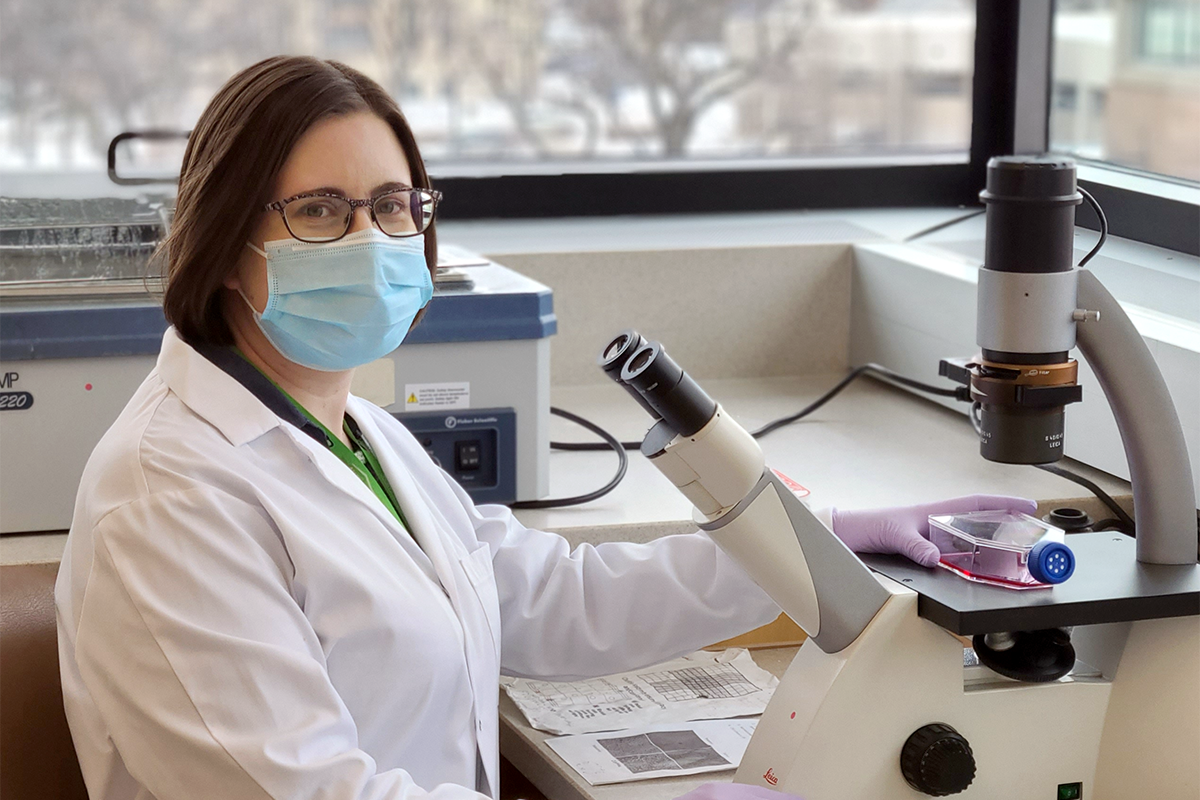 UM research teams awarded funding for cutting-edge equipment
March 2, 2022 —
The Canada Foundation for Innovation (CFI) has invested $1.3 million in infrastructure support for six UM research teams, ensuring that the researchers have the equipment and technology they need to drive innovation in their fields.
The grants are part of a $30-million federal government investment in research infrastructure at 31 Canadian universities through the CFI's John R. Evans Leaders Fund (JELF), recently announced by François-Philippe Champagne, Minister of Innovation, Science and Industry.
Funding provided through JELF helps institutions attract and retain outstanding researchers and acquire cutting-edge tools for innovative work.
"Our UM recipients are pushing scientific boundaries and keeping UM at the forefront of innovation in fields ranging from food science to antiviral immunity," said UM Vice-President (Research and International) and Distinguished Professor Dr. Digvir Jayas.
Here's a look at the projects:
Dr. Nandika Bandara, assistant professor, food and human nutritional sciences, Faculty of Agricultural and Food Sciences; Canada Research Chair in food proteins and bioproducts
JELF grant: $160,000
With new analytical and processing equipment, Bandara's team will develop novel protein ingredients and protein extraction and processing technologies to help meet the growing demand for sustainable protein products. They will also develop protein polymer-based bioproduct applications.
Dr. Fuji Jian, assistant professor, biosystems engineering, Price Faculty of Engineering
JELF grant: $149,945
Jian's team will create a world-class grain-drying research lab to address challenges in Canada's grain handling, storage and export industries. They will test methods of grain drying and develop new methods that take advantage of Canada's winter temperatures. They aim to refine technologies that dry grain for safe storage while using less energy.
Dr. Hagar Labouta, assistant professor, College of Pharmacy; researcher, Children's Hospital Research Institute of Manitoba (CHRIM)
JELF grant: $160,000
Nanoparticles (super-tiny particles of materials such as gold or iron oxide) have strong potential as carriers for targeted drugs. Labouta, an expert in nanotechnologies, will analyze the behaviour of nanoparticles in the human body. Her lab will acquire new high-resolution tools to examine how nanoparticles bind to cells, proteins and other biomolecules.
Dr. Christopher Pascoe, assistant professor, physiology and pathophysiology, Max Rady College of Medicine; researcher, CHRIM
Dr. Tanveer Sharif, assistant professor, pathology, Max Rady College of Medicine
JELF grant: $328,744
Pascoe, who studies lung diseases, and Sharif, who studies brain tumours, aim to understand how the structural complexity of lung and tumour microenvironments contributes to disease progression. They will acquire "digital spatial profiler" technology to examine relationships between cell-specific RNA profiles and structural changes that occur in chronic disease.
Dr. Elham Salimi, assistant professor, electrical and computer engineering, Price Faculty of Engineering
JELF grant: $159,731
Salimi uses electrical analysis techniques integrated into microfluidics to develop rapid, low-cost, portable "lab-on-a-chip" devices for medical diagnostic testing and biopharmaceutical applications. With new equipment for device fabrication, electronic measurement and cell culturing, Salimi's team will advance these point-of-care technologies.
Dr. Deanna Santer, assistant professor, immunology, Max Rady College of Medicine; GSK Endowed Research Chair in immunobiology of infectious diseases; researcher, CHRIM
Dr. Thomas Murooka, assistant professor, immunology and medical microbiology, Max Rady College of Medicine
JELF grant: $344,376
Santer and Murooka study the immune response to viruses such as HIV, influenza and the virus that causes COVID-19. They will use cutting-edge technologies, including automated confocal microscopy, cell sorting, gene analysis and mouse models of infection, to better understand the cellular and molecular mechanisms of antiviral immunity.
Research at the University of Manitoba is partially supported by funding from the Government of Canada Research Support Fund.