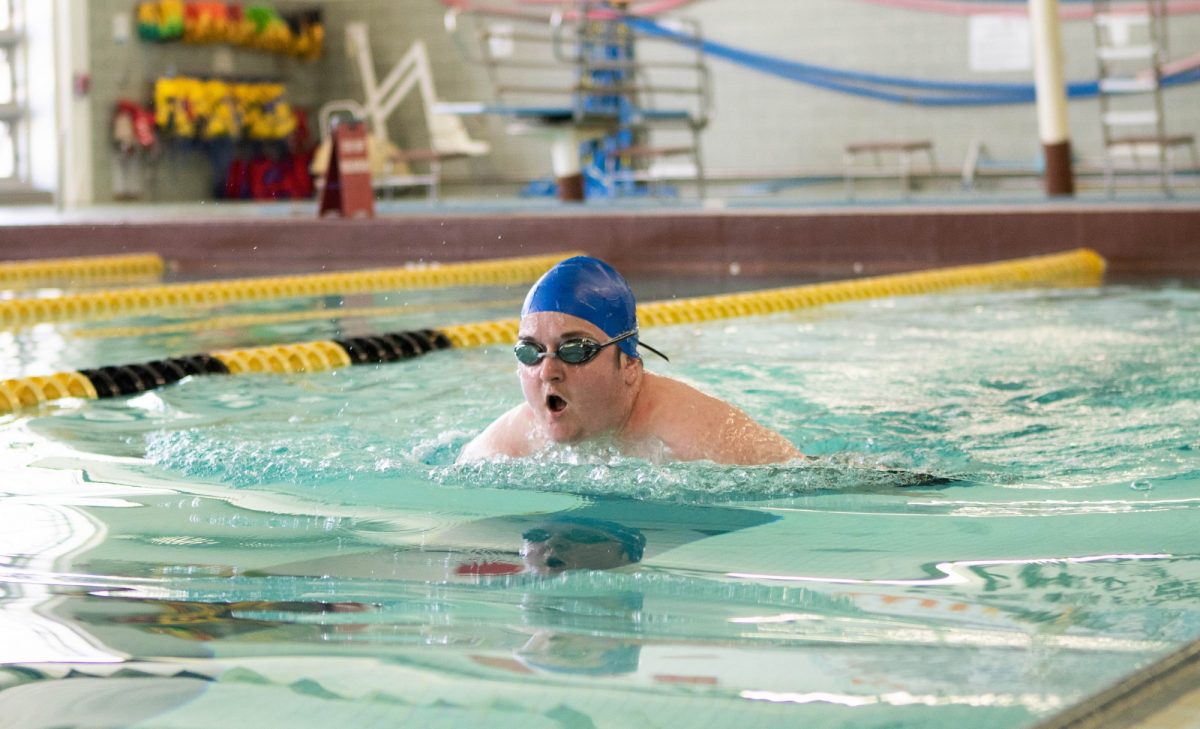 UM Recreation Services member testimonial: Derek Andriy Patten
the ALC is a safe space for the 2SLGBTQ+ community, says Patten
May 26, 2022 —
Derek Andriy Patten (he/him or they/them) is a graduate student at the University of Manitoba and an avid user of the Joyce Fromson pool and other areas of the Active Living Centre (ALC). Patten is a queer individual who identifies both as a man and agender, and he uses the term transgender to describe himself. Patten came out as trans near the beginning of the COVID-19 pandemic and started his transition during the lockdown. He has always enjoyed athletics, having played basketball in high school and having practiced Kendo (a Japanese martial art) prior to the pandemic. Before coming out and transitioning Patten suffered several shoulder injuries and was becoming increasingly uncomfortable playing sports as the gender he had been assigned at birth. He knew it would not be easy but wanted to do the sports he loved so he decided to officially come out to his Kendo instructors and to the staff at the ALC.
Patten explains that he was met with the utmost support in both contexts, which empowered him to occupy the spaces as a man while having his gender validated and respected. Switching changerooms, for example, was something he had worried about, but after talking to the ALC staff he was able to make the change in a relatively straightforward way. Recently, Patten has taken up swimming as his main form of cardio and says that being in the water provides him with mental clarity and makes him feel comfortable in his body. He is presently raising money for ALS (Lou Gehrig's disease), a neurodegenerative disease, through his fraternity—Phi Delta Theta— by swimming 200 laps (about five kilometers) at the Joyce Fromson pool on June 25 2022.
Patten is an example of someone who has persevered through adversity and injury, and who is now able to practice the sports and activities he enjoys while being open about who he really is. Gyms and fitness facilities that support the needs and validate the experiences of trans and non-binary folks are not a given, Patten explains, adding that he is pleased that the ALC has been so supportive throughout his journey as a person and an athlete.
"A lot of gyms aren't always safe for transgender people to go to. . . . I just kept going to the ALC because it's a safe space for me to be in."
How did you get involved with Recreation Services?
I've always loved going to the gym and using Rec Services. I've been at the university for about I would say a little over 10 years now. I got my first degree and now I'm in graduate studies at the U of M. So, since I've been at the university I've always kind of went to the gym. It was more on and off before my transition, I didn't necessarily feel too comfortable in spaces that are meant for cis-gendered women. And so, when I came out as trans, I reached out to the ALC, and I asked what the process for change to the men's change room was. I was met with very positive feedback. It was just very simple. I didn't know if it was simple or not because I had just started coming out. And then I just kept going to the ALC because it's a safe space for me to be in.
What parts of the ALC do you use the most?
I use the Joyce Fromson pool a lot. For the last two weeks I've taken a bit of a break. I usually go three or four times a week to the pool to swim. I also use the athletic facilities above, so the gym equipment I mostly like using is the free weights. I do all my cardio in the pool because of the low impact on my knees.
How has being involved in sports and exercise contributed to kind of your own sense of confidence and understanding of your own identity? Why is that important for queer and trans people?
Being a part of a team or being a part of anything that is active is important because there's a sense of belonging when you're with a team. When I was in grade nine I was on the women's basketball team, because I wasn't out then. I'm 33, so that was back in 2004. Though I wasn't as athletic in the realm of team sports, I still noticed there was a sense of community that you get to belong to. However, transgender people do not always get to be on the team because our existence is up for debate. For me, and from what I know from many trans athletes that I've spoken to, being on a team or being able to do the sports that we love, whether it be swimming for me, or it is soccer or hockey, or riding horses, even if you're just doing the sport individually, a sense of being able to belong is super important.
For myself, I've been able to be more confident in myself being able to do the sports that I love, be in the spaces I belong in, and being able to be a part of a community that historically, and socially doesn't understand trans people, because of the stigma that people have put on transgender individuals.
Sports also contributed to me not just playing but also because I get to work for Bison Sports. Being a part of sports on all levels is important for me. Being able to watch all the games up close was lots of fun. But being able to help the players play the game they love also gave me a sense of belonging. Aside from the sports I play, my favorite sport is Volleyball and being able to help the Bison Volleyball team even just throwing the ball to the servers gives me a sense of belonging. It is a very small part of the game, but I think is very important. This is because if the ball isn't in the player's hands the momentum can stop and turn the tide of the game. I might not officially be on the team, but I like to think all sports staff are on the team regardless of where they are working.
Is swimming your sport of choice?
So, I have two sports a choice. I practice Kendo, it's Japanese martial art. Kendo translates loosely to the way of the sword. It's a more modern martial art but it derives from samurais and swordsmanship. Prior to transitioning, I was very involved in the Kendo community here in Winnipeg. About two years before my transition, aside from injuries that I had also sustained, I felt kind of uncomfortable playing as a woman, because that's not who I am. So, I was on and off all the time with Kendo. I made excuses to not practice because I was worried about how people would perceive me. I was able to reach out to my sensei and they were very accepting of me. I'm hoping to get back into Kendo when things are a little bit safer, and I don't have to wear a mask inside my mask that I must wear.
I wanted to take up another sport because I can't do many team sports. When I was coming out, I came across American trans athletes Chris Mosier and Schuyler Bailer. To people, I look up to and hope to meet one day. Watching their journey gave me the courage to take up swimming as a sport. I also took up swimming because it's a low-impact sport and swimming gave me the confidence to be myself. When you're in the water you don't really have to think about much, you're just kind of thinking about your goal, at least that's how I view swimming. And then there's also the ability to be comfortable with my body and also who I am as a person and as a man.
Do you want to tell me a bit about the fundraiser that you're working on?
So, I'm raising $1,000 for ALS research. The Foundation I'm raising it for is called the LiveLikeLou Foundation. The Foundation was developed in 2017 as a stand-alone 501-C-3 non-profit entity to fight against ALS, the devastating disease that was named after brother Lou Gehrig.
This fundraiser is also part of the fraternity that I'm in, Phi Delta Theta. I'm striving for the Iron Phi distinction, which was developed as a way to strengthen both Phi Delta Theta and its impact on the fight against Lou Gehrig's disease.
For a little bit of background, Lou Gehrig who is widely known for his baseball skills and then later known for ALS, was part of Phi Delta Theta back in the 1920s he attended Columbia University before getting drafted to New York Yankees. The LiveLikeLou foundation was created to honor Brother Lou. In order to become an Iron Phi participant on the way to achieving their personal athletic goals must select an athletic endeavor of their choice and raise $1,000 through the Iron Phi website and accomplish the athletic endeavor itself.
So far, I've raised $479 out of the $1,000. There's no end date for the fundraiser. However, my athletic endeavor has been scheduled for June 25, 2022, at the Joyce Fromson pool located at the University of Manitoba ALC. I'm going to be swimming 200 laps in a 25-meter pool. Two hundred laps are equal to five kilometers. It's going to be mainly me doing a lot of backstrokes and then so that I don't lose pace I'll be switching to breaststroke. I am hoping to finish all the laps in under 3 hours but if I do not I will be back at it to finish the rest at a later date.
To donate to Derek's fundraiser, please visit his site on ironphi.org.