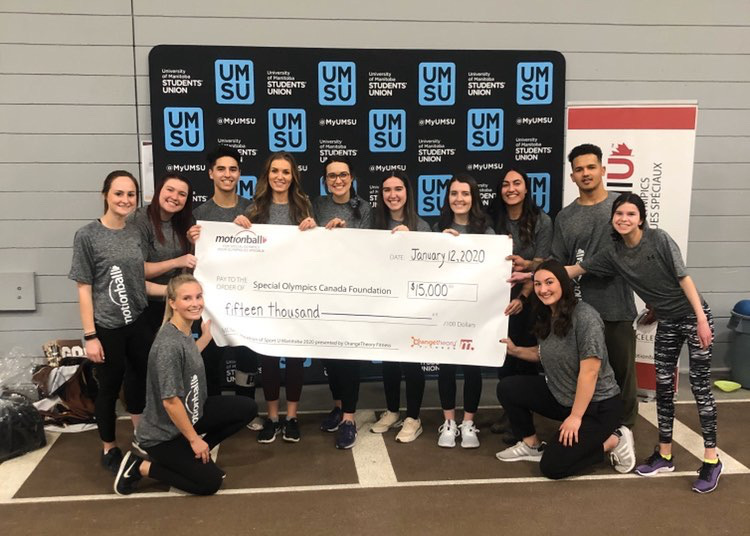 UM raises $15,000 for Special Olympics
January 15, 2020 —
Ava Glesby couldn't believe her eyes as she opened her laptop last week. As an event director for the university's chapter of Special Olympics' Marathon of Sport, she could view in real-time the fundraising totals the event was accumulating.
The rising numbers on the screen gave her chills.
"It just kept going up and up and up," said Glesby, a third-year kinesiology student. "I was giddy. In disbelief, really."
There were lofty expectations for this year's iteration of UM's Marathon of Sport, which took place Sunday, Jan. 12 at the University of Manitoba. It's an event where teams (comprised of people who need to fundraise to participate) compete alongside local Special Olympics athletes in a variety of sports.
Last year's edition raised $5,000—a remarkable total, given it was UM's inaugural run at hosting the Special Olympics Canada Foundation fundraiser.
So, when the final tally peaked at $15,000 raised on Sunday, Glesby was blown away—but not completely surprised.
Head office in Toronto advised Glesby and the planning team (comprised mostly of Faculty of Kinesiology and Recreation Management students) to shoot for a fundraising total of between $6,000 and $7,000.
"In the back of my mind, I knew we could go for $10,000," said Glesby. "Once we passed $10,000, I knew anything was possible."
Approximately 120 participants converged on the James Daly Fieldhouse at Max Bell Centre for the day-long event, competing in soccer, football, basketball, benchball and Ultimate, to name a few of the activities.
The sizable sum of $15,000 raised is sure to turn heads. Glesby, though, said the day's atmosphere, filled with fun and inclusivity, is what she'll remember most.
"Sharing that love of sport and spreading awareness is really what this is all about."
The money raised goes directly to Special Olympics Canada Foundation, which helps fund local programming and awareness campaigns.