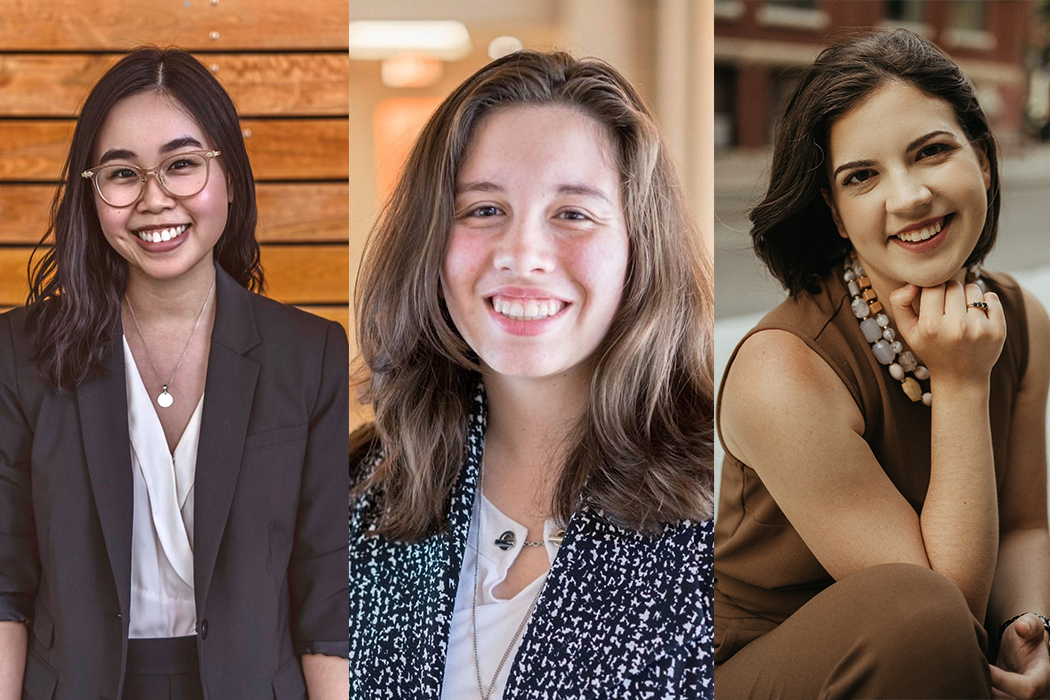 UM pharmacy students win leadership positions on national executive board
August 17, 2022 —
Three College of Pharmacy students hold leadership roles on this year's Canadian Association of Pharmacy Students and Interns' (CAPSI) executive, the first time UM has been so strongly represented on the board.
CAPSI is a national community of pharmacy students from 10 pharmacy schools in Canada. The association organizes professional development conferences, connects students to one another and advocates for students' interests.
This fall, national president Christine Vaccaro [B.S.c/18], vice-president, professional affairs Marianna Pozdirca and president-elect Madison Wong [B.Sc./20] along with nine other executive board members, will represent the interests of over 4,000 pharmacy students across the country.
For Vaccaro, listening to her mother talk about her career as a pharmacist encouraged her to get a job with her local community pharmacy. It wasn't long after that she decided pharmacy was the perfect fit for her and enrolled at the College of Pharmacy, Rady Faculty of Health Sciences.
Once she was admitted into pharmacy, Vaccaro heard about upper-year students' experiences with CAPSI and knew she wanted to get involved.
"After my first year of pharmacy school, I wanted to give back to the community. Once my years as CAPSI Manitoba representative ended, I ran for president-elect in 2021," says Vaccaro, a fourth-year doctor of pharmacy (PharmD) student set to graduate in spring 2023. "I wanted to advocate for the profession and find ways to reintroduce out-of-classroom experiences in our modified COVID-19 world. As president, I'm fortunate enough to do this daily."
Vaccaro describes CAPSI Manitoba as a "small but strong" branch of CAPSI National and believes the strong UM presence on CAPSI this year "reflects the tremendous work of all current and previous University of Manitoba students involved with CAPSI."
The smaller community and strong connection between professors and students encourage pharmacy students to pursue leadership positions. "The main element that sets our College apart is its people. What stands out most is how much the people, from deans to course coordinators to our Office of Experiential Education, listen to student insights and steadily make improvements. When this happens, it's incredibly empowering and builds up stronger future pharmacists," says Pozdirca, a fourth-year student who will graduate next spring.
Pozdirca also has a family connection to the pharmacy world. She would excitedly wait for her older sister to come home from school to hear what she had learned about that day.
"When she was at CancerCare MB, she would tell me about projects to minimize medication errors, or, after pathophysiology class, she'd try to explain disease states to me," says Pozdirca.
Third-year PharmD student Wong wasn't always sure she wanted to pursue pharmacy. As she learned more about the crucial role pharmacists play in the health-care system, she pictured herself getting to speak with patients everyday and liked what she saw.
"My main goal is learning the intricacies of what it takes to run CAPSI National, and of course taking in all the awesome advice and wisdom Christine shares as we journey through this year," says Wong.
After a successful year last year as president-elect of the University of Manitoba Pharmacy Students' Association (UMPhSA), Wong, this year's local student council president, set her sights on the national level
"I was able to witness the amazing advocacy and leadership accomplishments of my counterparts throughout the year. This inspired me to carry these efforts forward into this year as president of UMPhSA and now hope to do the same [next year] with CAPSI National," says Wong.