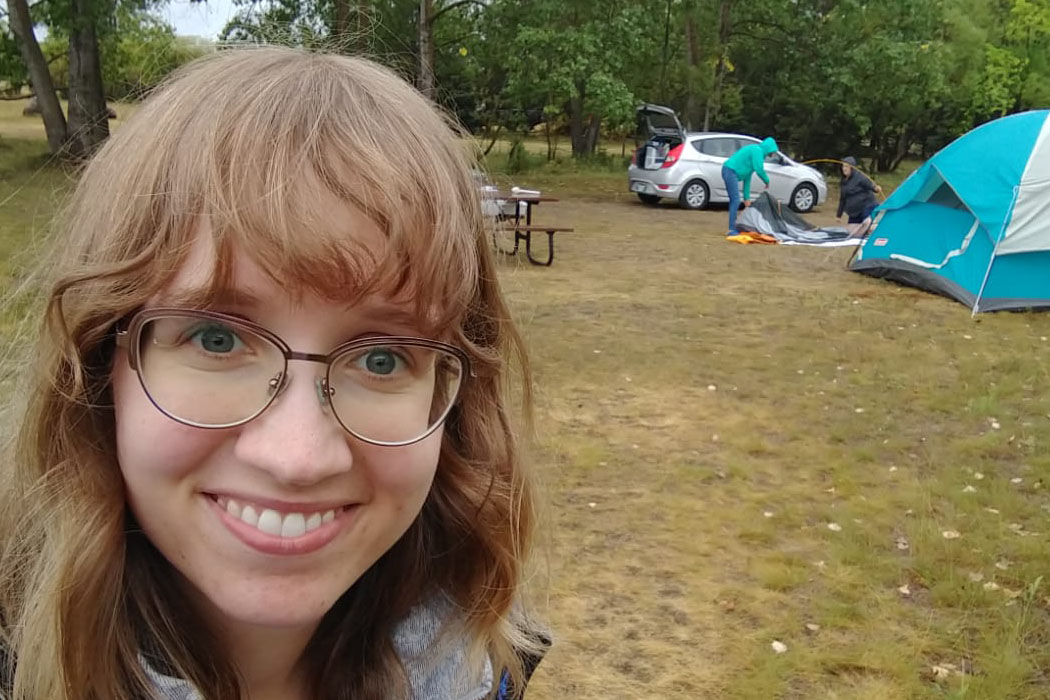 UM medical student promotes nature prescription program
November 15, 2021 —
As a kid, Angela Woodbury spent Earth Day picking up litter in her community.
It's fitting that as an adult, she is a Manitoba launch co-ordinator for PaRx, a program that encourages health-care professionals to write "nature prescriptions" for patients to improve their mental and physical health.
The fourth-year student at the Max Rady College of Medicine first heard about PaRx through her involvement with the Canadian Association of Physicians for the Environment. As a lifelong nature lover, she knew she wanted to help patients connect with nature for their health, and the health of the planet.
"I hope that patients will take time for themselves and learn more about the environment," says Woodbury. "People who spend more time in nature are more likely to want to protect it, and we all need to care more about the environment."
In her volunteer role with the evidence-based PaRx program, the medical student spent the summer speaking to a diverse range of health professionals, including nurses, occupational and physical therapists, social workers, physicians and pharmacists, about signing on as PaRx prescribers.
The program was started a year ago in British Columbia by the B.C. Parks Foundation. Now more than 1,000 health-care prescribers in B.C., Saskatchewan, Ontario and Manitoba have registered, and PaRx aims to expand to other provinces and territories. At UM, the Rady Faculty of Health Sciences and all its colleges have endorsed the program.
The program prescribes participants two hours a week, for at least 20 minutes per outing, of time outside doing something they enjoy. Spending time outdoors has been linked to a number of positive effects on mental and physical health, including longer life expectancy, greater immune function and reduced risk of heart disease, depression and anxiety.
For Woodbury, PaRx is about prescribers encouraging patients to learn what a meaningful connection to nature looks like to them and how they can get outside.
"I've heard from Indigenous patients that they feel better while they're reconnecting with their roots and engaging in traditional activities," she says. "The program is customizable. Maybe for some people it's sitting in their backyard, or maybe it's going for a walk in Assiniboine Park."
Anna Cooper Reed, a social worker, PhD student and PaRx launch co-ordinator, also emphasizes the importance of conversations between patients and prescribers. She is excited that PaRx takes a patient-centred approach and allows a variety of health-care professionals to engage holistically with their patients.
It's important, she says, that prescribers and patients talk about what life looks like outside the clinic or hospital. This new program will allow for conversations about what treatment is best for the patient.
The PaRx website says that while verbal advice is helpful, studies have shown that patients are more likely to follow a written prescription. By writing a prescription for going on a hike, throwing a Frisbee with a friend or just sitting on a park bench, health-care providers can help their patients see the value of a relationship with nature.
Woodbury notes that people who live in urban areas with few green spaces often have poorer health than those who live near walking trails or parks. Nature prescriptions could encourage these patients to get outside and improve their mental and physical health.
Getting out during Manitoba's harsh winters can be tricky, but Woodbury says there is still lots to do as long as folks are dressed for the weather. Some of Manitoba's best attractions happen in the winter, she says, including Festival du Voyageur and The Forks River Trail.
To learn more about prescribing nature or getting a prescription for the outdoors, visit ParkPrescriptions.ca.