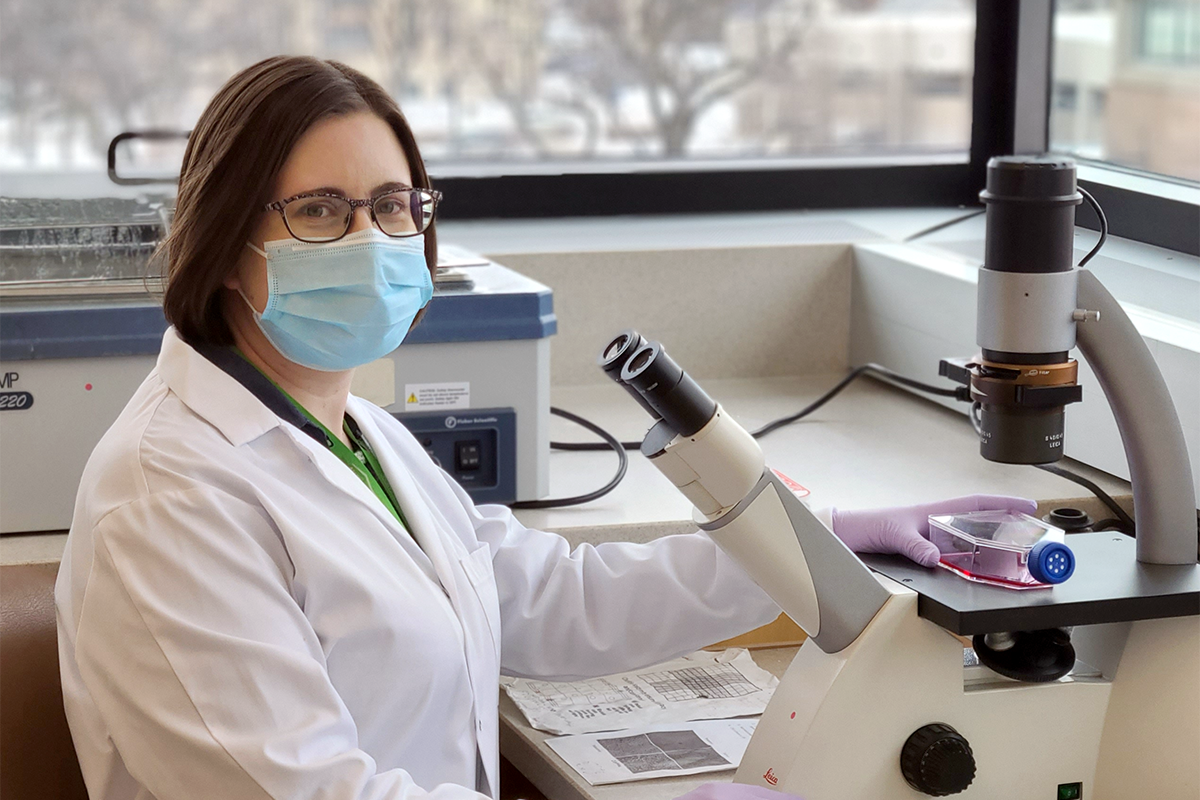 UM immunologist applies interferon expertise to COVID-19
March 22, 2021 —
Dr. Deanna Santer is driven to understand what happens at the molecular level when a virus enters the body.
The immunologist studies interferons – proteins that are released by the immune system to defend against viruses. Specifically, she is an expert on type III interferons or "interferon lambdas," which scientists discovered less than 20 years ago.
Santer never imagined that she would move to Winnipeg to take her first faculty job in the midst of a viral pandemic. Nor did she dream that in her new lab at UM, she would be analyzing blood from COVID-19 patients who were treated with synthetic interferon lambda.
"This is the first time I'm able to see what interferon lambda does when it's given to a person," says the assistant professor. "This drug is very new – not to be confused with the type I interferon that people associate with harsh side effects. We have so much to learn about it."
The scientist, who is originally from Saskatoon, joined the immunology department of the Max Rady College of Medicine about five months ago as the new GlaxoSmithKline Research Chair in Immunology of Infectious Diseases. She holds a PhD from the University of Washington, where she investigated the role of type I interferons in lupus.
During her postdoctoral work at the University of Alberta, she was mentored by distinguished virologist Dr. Michael Houghton, a Nobel Prize laureate for his co-discovery of the hepatitis C virus. There, she worked with various viruses before focusing on interferon lambdas.
"Working in Dr. Houghton's lab confirmed my passion to answer research questions related to human disease," she says. "It's more than just a little tube in the lab. It's thinking about the big picture."
While still in Alberta, Santer was part of a Canadian research team that conducted a Toronto clinical trial of interferon lambda to treat COVID-19. In the randomized trial, 60 non-hospitalized patients with mild-to-moderate COVID-19 each received one injection of either the drug or a placebo. The results were recently published in the prestigious journal Lancet Respiratory Medicine.
The average duration of the infection was shorter in those who received the drug. They were more likely than the placebo group to have no detectable virus after seven days. "We have an amazing result," Santer says.
Now, with collaborators in Toronto and Edmonton, Santer has funding from the Canadian Institutes of Health Research to continue immunological testing of the patients' blood.
"We've preserved blood cells and plasma from those 60 patients, so we can look at the immune cells, the antibodies, the inflammatory markers. What can we learn about what the treatment did, versus the placebo?"
Dr. Jordan Feld of Toronto's University Health Network, who led the interferon lambda trial, is now enrolling hospitalized COVID-19 patients to test the same treatment. "We'll be able to compare our results from the two trials with respect to virus clearance and immunological markers," Santer says.
Santer has been a longtime volunteer mentor for elementary and high school girls, encouraging them to pursue the STEM (science, technology, engineering and mathematics) fields. She looks forward to getting involved in WISDOM, a Rady Faculty of Health Sciences organization that works to improve the representation of women in science.
Aside from her COVID-19 research, she and her lab team will continue to investigate how type III interferons regulate immune responses. She notes that at many universities, immunology is a subsection of a department. But UM has Canada's oldest independent department in the discipline.
"One of the nice things about coming here was I knew I'd be surrounded by people who really know their immunology," she says. "I already have exciting collaborations on the go."