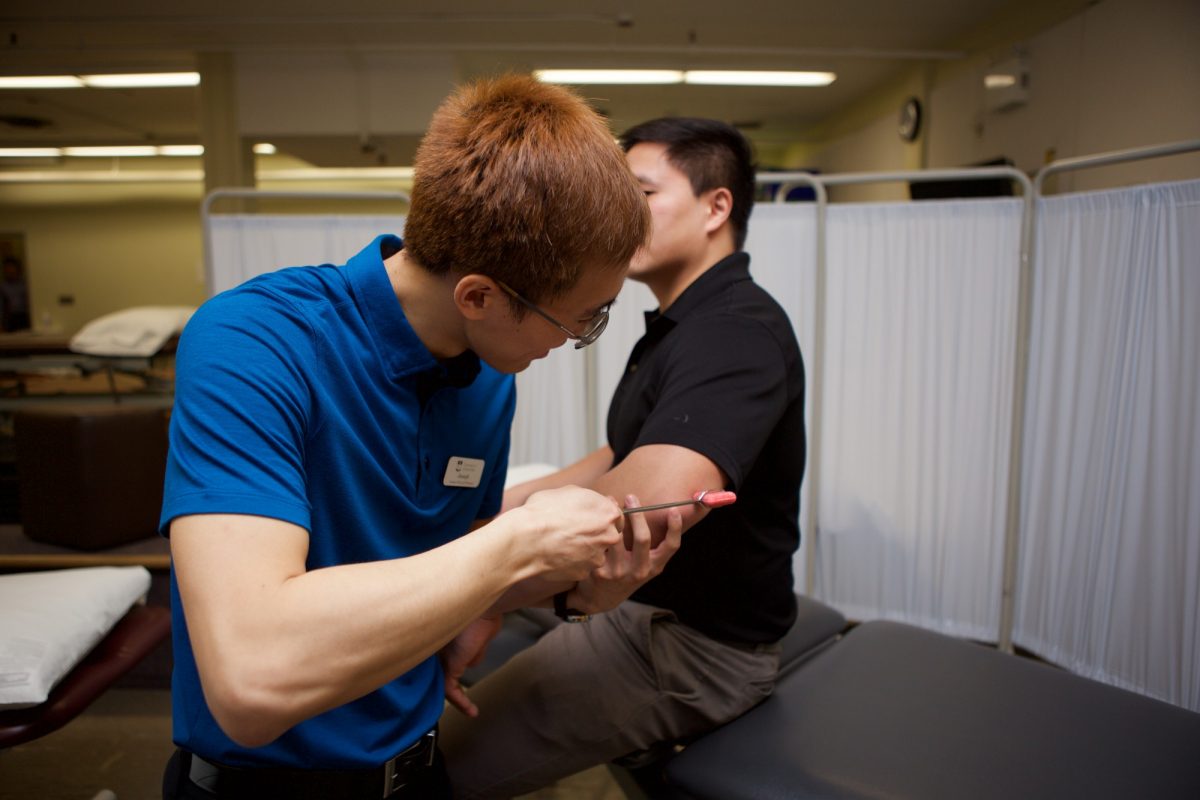 UM faculty, alumni honoured by Canadian Physiotherapy Association
June 24, 2021 —
Several faculty and alumni from the College of Rehabilitation Sciences, Rady Faculty of Health Sciences have been honoured by the Canadian Physiotherapy Association (CPA) as part of the association's 100th anniversary.
The CPA celebrated 100 years in 2020 with centenary medals of distinction to recognize one hundred individuals who have had a significant and meaningful impact on the physiotherapy profession. Due to delays related to COVID-19 restrictions, the association announced its winners in May 2021.
There were seven Manitobans on the list of winners, all of whom are UM faculty or alumni.
D'Arcy Bain [Dip PT/72, BPT/76] began his career as a physiotherapist at St. Boniface Hospital before co-founding the physiotherapy centre at the Institute of Sports Medicine, Reh-Fit Centre in 1979. Two years later he founded D'Arcy Bain Physiotherapy, which has grown to four locations across Winnipeg over the last 40 years. Bain has worked as a therapist at the Summer Olympics several times between 1976 and 1992, the Summer World Student Games, the Pan Am Games and as head therapist for Canada's national racquetball team for 12 years.
He said it was great to see so many colleagues and mentors on the list of recipients. "Having friends for 40 years who have had the same values means you were kind of on an all-star team during those developmental years but did not realize it until years later."
Moni Fricke [BMRPT/87, MSc/98, PhD/16] joined the faculty in 1999 in the department of physical therapy. Her graduate research focused on rehabilitation issues in remote First Nations communities in northern Manitoba. In 2000, she led the development and implementation of the first community-based rehabilitation program in the Kivalliq Region of Nunavut in partnership with the communities and former JA Hildes Northern Medical Unit. In 2019 she took on the role of director of the Rady Faculty of Health Sciences' Office of Interprofessional Collaboration.
Fricke said she was humbled to be named alongside the other physiotherapists in the group. "I'd like to think this means that there is some recognition of some of the work that I've done, particularly in trying to improve access to physiotherapy services for Indigenous Peoples in Canada."
Murray MacHutchon [BMRPT/82] is an orthopedic physiotherapist and founder of the Pembina Physiotherapy and Sports Injury Clinic in Winnipeg. He has been a Fellow of the Canadian Academy of Manipulative Physiotherapy (FCAMPT) since 1993. He is a past instructor and examiner for the Orthopedic Division of the Canadian Physiotherapy Association, and has also been involved in teaching post-graduate physiotherapists across Canada. MacHutchon has also served as a clinical mentor for the Master's of Clinical Sciences in Manipulative Physiotherapy at the University of Western Ontario since its inception.
Kathy Mulder [Dip PT/74, BPT/81] is a pediatric physiotherapist who has shared her knowledge and skills with physiotherapists across the world. In 2006 she was the first physiotherapist and first female to chair the Musculoskeletal Committee of the World Federations of Hemophilia. She received the CPA Global Health Award in 2008 and CPA Mentorship Award in 2016. She spent the majority of her career in child health at Health Sciences Centre Winnipeg and retired in 2014. In her retirement, she completed clinical practice guidelines for physiotherapists working in hemophilia, which were recently published in international publication Haemophilia.
Mulder said she was surprised and honoured by the nomination.
Leonore Saunders [BPT/72] was one of a small group of people who spearheaded the development of what is now the College of Rehabilitation Sciences, opening the school in 1960. Born and educated in the U.K., she was president of the Manitoba branch of the Canadian Physiotherapy Association from 1955-57 and worked in other executive positions from 1949-1957. In 2002, Saunders received the Order of Manitoba for her contributions to women's equality through her work on the Winnipeg Council of Women and the Provincial Council of Women in Manitoba. She passed away in 2019.
"She affected directly the people who were lucky to work with her as well as those she treated, and indirectly affected the lives of generations of women specifically in Manitoba, with more to come," said Liz Harvey, senior instructor at the College of Rehabilitation Sciences.
Sam Steinfeld [BSc/76, BMR/79] along with Laurie Urban and UM faculty member Russ Horbal, purchased the physiotherapy practice at the Institute of Sports Medicine at the Reh-Fit Centre and moved it to the then-new Pan Am Clinic in 1984, renaming it the Sports Physiotherapy Centre. For 18 years, he was the physiotherapy consultant to the Royal Winnipeg Ballet. He also taught chronic pain management courses for health-care professionals in Canada for the NeuroOrthopaedic Institute of Australia, and was twice on the board of the College of Physiotherapists of Manitoba.
"I consider myself so fortunate to have had a career that allowed me to grow as a professional and that took me places I never anticipated I would go when I first graduated," Steinfeld said.
Laurie Urban [Dip PT/77, BPT/82, MSc/11] was one of three clinicians who started the Sports Physiotherapy Centre at Pan Am Clinic in 1984. He was selected as part of the medical team for Team Canada for two Olympic Games, three Commonwealth Games, three Pan American Games and two Summer FISU World University Games. Urban retired from clinical practice five years ago, but continues to teach at the College of Rehabilitation Sciences, specializing in manual therapy, sports physiotherapy and pathology.
"When I look at the other 99 people on this list, that's some pretty rarified company," he said.
The CPA's Orthopaedic Division also named UM physical therapy instructor Roland Lavallée [BMRPT/83, BA/80] as the 2021 recipient of the Golden Hands Award. The award is given to an exceptional orthopaedic physiotherapist in honour of the David Lamb, an influential physical therapist who passed away in the late 1990s. He has been an instructor in the physical therapy department since 2005, and in 2015 became the department's chair of admissions. He is also a practicing clinician with 38 years of experience. Lavallée, a French Canadian Métis from Winnipeg, is the first Indigenous recipient of the award.
"I took a course from David Lamb in Montreal in 1985, so it's an honour to receive an award in his name," Lavallée said.