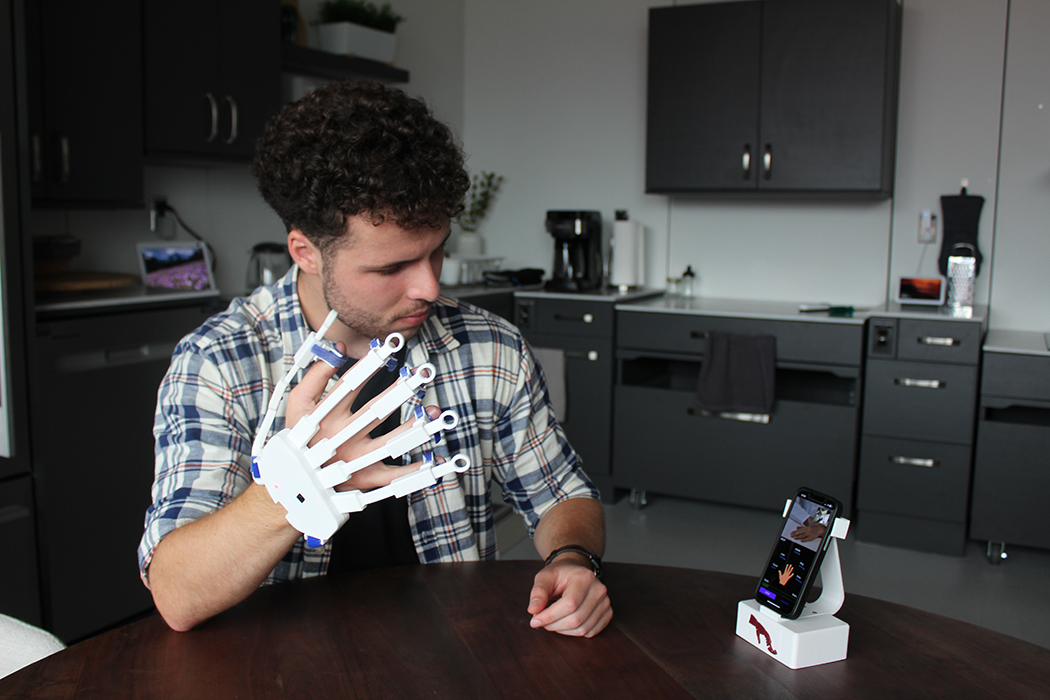 UM-developed 'smart glove' offers hand therapy remotely
September 5, 2023 —
As part of an international scholarship, Silas Müller, a biomedical engineering student from Stuttgart, Germany, has spent the summer at the Rady Faculty of Health Sciences conducting validation testing on a new telerehabilitation tool that will help people who need physical therapy on their hands.
The tool, a "smart glove" called iManus, was developed by Dr. Amine Choukou, associate professor at the College of Rehabilitation Sciences, along with Tactile Robotics, a local start-up housed at the UM Smartpark at Fort Garry campus.
The light plastic glove, outfitted with multiple sensors, is attached to a patient's hand and works via Bluetooth and a smartphone app to connect in real time with a therapist virtually in any location. On their mobile device, the patient can see their therapist as well as a computerized image of their hand and the movements they are doing. On the other end, the therapist sees more detailed hand movements and can download a report that provides detailed measurements such as the range of motion of each finger and the wrist.
"The finger sensors pick up the flexion of the fingers and the other sensors pick up the orientation of the device in the room," Müller said. This enables the platform to automatically calculate the performance of the patient.
The app, he noted, comes with nearly 100 different exercises that clinicians can customize to the patient's progress. Additionally, the app features video demonstrations of how each exercise should look.
It also includes an in-app texting feature that Müller qualitatively analyzed. This feature allows for direct SMS-like conversations between the patient and therapist.
"It actually works better," Choukou said. "Normally you'd have to wait a week, or however long, until you see your therapist in person to tell them about problems you are having with your exercises, and by then you might forget. Here, you can text right away. It's a real-time discussion with your therapist."
Following a single subject trial and assessment of technical reliability, Choukou said the next step is larger-scale clinical testing, pending funding availability, so the technology can be commercialized.
The studies so far have been focused on people who have had strokes, but the technology can also be used for those who've had hand injuries or have illnesses like Parkinson's or diabetes.
While on a 12-week scholarship from Mitacs, a national training and resource organization, Müller tested the reliability of the glove's values and measurements, while also observing clinical testing, which was performed by Jasem Banihani, a graduate student in the M.Sc. in Rehabilitation Sciences program at UM.
Müller has been impressed with the technology, which he says aligns with his goal of using biomedical technology to help people with mobility and sensory issues.
"My grandma had a stroke 20 years ago and still has problems moving her upper limbs and doesn't get out of the house," he said. "I remember this one time before I started my studies and I was on a hiking trip with my dad and we went up a mountain and I saw this beautiful panorama. I thought 'I can do this, but what about people like my grandma who can't anymore?' That motivated me throughout my studies to develop technologies that help people move and experience nature again."