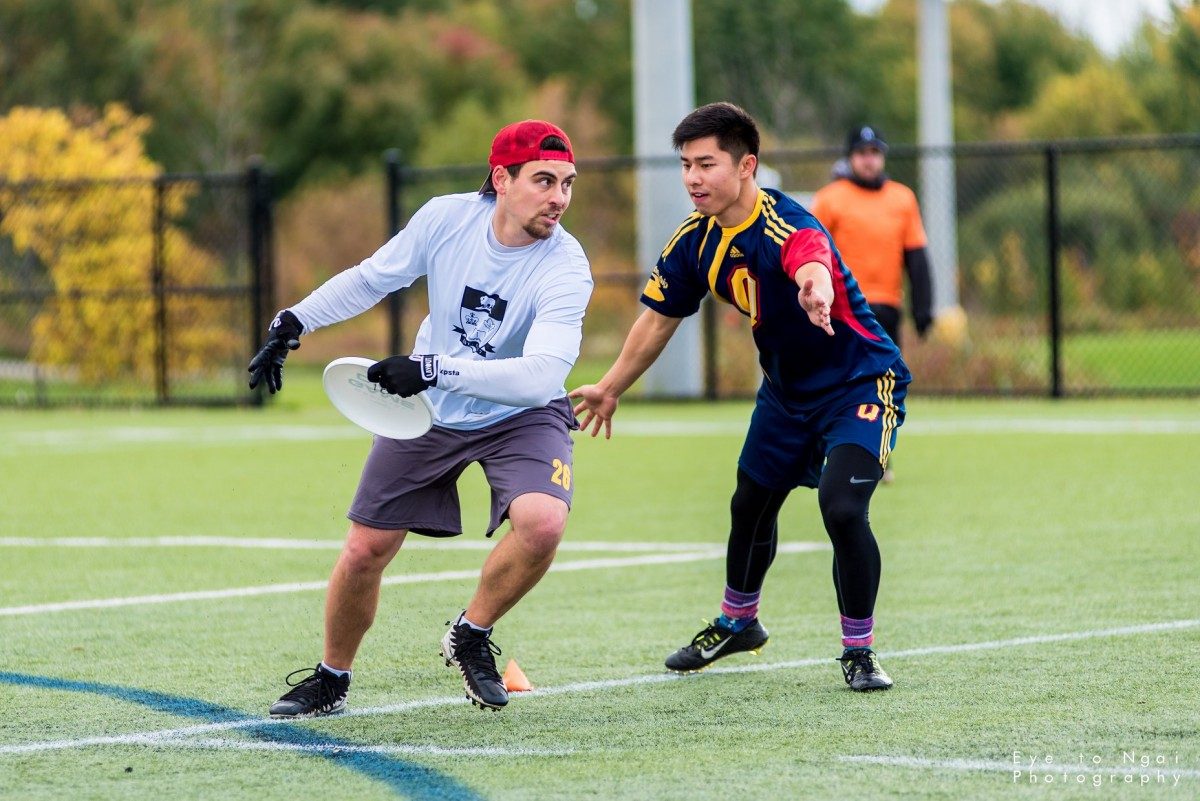 Ultimate Frisbee Club at UM aiming for gold
October 15, 2021 —
Ultimate frisbee in the province of Manitoba has a storied history. At the junior level, Masters of Flying Objects (MOFO) – an elite Winnipeg-based squad created in 1998 – entered the Ultimate Canada Hall of Fame in 2017 and have won a total of nine national titles. Additionally, there are seven adult touring teams and the provincial team (for junior players) which provides a plethora of opportunities for growth and development.
The vast majority of these programs train and compete during the spring and summer. In the fall, students at the University of Manitoba continue their development through the school's ultimate club. It's a consistently successful program that's offered through Recreation Services at the university, and is one of many UM sports leagues that are organized and led by student volunteers.
The ultimate club has been to the Canadian University Ultimate Championships (CUUC) a number of times, with the men winning in 2014 and 2019 against more than 20 of the top post-secondary institutions across Canada. This weekend, UM will be represented by both a men's and women's team at the CUUC in Ontario.
Stephen Crew, the club's president and Team Canada alum, has been involved in the game since high school and values the connections it's provided, including at the university level.
"Winnipeg is a pretty tight ultimate community. We're really good for how small we are. We frequently have teams and players that are competing at worlds. In general, I feel like everyone for the most part is kind of on the same path. A lot of people will start in middle school or high school on their school teams," says Crew, who also won national titles with MOFO in 2016 and 2017.
"It's really tough to make friends for most people in university but having all these guys that I knew from ultimate, most of us went to UM from that core group. In high school during the summer we'd all hang out every day, and in university that just became my main group of friends. There's six of us that hang out several times a week still, and we'll have other guys join in every once in a while and stuff like that. Pretty much my core group of friends is what it turned into."
Including Crew, the men's team that's heading to nationals has nine Team Canada alumni on a roster of 21. Others include Jordan Steele, Keenan Ashley and Ryan McDonald. Aside from those with world championship experience, everyone else on the roster has played for MOFO. The women are also in a good position with a variety of skill and experience, as well as four Team Canada alumni on their roster.
"The girls should also be pretty competitive," says Crew. "They have good coaching and everything they need, and should be competing for a medal."
Typically, UM only has one team of 18, but with the addition of a strong women's roster and a developmental 'B' team, they exploded to three different rosters in 2021. It goes to show the level of interest the club – which practices twice a week in the evenings at the school's outdoor turf field – generates, as well as the fun atmosphere provided.
"The thing about UM is that everyone is very much in the friend group. This year, for the first time since 2015, we had a men's 'B' team. They came to the regional tournament we had in Regina and everyone was getting along. All 30 of us were packed into a hotel room watching a baseball game or something and we just had a great time going to team dinners. It's very tight-knit," added Crew.
"We have some guys on our B team who played one year in high school and never really played, but they'd see our social media and come out, and with our B team we didn't cut anyone. We're just looking for more and more people to come out. It's really just the more the merrier."