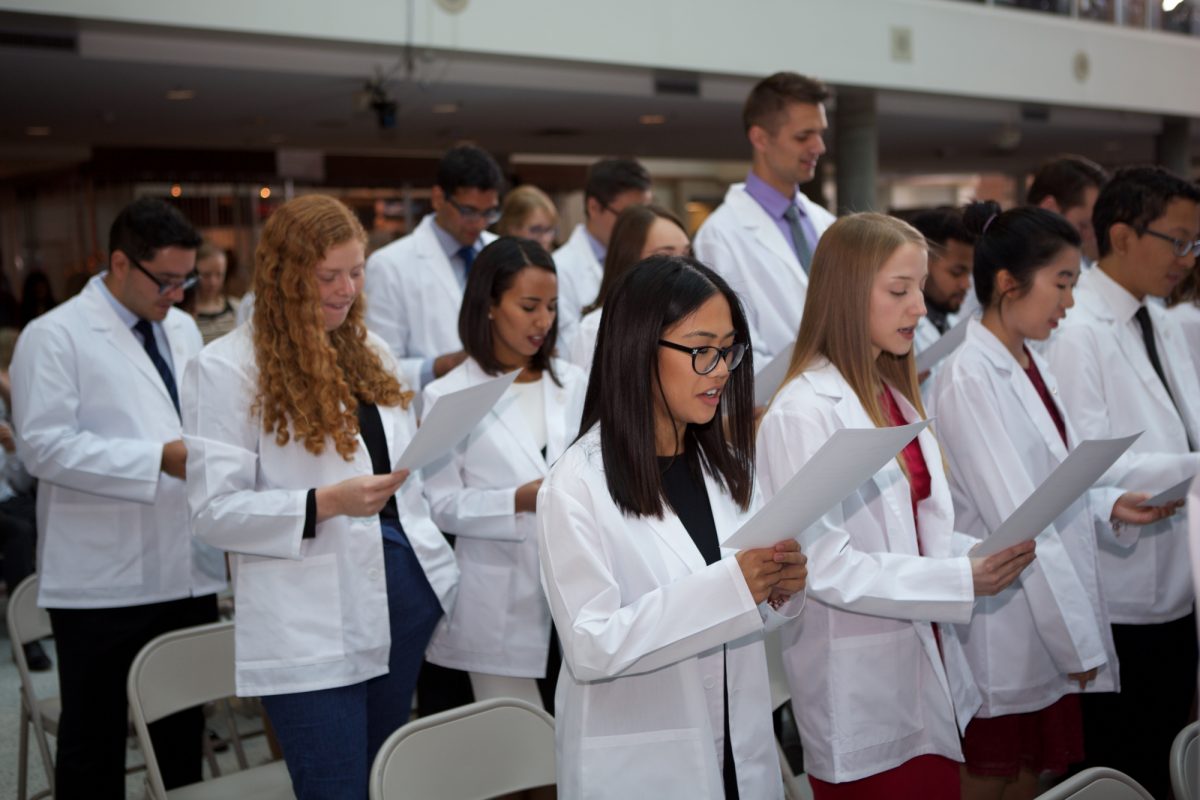 U of M to welcome diverse class of future physicians
August 20, 2019 —
First-year medical students from a cross-section of ethnic, cultural and socio-economic backgrounds are beginning their journey to becoming physicians when they take part in the White Coat ceremony on Wednesday, Aug. 21 at the University of Manitoba's Bannatyne campus.
Who: Max Rady College of Medicine Class of 2023
What: White Coat Ceremony, including recitation of Physician's Pledge
When: Wednesday, August 21, 2019, 10 a.m. to noon
CLOAKING OF MED STUDENTS AND PHYSICIAN'S PLEDGE WILL BEGIN AT ABOUT 10:45
Where: Brodie Centre Atrium, 727 McDermot Ave., University of Manitoba Bannatyne campus
The 110 members of the Class of 2023 will be formally cloaked in their first white coats and they will recite the Physician's Pledge as part of Inaugural Day Exercises at the Max Rady College of Medicine in the Rady Faculty of Health Sciences.
This year's class of 53 women and 57 men includes 15 students of self-declared Indigenous ancestry, the highest number of Indigenous students reported for an incoming class. Forty-nine students have rural attributes, meaning they have rural roots, rural work experience or rural volunteer or leadership experience. Two students are enrolled in the bilingual stream.
Forty-two students are the first generation of their family attending college or university, 41 students were raised in a family with an annual household income below the median for Canada, 36 students consider themselves to be members of a visible minority, and 19 individuals' primary language is other than English or French. The class also includes students who identified as living with a disability.
"I am proud that the goal we set as a college several years ago to enhance our medical student body's diversity is being realized," said Dr. Brian Postl, dean of the Max Rady College of Medicine and dean of the Rady Faculty of Health Sciences. "By making the Max Rady College of Medicine more diverse and inclusive to all members of our community, we are fulfilling our ethical responsibility as a profession to reflect the communities we serve and this will improve health care across our province and especially to our most underserved patients."
The class's ethnic and socio-economic diversity reflects the Max Rady College of Medicine's inclusive admissions policy. To remove barriers to participation and more accurately reflect Manitoba's population, the college advantages qualified candidates from traditionally under-represented socio-economic and socio-cultural backgrounds.
The following first-year students are available to speak with media:
Kevin Boreskie will be continuing his PhD studies in Applied Health Sciences at the U of M while in medical school. The 27-year-old's research has mainly focused on identifying better ways of identifying women at risk for cardiovascular disease. Boreskie has always been involved in health promotion through sport, but his graduate studies have helped him focus his skill set on primary prevention of chronic disease and implementing exercise into medicine. Medical school will help him find better ways of incorporating physical activity into healthcare and promoting it in his community. Boreskie was the U of M Three Minute Thesis winner in 2019 and represented the university at the Western Regional Competition.
Bobby McNair is a Métis student who worked in home care to add more health-care experience to his resume. The work reinforced that providing care is what he wants to do for the rest of his life. The 24-year-old is deeply passionate about Indigenous health and is excited to learn more and be part of the generation of doctors that will continue to develop this area. He grew up near Roseisle, Man., and he spent time in God's Lake Narrows and Winnipeg. His goal is to become a small town family doctor in rural Manitoba. He is enrolled in the French-English bilingual stream.
Paulina Nedjadrasul wants to show there's a place for women in medicine who come from culturally diverse backgrounds and immigrant parents. The 23-year-old's father is from Iran and her mother is from Poland. Nedjadrasul worked at Camp Stephens during the summers off in university. She was a camp counsellor one session for children with kidney disease and she was inspired by the medical team that worked with the kids. It was one of the reasons she became interested in medicine. She has a B.Sc. in biopsychology and is interested in the fields of pediatrics, neurology and psychiatry.
Alan Klass Memorial Address:
Dr. Gigi Osler is an ear, nose and throat surgeon who has just completed her term as the 2018-19 president of the Canadian Medical Association (CMA). Dr. Osler was the first female surgeon, and the first woman of colour, to hold the position of CMA president. During her term, she was a strong advocate for diversity in medicine and for women and other under-represented groups to be more visible in medical leadership. She leads the section of otolaryngology-head and neck surgery at St. Boniface Hospital and is an assistant professor at the Max Rady College of Medicine. She will give the Alan Klass Memorial Address during Inaugural Exercises.
For more information, please contact:
Ilana Simon, Director of Communications & Marketing, Rady Faculty of Health Sciences
Phone: 204-295-6777 | Email: Ilana [dot] simon [at] umanitoba [dot] ca