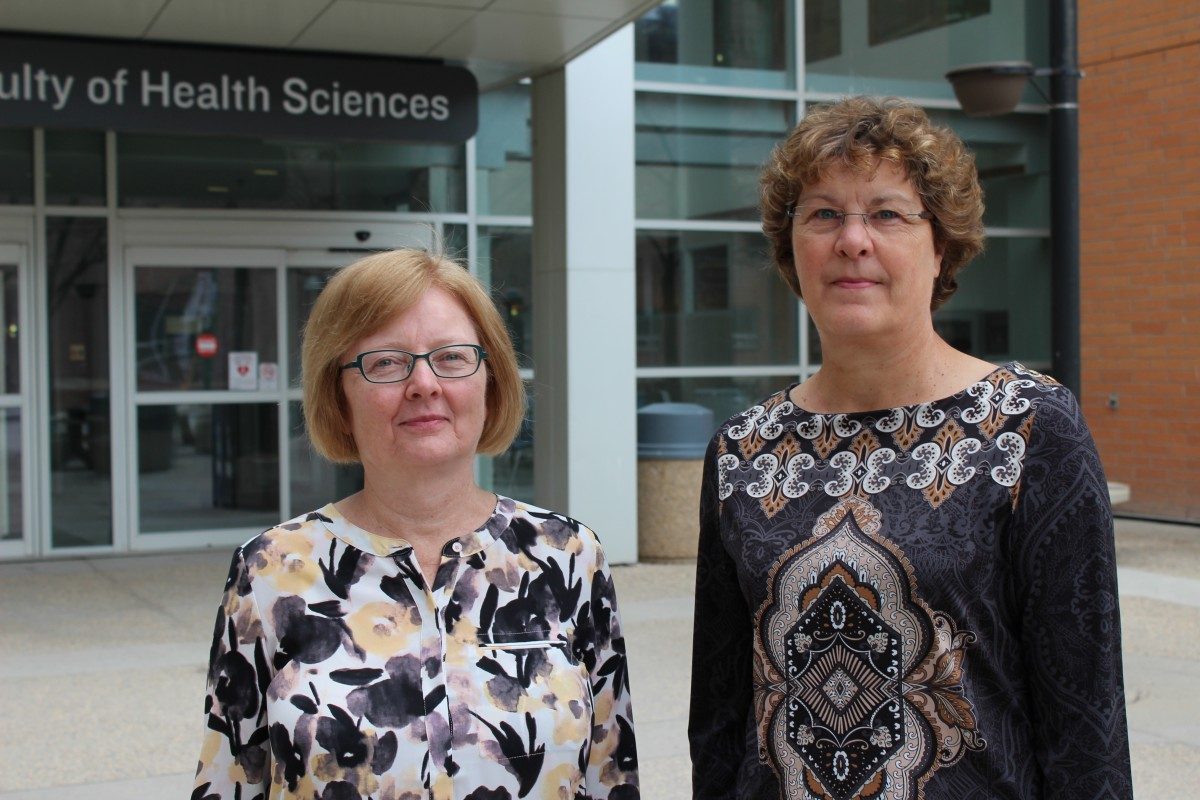 U of M researchers seek insight on HIV care in the North
April 25, 2019 —
A new interdisciplinary project, led by researchers from the Rady Faculty of Health Sciences, aims to understand the differences between HIV care for Indigenous people living in northern Manitoba First Nations communities and in Winnipeg.
Dr. Linda Larcombe, associate professor, internal medicine, Max Rady College of Medicine and Dr. Gayle Restall, associate professor, occupational therapy, College of Rehabilitation Sciences recently received a three-year $445,423 operating grant from the Canadian Institutes of Health Research (CIHR) for their project titled Mapping the Journey.
Larcombe and Restall lead a team of 16 researchers along with Albert McLeod, an indigenous scholar with Two-Spirited People of Manitoba, a non-profit organization focused on helping Indigenous LGBTQ/two-spirit people across the province.
"We want to look at how the journey of people living with HIV in the north compares with those in Winnipeg, because we all know that most health services in the province, particularly the specialized ones, are centralized in Winnipeg," Restall said. "We also know there are gaps and barriers for people to get tested and treated in northern Manitoba, and we want to understand what those are."
The project was born out of HIV-related research projects they separately worked on at the Manitoba HIV Collective Impact Network, an organization made up of researchers, clinicians and government representatives. Larcombe's research centred around community readiness to tackle increasing rates of HIV, while Restall focused on the stigma surrounding the virus.
"One of the things we want to understand is what the experiences really are for people who are diagnosed with HIV – not just about the infection and disease, but how it looks when you're dealing with HIV and looking for housing and employment," Restall said.
The research is critical, they said, because data from the Public Health Agency of Canada (PHAC) shows that new HIV diagnoses in Canada have increased 17.1 per cent between 2014 and 2017, and Indigenous peoples are overrepresented in the rates of new infections.
The researchers noted that engaging individuals living with HIV with early and sustained antiretroviral treatment and other supports, can prevent progression to AIDS, greatly reduce the risk of HIV transmission and help people to live well in relatively good health.
Larcombe said they want to see the whole picture of life with HIV in these communities, not just the negative aspects related to geographic isolation.
"It's our mission to highlight that there is resilience, as well as a lot of joy and laughter, that isn't always apparent in health research or media representation," she said. "My experience with First Nations housing is that people are strong, resilient and creative – we've seen this in the healthy housing designs that were created through a joint project with the Dene First Nation communities and the departments of medicine and architecture."
The researchers also include representatives from the U of M's Internal Medicine and Sociology departments, the Rady Faculty's Indigenous Institute of Health and Healing- Ongomiizwin, the Northern Health Authority, Nine Circles Community Health Centre, Manitoba HIV Program, Manitoba Keewatinowi Okimakanak Inc., First Nations and Inuit Health and PHAC.
This project will use qualitative research based on interviews with individuals in several communities to gain knowledge from multiple perspectives about culturally-appropriate best practices for HIV testing and care.
"Ultimately it's about having people with HIV in northern Manitoba live well and have options," Restall said. "You shouldn't have to move from your home community if you don't choose to."