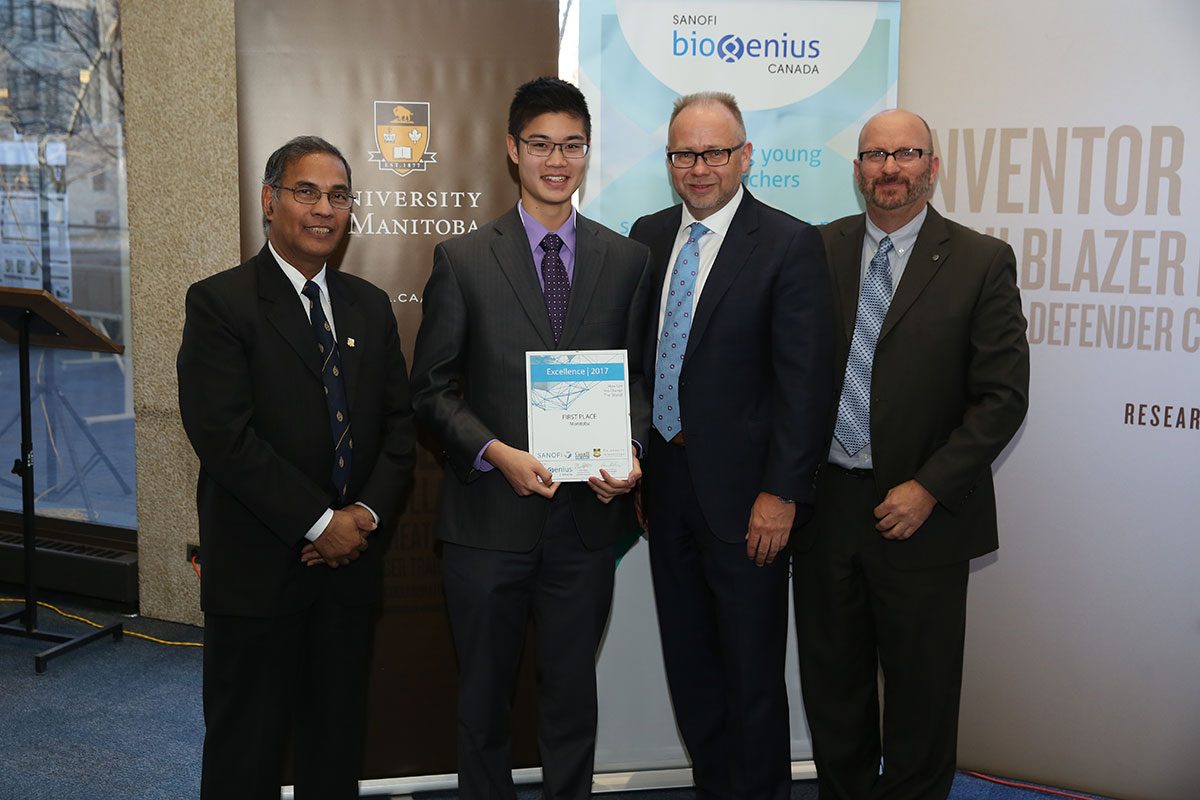 U of M hosts Sanofi Biogenius Canada Regional Competition
April 4, 2017 —
April 3 marked the first time the University of Manitoba hosted the Sanofi Biogenius Canada (SBC) Manitoba competition. SBC is a national science research competition open to high school students which saw 14 competitors from local schools vie for a chance to go to the national SBC event in May in Ottawa.
This year's schools represented included Acadia Junior High, Fort Richmond Collegiate, Grant Park High School, Vincent Massey Collegiate and St. John's Ravenscourt. One of the country's most prestigious science competitions, SBC pairs exceptional young students with academic mentors to pursue real-world research projects, and participants have produced many promising scientific breakthroughs.
Justin Lin, a Grade 12 from St. John's-Ravenscourt School, earned top honours at the competition. He was chosen by judges for his research project that explores a potential diagnostic test for ALS. Currently, there is no definitive diagnostic for the disease, and Justin's project proposes a new tool that could assist with early detection and improved patient prognosis. Lin's mentor was Max Rady College of Medicine professor Jiming Kong (human anatomy & cell science).
"The level of scientific research accomplished by the students in this competition is simply inspiring. Sanofi Canada is proud to be a founding member of Sanofi Biogenius Canada as it is a key scientific competition that nurtures young minds and empowers great talent and discoveries in science for the future of health in our country and beyond," said Niven Al-Khoury, President and CEO of Sanofi Canada.
"With a 25 year history, this competition stands out as a model of collaboration thanks to the ongoing support of dedicated academics as well as the private and government sectors across the country."
The runners-up of the SBC 2017 Manitoba regional final:
Second prize went to Jacob Harvey, a Grade 11 student at Grant Park High School, for his project that examines the production of biodegradable, environmentally-friendly plastic.
Third prize went to Jasmine Cheng, a student at Acadia Junior High School, for her project examining the impact of non-nutritive sweeteners on the early development of obesity.
Lin receives a cash prize of $2,000, a portion of which will go to his high school. Runners-up in this year's SBC Manitoba regional competition were also awarded cash prizes ranging in value from $750 to $1,500.
Competitors in the national competition have a chance to win $5,000 and a place at the 2017 International BioGENEius Challenge in San Diego this coming June.
For more information, please visit biogenius.ca, or follow SBC on Facebook.
Research at the University of Manitoba is partially supported by funding from the Government of Canada Research Support Fund.