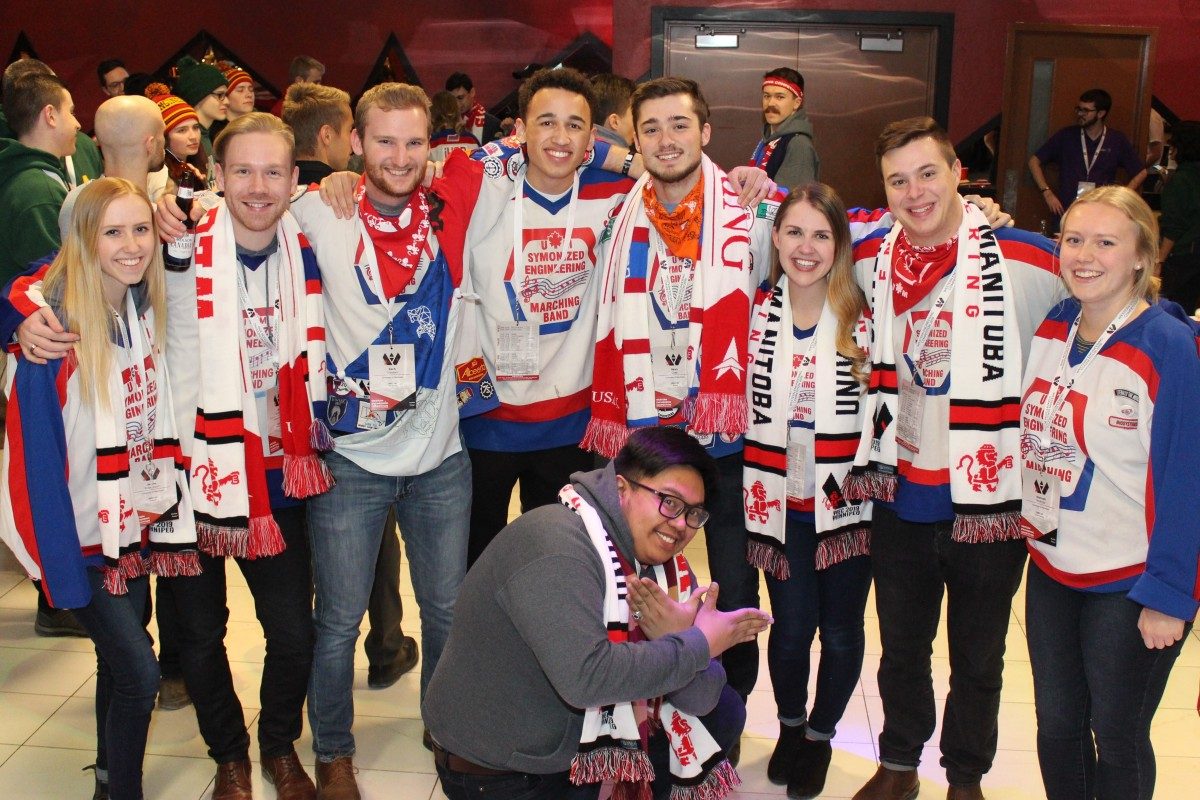 U of M engineering teams take home first place at the Western Engineering Competition
January 28, 2019 —
Students from the Faculty of Engineering have once again proven themselves at the Western Engineering Competition (WEC). WEC 2019, hosted by the University of Manitoba from Jan. 16-20, 2019, saw teams from across western Canada compete in a variety of challenges to determine who would advance to the national competition.
WEC consists of 8 different competitions: Senior Design, Junior Design, Consulting, Re-Engineering, Innovative Design, Impromptu Debate, Engineering Communications, and Programming. U of M Engineering students took home first place in the Impromptu Debate and Re-engineering competition categories, and U of M Engineering students placed second in the innovative design competition. All three teams will travel to Waterloo in March to compete in the Canadian Engineering Competition.
Meet the student teams:
Nicholas Aguiar, a fourth-year electrical engineering student, and Jack Carver, a third-year mechanical engineering student, will represent the Impromptu Debate Team. In teams of two, students debated a topic/resolution from a predetermined position, which they received ahead of the competition. The topics were typically controversial statements about policy that were fueled by an engineering background. This is the second year that U of M students has placed in this category. Aguiar had also been on last years winning team.
Third-year mechanical engineering students Michael Rempel Boschman and Emma McTavish will represent the Re-engineering Team. The re-engineering teams were challenged to improve upon a previously existing product or design solution. The team was given two different cases where they had to re-engineer an irrigation system and an ice scraper to be useful year round. Every year this competition displays a vast amount of creativity as students present their idea with the same functionality as the original in new and exciting ways. The design problem was revealed the morning of the competition and was later critiqued by a panel of judges.
Three fifth-year mechanical engineering students, Davis McClarty, Matthew Cann and Brooke Giesbrecht are also off to Waterloo, representing U of M in the category of Innovative Design. Innovative design is vastly different from the other competitions as it allows teams to develop a solution to a real-world problem of their choosing prior to coming to WEC. It is then presented to multiple panels of technical and non-technical judges. Competitors set up booths at the venue on the day of evaluation for peers and judges to walk around and critique their solutions.
WEC 2019 not possible without student volunteers
As the host institution, U of M Engineering students stepped up to the plate and delivered a strong, well-organized conference packed with fun events for delegates in addition to the competitions themselves. WEC Chair, Katie Moist, and her team of 19 student volunteers put in countless hours to make this years competition a success.
"WEC 2019 embodied the theme of Engineering Changes Lives, a campaign that was started by Engineers Geoscientists Manitoba in response to 30 by 30 initiative. Seeing engineers as enablers of change in all aspects of society will only allow the impact engineers are able to make in society grow. WEC 2019 saw impactful and creative solutions to a variety of problems. Without the hard work and dedication from our executive and organizing team, this would not have been possible."
The 2019 Canadian Engineering Competition takes place at the University of Waterloo from March 1st – 4th.
2019 WEC Executive and Organizing Committee Members
| | |
| --- | --- |
| Executive | Organizing |
| Katie Moist, Chair | Miranda Ewashko, Marketing |
| Adam Kriegl, VP Competitions | Stephanie Turner, Special Events |
| Matt Allen, VP Communications | Sean Coey, Swag |
| Daniella Archer, VP Logistics | Rémi Durocher, Sponsorship |
| Zach Grossart, VP Social | Shea Hunt, Senior Design |
| Karlee Moist, VP Finance | Hannah McBride, Junior Design |
| Eric Schillberg, VP Sponsorship | Navjot Singh Garcha, Engineering Communications |
| | Jessie Robertson, Impromptu Debate |
| | Tim Veldhuis, Innovative Design |
| | Robin Armstrong, Consulting |
| | Jasper Arthur, Re-Engineering |
| | Laura Stoyko, Programming |
| | Erin Thomas, Hospitality & Banquet |