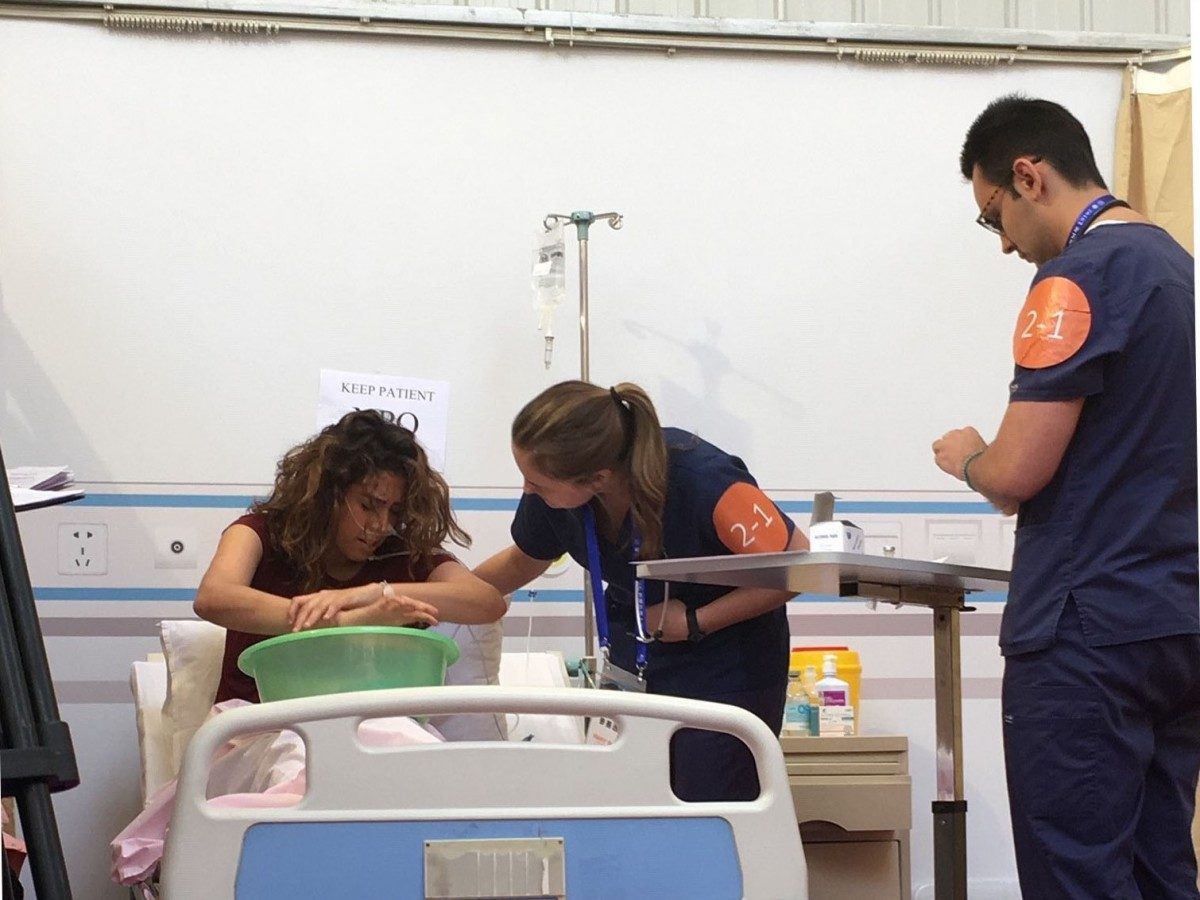 U of M competes in international nursing skills 'Olympics'
February 6, 2019 —
Two students from the College of Nursing competed in the 8th Annual Shanghai International Nursing Skills Competition, marking the U of M's first time participating in the invitation-only event.
There were 11 international teams, including three teams from Canada as well as teams from the United States of America, Netherlands, Great Britain, Finland and China.
The U of M team consisted of students Danielle Goerz and Colby Dubé, both in their fourth year of the bachelor of nursing program, and skills lab instructor Anne-Marr Ramsay.
The students had about a week to go from strangers to a cohesive team. They worked with Ramsay to run through possible scenarios in the skills lab. Other faculty and staff members worked hard to prepare the students for the competition. Barb Goodwin and Wanda Falk prepped the lab for them to train.
The team had a surprisingly educational flight to Shanghai, learning Tai Chi on the plane. "We were getting up and stretching on the flight and a woman just came up to us and started teaching us Tai Chi," said Goerz.
"It was kind of like a mini nursing Olympics," she said. There was a dress rehearsal and opening ceremony where students introduced themselves and their school. Instructors picked a ball with number on it, lottery style, to decide competition order. "I chose last and we got first. What are the chances?" said Ramsay.
"We didn't mind going first, it didn't allow us to watch other groups and stress or get in our heads about it," said Goerz. "The pressure came more from the thousands of people watching than the markers shadowing us. But it all melted away, my priority at the time was the patient."
For the competition students were brought into a room and given two minutes to read over the patient scenario and 15 minutes to complete the scenario. "We were able to adapt very quickly, especially considering the different equipment we were dealing with," said Dubé.
The scoring was based on five aspects: the assessment of the patient, nursing skills, communication, education of the patient and how they worked as a team.
Goerz and Dubé cared for an American post op patient who was feeling nauseated. They set up her NG and IV line and administered her medication. They also educated her about why she was NPO, meaning she could not ingest anything orally.
"I'm confident that how we performed shows how prepared we are to be nurses," said Dubé.
Before the competition all the teams came together for a full day of training where they were provided expectations and reviewed complicated procedures like administering an IV. They were also brought into a skills lab to familiarize themselves with the equipment. "It was eye-opening to see what other countries emphasize in their care and see their different procedures," said Goerz.
A competitor from Shanghai gave the U of M team a tour of the Shanghai East International Medical Center. "It was a really cool experience," she added.
"We are excited to be able to help and mentor the next group to go," said Dubé.
Fourth-year students were invited to apply to compete in China. Applicants were chosen based on their GPA, skills work, and opinions of their instructors. Instructors also had to send an application to be chosen for the trip.
The whole team U of M was honoured to represent the College of Nursing and Manitoba and are thankful for the support given to send them to the competition.