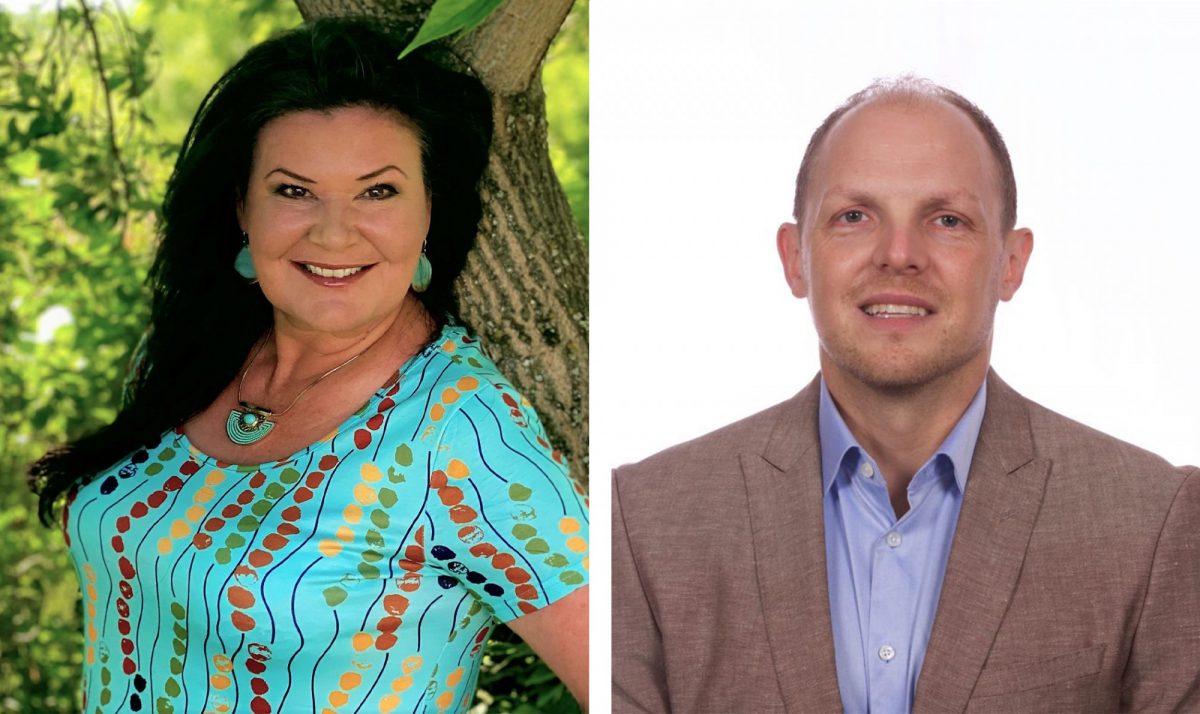 Two Rady faculty members honoured for outstanding outreach during COVID pandemic
July 8, 2021 —
The 2020 winners of the Dr. and Mrs. Ralph Campbell Outreach Award have both played a critical role in supporting and improving the public health response to the COVID-19 pandemic.
Dr. Jason Kindrachuk, Canada Research Chair in molecular pathogenesis of emerging and re-emerging viruses and assistant professor, medical microbiology & infectious diseases, Max Rady College of Medicine, Rady Faculty of Health Sciences and Melanie MacKinnon, executive director, Ongomiizwin- Health Services, and head, Ongomiizwin – Indigenous Institute of Health and Healing, are each recipients of the Campbell Outreach Award for 2020.
The Campbell Outreach Award is given to University of Manitoba faculty who have displayed a strong commitment to outreach and the betterment of their local and extended communities through their academic positions.
Kindrachuk has been a voice of sound scientific reason for the public during the COVID-19 pandemic during his countless media interviews. "It is critical that media can reach out to articulate and informed experts and Dr. Kindrachuk has done an outstanding job keeping the public informed about the science of COVID-19 infection, therapies and vaccinations," said Dr. Keith Fowke, head of medical microbiology & infectious diseases, Max Rady College of Medicine, in his letter of nomination.
"He has shared his expert virology knowledge with many local, national and international organizations and provided valuable service by helping them make informed decisions in this very uncertain time."
Kindrachuk considers his involvement in community outreach one of the most rewarding experiences in his career, which makes this Campbell Outreach Award very special to him. "To be recognized for that work at a time when so many of my peers and colleagues have been doing such an outstanding job in this same arena is frankly very overwhelming. I certainly share this award with all of those across the university who have put in countless hours trying to provide context during such a complex public health crisis.
"For me, community outreach is a privilege. It's part of my social contract as a scientist and researcher to give back to the community that has supported me throughout my career by providing expertise and insight when it's needed most. My father has reminded me throughout my life to never forget where I came from regardless of where I may end up. I have always taken those words to heart and they have certainly resonated countless times over these past 18 months," said Kindrachuk.
MacKinnon has been instrumental in the development and implementation of Rapid Response Teams for Indigenous communities battling the spread of COVID-19. "She has a commitment to strengthening relationships with Indigenous communities, which has resulted, over the years, in increasing access, as well as extending the nature of range of existing programs, of Ongomiizwin. More Indigenous communities have access to Ongomiizwin – Health Services because of Ms. MacKinnon's outreach efforts," said Dr. Brian Postl, dean of the Rady Faculty of Health Sciences and vice-provost (health sciences).
MacKinnon says she is always focused on the communities she serves, whether it involves direct patient care or advocating for systematic change. "Building upon existing relationships and being mentored by perhaps some of the first academic clinicians doing community outreach work has positioned the university to be ready to respond and play a greater role to serve Indigenous communities first when usually they've been considered last," said MacKinnon.
"I'm very fortunate to have the trust and support of my peers and partners in doing this work. There are hundreds of colleagues standing beside me and our teams taking a vision and making it reality. I would like to express my appreciation to the nomination and selection committee for recognizing First Nation leadership."