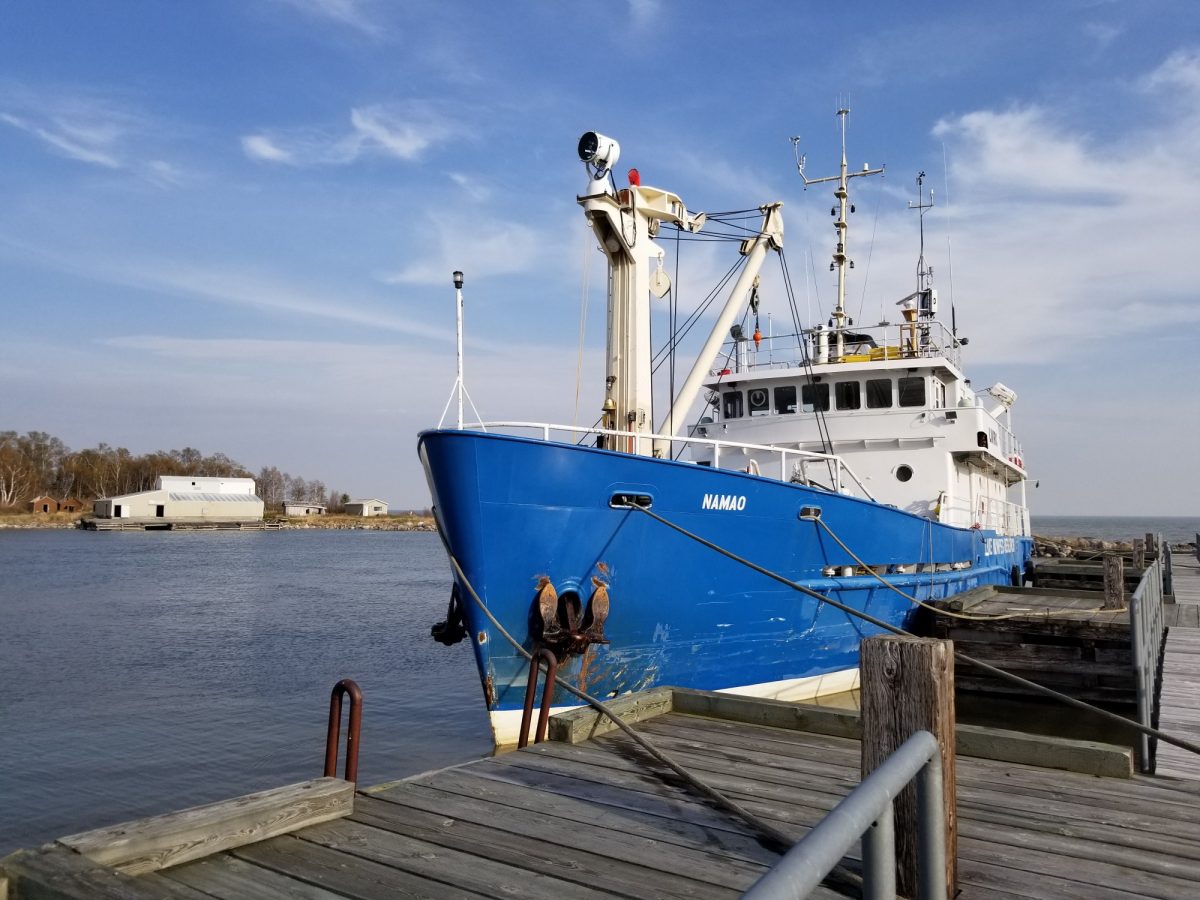 Two Environment and Geography honours students publish thesis research
June 22, 2021 —
This year, two students of Dr. Tim Papakyriakou published versions of their undergrad honours thesis projects in peer-reviewed journals. Rachel Mandryk, B.Env.Sc.(Hons.), and Yekaterina (Kate) Yezhova, B.Env.Sc.(Hons.), along with Dr. Papakyriakou, gave us an idea of what the work was like and why other undergraduates should consider it.
Both students focused their research on greenhouse gas science in Lake Winnipeg. They boarded the MV Namao, the research vessel for the Lake Winnipeg Research Consortium, to collect their data. Mandryk focused on estimating levels of methane by collecting discrete samples of the gas from the water. She found that Lake Winnipeg is a net source of methane to the atmosphere (as freshwater bodies tend to be).
"We saw that the highest concentrations of methane are near river mouths generally," says Mandryk. "Although, there are a few interesting and somewhat puzzling exceptions of high concentrations in the middle of the lake."
Yezhova researched the balance between respiration (carbon release) and primary production (carbon fixation). Using a custom-built automated incubator onboard the M.V. Namao, she found that Lake Winnipeg was a net source of CO2 to the atmosphere during the 2018 summer cruise.
One of the major takeaways for both students was that there is a lot of research left to do about how the ongoing eutrophication of the lake affects greenhouse gas emissions.
Neither student had any regrets about completing an honours thesis, especially citing the ability to learn technical and hands-on research skills and trying out the process of planning, research and writing that would be necessary to pursuing a Master's degree. Getting the thesis published was an extra step.
"It is definitely a lot of work," says Mandryk. "There are many rounds of review by different researchers, each with their own perspectives and backgrounds, but absolutely rewarding to submit the final revisions."
About working with Dr. Papakyriakou, they also had only positive things to say. "He is passionate about his research and is a very supportive advisor who gives his students freedom to pursue their research questions," says Yezhova. "Despite being a busy researcher, he always made time to meet with his Honours students to provide feedback, guidance, and encouragement."
"He really went above and beyond to help Kate and me develop our projects and research questions, as well as to make sure we had plenty of opportunities to go into the field to collect our own data," adds Mandryk.
Likewise, Dr. Papakyriakou had only positive things to say about working with Rachel and Kate, and about having undergraduates as a part of a robust research program in general.
"They shouldered incredible responsibility, worked very hard and did an amazing job in field, writing up their thesis papers and subsequent journal manuscripts," says Dr. Papakriakou. "They sure fit in with the research team, and their experience highlights the benefits of research on undergraduate education. It also shows that undergraduate students can provide meaningful support
to research programs."
They all recommend that more students consider doing an undergraduate thesis and summer research.
"I would hope that more students opt to take advantage of the undergraduate honours course as it likely is the most important courses of a student's program," says Dr. Papakyriakou. "The process of writing the thesis forces the student to apply information learned from a number of different courses and provides the student their only opportunity to get credit for independent study as an undergraduate."
"I would suggest to any student to consider doing an Honours project and get some research experience," says Mandryk. "Keep an eye out for the NSERC USRA funding opportunities and talk to your professors about the current research they're doing!"
"If you are considering pursuing a master's degree, there is no reason to not try to do an Honours thesis," says Yezhova. "And it's fun! Don't be afraid to reach out to professors in your field of interest to ask about research opportunities and be sure to apply for undergraduate summer research awards."
The last word from Dr. Papakyriakou: "So, WELL DONE, Kate and Rachel (and THANKS!). Good job granting councils and UM for making student research subsidies available. Finally, thanks to others in group (notably DC, TB, and AS) for their part in Kate and Rachel's projects, but also for making research such fun!"
——-
Rachel R. Mandryk, David W. Capelle, Cara C.M. Manning, Philippe Tortell, Ross D. McCulloch, Tim Papakyriakou, First estimation of the diffusive methane flux and concentrations from Lake Winnipeg, a large, shallow and eutrophic lake, Journal of Great Lakes Research, Volume 47, Issue 3, 2021, Pages 741-750.
Yekaterina Yezhova, David Capelle, Michael Stainton, Tim Papakyriakou, Carbon fixation by the phytoplankton community across Lake Winnipeg, Journal of Great Lakes Research, Volume 47, Issue 3, 2021, Pages 703-714.