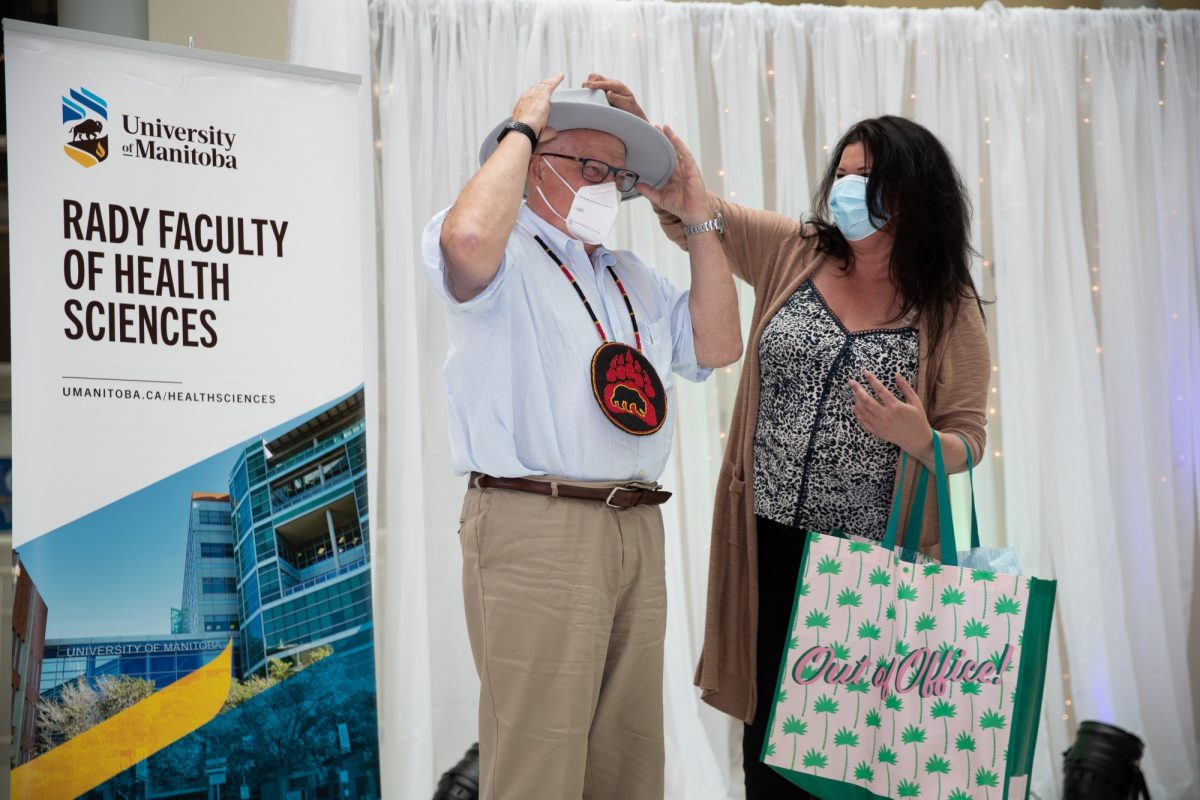 Tributes flow at retirement celebration for Dean Brian Postl
June 30, 2022 —
Dr. Brian Postl, the longtime dean of medicine and health sciences at UM, was praised at his retirement celebration as an influential leader who has advanced equity and brought about transformative change.
"Thank you for everything you have given to the university," UM President and Vice-Chancellor Dr. Michael Benarroch told Postl at the June 20 event. "Your legacy will live on for a long, long time."
More than 200 members of the university and health-care communities gathered in the Brodie Centre Atrium for the celebration of Postl's distinguished career. Theresa Oswald, CEO of Doctors Manitoba, emceed the event.
Postl, a 1976 UM alumnus in medicine, has practised as a pediatrician for 40 years, with a particular focus on Indigenous children in northern Manitoba and Nunavut.
"You have dedicated your life for children, and that's what's important," said UM Elder-in-Residence Margaret Lavallee.
Postl's roles at UM in the 1980s and '90s included leading the J.A. Hildes Northern Medical Unit (now Ongomiizwin – Health Services) and the departments of pediatrics and community health sciences.
He went on to serve for 11 years as president and CEO of the Winnipeg Regional Health Authority before being appointed UM dean of medicine in 2010. He was further appointed dean of what is now the Rady Faculty of Health Sciences, as well as vice-provost (health sciences), in 2014.
Speakers paid tribute to Postl for his supportive and collaborative leadership style, sense of humour, ability to decisively enact change, commitment to interprofessional models of care and learning, and advancement of equity, diversity, inclusion and social justice.
Although his colleagues poked fun at his exceedingly brief emails, they praised his keen political acumen. "Your political savvy is unmatched," said Dr. Catherine Cook, vice-president (Indigenous) of UM.
Dr. Sharon Macdonald, former director of the J.A. Hildes Northern Medical Unit, said that since his earliest days as a leader, Postl has been skilled at bringing disparate groups together.
"He [has] had to deal with varying governing bodies – university, Indigenous, federal, provincial, territorial – to get the work done," Macdonald said.
Ongomiizwin, the Indigenous Institute of Health and Healing in the Rady Faculty of Health Sciences, presented Postl with gifts including a soapstone bear and a beaded medallion, representing the North and Indigenous ways of knowing.
The Rady Faculty presented the departing dean with a 1991 print by Inuit artist Pitaloosie Saila. Titled Changing Traditions, it depicts four generations of an Inuit family, including a baby.
Dr. Diane Hiebert-Murphy, provost and vice-president (academic) of UM, said Postl "deeply understands what it means to be of service to the community," noting his work toward reconciliation with Indigenous Peoples and his support of the Rady Faculty's anti-racism policy, a first among Canadian post-secondary institutions.
Beth Beaupre, provincial lead, health workforce at Shared Health, said Postl has built successful partnerships with the health system, regulatory bodies and government stakeholders and has led the expansion of students' learning opportunities in rural and northern Manitoba.
Raman Dhaliwal, associate vice-president (administration) and executive director, Rady Faculty of Health Sciences, praised Postl's ability to "take a really complex issue and make a decision on how to move forward quickly."
Dhaliwal also recalled travelling with Postl to Pimicikamak Cree Nation (Cross Lake) in the spring of 2021 as part of the COVID-19 vaccination drive on reserves.
"On that day, Dr. Postl immunized for 12 hours straight, which shows his commitment to the Indigenous community and patient care."
When it was Postl's turn to speak, he said his 12-year deanship owed much to being "surrounded by remarkable people." The merger about eight years ago of the colleges of dentistry, medicine, nursing, pharmacy and rehabilitation sciences into a single faculty of health sciences was a key shared accomplishment, he said.
"The university showed … a great deal of courage when it created the Rady Faculty of Health Sciences," he said. "The act of pulling these colleges together really has been a highlight for all of us."
Postl described the need for social justice and equity, diversity and inclusion in health care and health education as a "huge issue."
"In a faculty of health sciences, how can we not be involved?" he asked.
Postl's term has been extended to the end of August while the search for his successor is completed.
In honour of his retirement, a UM scholarship has been established for Indigenous students in the health sciences. To donate to the scholarship fund, visit https://give.umanitoba.ca/PostlScholarship.
View the four-minute video Dr. Brian Postl: An Illustrious Career.