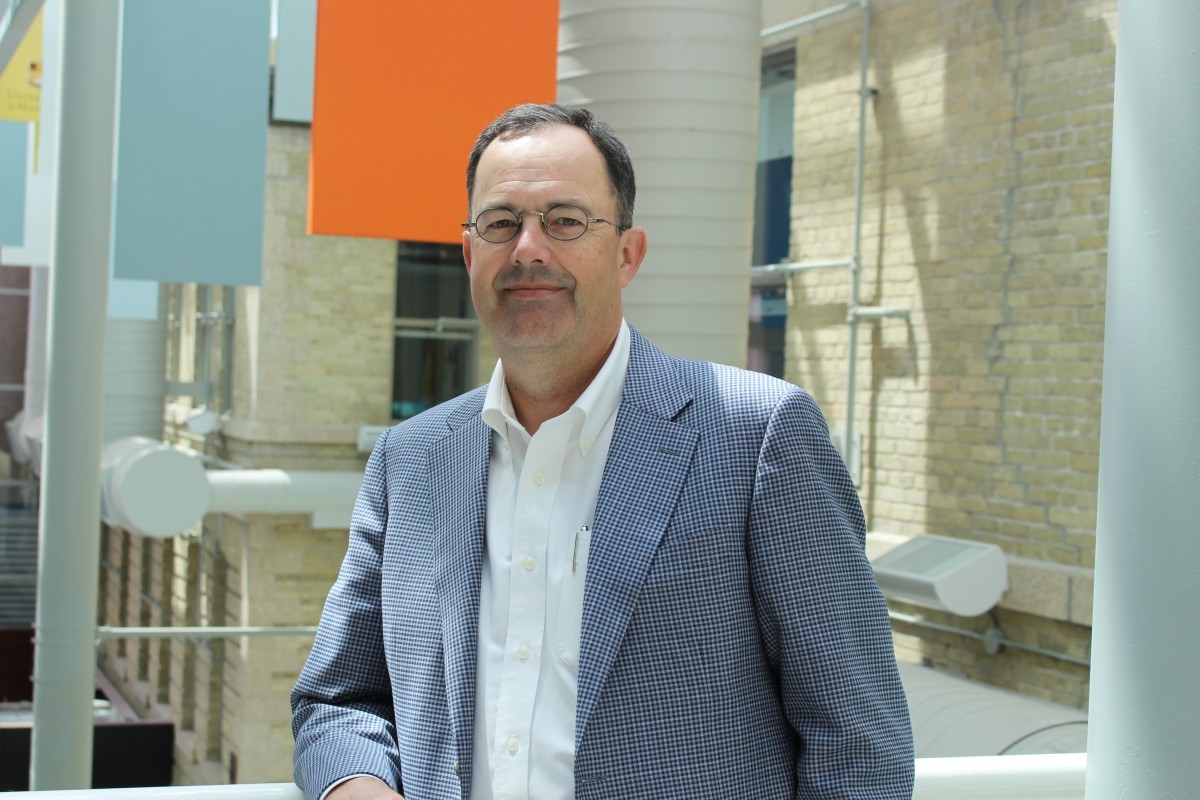 Transplant Trailblazer: U of M researcher receives prestigious awards
September 15, 2016 —
A Canadian leader in transplant research, Dr. Peter Nickerson is adding more accolades to an already distinguished career.
Over the past few months Nickerson, a professor of internal medicine and immunology and vice-dean (research) in the Rady Faculty of Health Sciences, has received the Distinguished Professorship from the University of Manitoba, and the Clinical Sciences Established Investigator Award from the American Society of Transplantation (AST).  This month he will receive the Paul I. Terasaki Clinical Science Award from the American Society of Histocompatibility and Immunogenetics (ASHI).
An advocate of collaboration, Nickerson sees these awards as a tribute to the multidisciplinary approach of the transplant research team.
"Both awards recognize the accomplishments we've achieved in Winnipeg in terms of transplantation research – in particular, human transplantation research," Nickerson says. "I think these awards recognize the activities of our team, which have been ongoing for 15 years. We've really been at the cutting edge of moving this work forward."
In the end, Nickerson views his research and clinical practice as improving the lives of patients.
"A lot of the work has focused on the mechanism of disease, applying it to patients to improve their outcomes, and ultimately getting it to health policy and health system design to further enhance patients' access and outcomes with transplantation. That's what these awards are recognizing," Nickerson says.
The AST Clinical Sciences Established Investigator Award in particular recognizes Nickerson's achievements with Canadian Blood Services in developing an interprovincial transplant network that has affected the lives of hundreds of Canadians. "Since we've implemented this new system we've seen people who've been on the waiting list for 15 years that are now getting transplanted, people who are now getting offers after giving up hope of a transplant," Nickerson says.
The ASHI Paul I Terasaki Clinical Science Award recognizes the team's success in identifying the role of HLA antibodies in causing premature kidney graft loss and developing novel strategies to prevent their development.
When it comes to his own passion for medicine, Nickerson, a 1986 MD graduate from the University of Manitoba, says it was sparked by an early interest in biology and its application to people.
"Thirty years ago transplantation was a pretty new and exciting area where you could give people whose organs were failing a new hope," he says. "I enjoy studying the immune system, so it began as a way of marrying my interests in biology and immunology into clinical care."
Nickerson, who completed his internal medicine training at U of M in 1990 before pursuing a transplant research fellowship at Harvard Medical School, points to the influence of his mentor, and now colleague, Dr. David Rush on his approach.
"I learned from Dr. Rush to ask deeper questions about the mechanism of the disease," Nickerson says. "Not just treating the symptoms but actually getting at the basic science behind it. That sort of passion for asking the 'why' questions and find out how something works has really motivated me."
As a result of their leadership and willingness to ask the 'why' questions, the University of Manitoba is now seen as a trailblazer in transplantation research.
"Over the past 15 years we've been invited to participate in National Institutes of Health (NIH) funded research," Nickerson says. "We're a small centre but because of the types of research we've been doing it has gained the attention of the USA. We're the only Canadian centre asked to participate in one of the consortia that's been funded and acting as a core research laboratory, as well as enrolling patients into novel clinical trials."
While Nickerson is pleased with the awards for his work he continues to try to push his research further.
"For me the awards are great, but it's more recognition of the team and what we've been able to accomplish here in the university and the Health Sciences Centre," he says. "I think we can always do better. What motivates me is helping patients survive longer with a high quality of life."