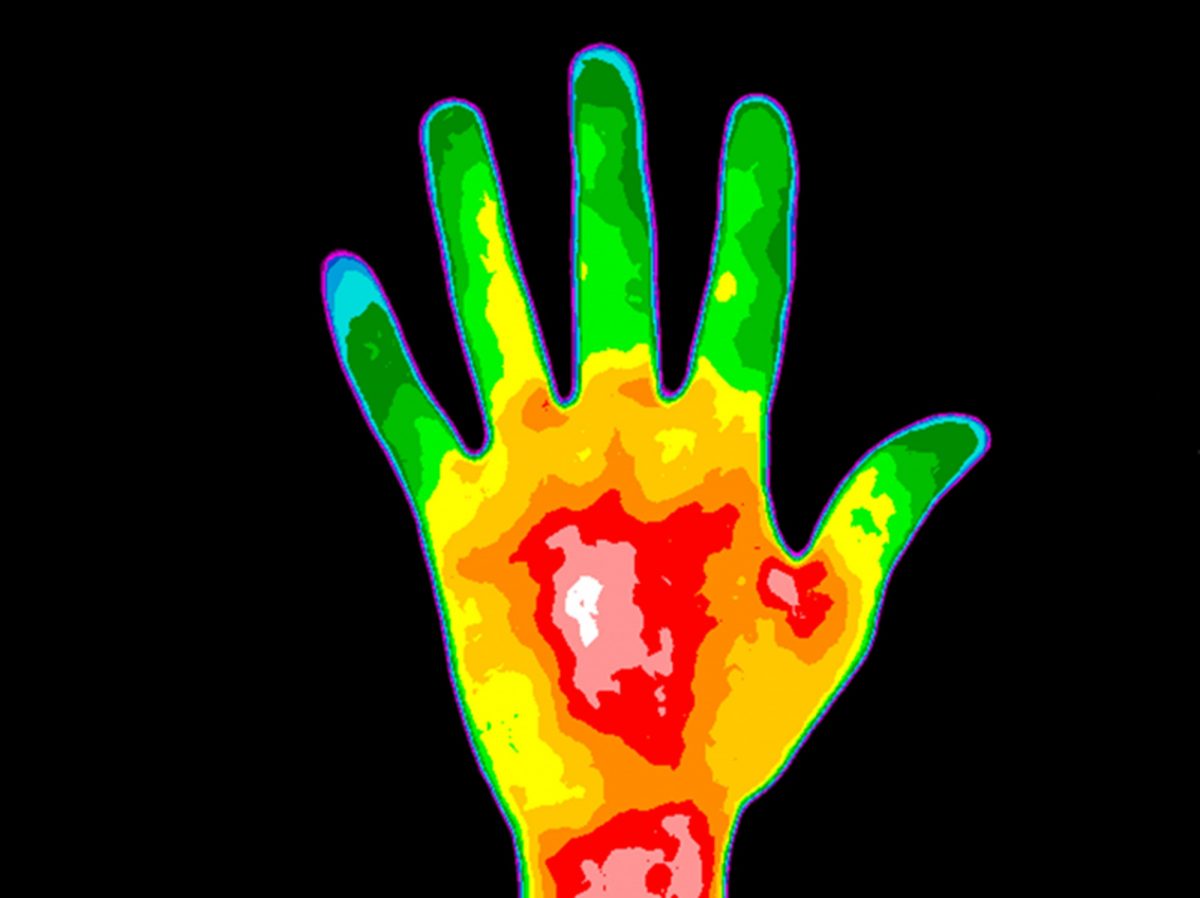 Thermal imaging may detect who's at risk for rheumatoid arthritis: UM study
July 13, 2021 —
A research team from the Max Rady College of Medicine will use thermal imaging and artificial intelligence to better understand the warning signs of rheumatoid arthritis.
The project has received a one-year grant from The Winnipeg Foundation Innovation Fund, which supports cutting-edge, collaborative medical research in the Rady Faculty of Health Sciences.
Rheumatoid arthritis (RA) is an autoimmune disease that causes swelling of the joints. Before patients develop RA, they develop autoantibodies and joint symptoms such as pain and stiffness, without swelling.
"Our research team wants to understand if Manitobans who are at high risk to develop RA have differences in their joints that can be detected by thermal imaging," says the study's leader, Dr. Liam O'Neil, assistant professor of internal medicine and immunology.
"A state-of-the-art thermal camera, which UM will acquire for this research, can detect very small increases in temperature – one of the most important features of inflammation. We think that before RA starts, at-risk individuals will show changes to their joints that can be captured by the thermal camera, but not necessarily by physical examination."
The highly sensitive camera will produce better-quality images than have been attained in most previous studies applying thermal imaging to RA, O'Neil says.
O'Neil is collaborating on the study with Dr. Pingzhao Hu, associate professor of biochemistry and medical genetics, Dr. Hani El-Gabalawy, professor of internal medicine and immunology, and Dr. Dylan MacKay, assistant professor of community health sciences.
The interdisciplinary team will use deep learning, a form of artificial intelligence, to analyze the thermal images. They will "teach" a computer to interpret the images, recognize inflammation, and develop an automatic method to determine whether the images are from a healthy person or someone at high risk to develop RA.
"This study will use leading-edge technology and has the potential for high impact in the short term, making it an ideal fit for support from The Winnipeg Foundation Innovation Fund," says Dr. Peter Nickerson, vice-dean research of the Rady Faculty of Health Sciences. "The new thermal camera will also be an asset for other UM researchers with an interest in thermography."
O'Neil anticipates that the study results will help those who are at risk for rheumatoid arthritis, and their doctors, better understand their often-troubling symptoms.
"By revealing more about how RA develops, the findings will contribute to the search for early treatments to prevent this chronic disease," he adds. "Thermal imaging may also help researchers understand if preventative treatments are working, and help predict who is most likely to respond to treatment."
The researchers hope to obtain future funding for a larger, longitudinal study. They propose to follow a cohort of patients, using thermal imaging and other methods to examine the relationship between the patients' early, pre-clinical signs of rheumatoid arthritis and the clinical onset of the disease.