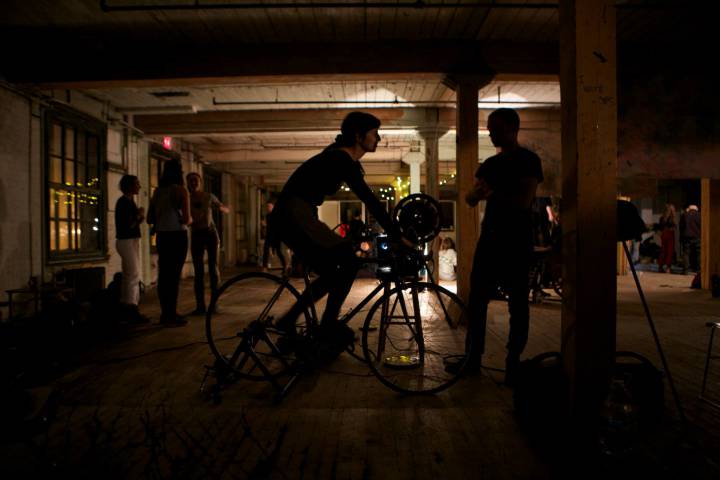 The St. Boniface Bicycle Drive-In Movie Theatre
September 24, 2018 —
This year, as part of Nuit Blanche Winnipeg's Illuminate the Night programme, I will be doing an installation called the St Boniface Bicycle Drive-In Movie Theatre. I am working with Alanna Thain, from McGill University. The installation is inspired by a series Alanna started called Cinema Out of the Box, which brings cinema to unconventional locations around Montreal.
The St Boniface Bicycle Drive-In Movie Theatre is an old-fashioned drive-in movie theatre – with a twist. It's meant for people on bikes. And the viewers don't just watch. The films' projection and sound take all of their power from a bicycle-powered generator. The attendees have to take turns pedaling to power the projector. And as they negotiate who will take turns powering the movie, and as they sit parked next to each other in our space, we hope people will talk to each other and get to know each other.
The drive-in movie theatre is a site of nostalgia for many people. It certainly is for me. Drive-ins were public spaces that allowed people to experience cinema collectively, in the open air, in an environment that, unlike an indoor theatre, allowed them to socialize freely. What I loved about the old drive-in movie theatres was this sociability. People met their friends there. And they actually talked to strangers as well. They moved around through the space, they chatted openly while the movie was happening, and of course they drank and made out. It was fun. I feel like in our modern world we've lost so many of those social spaces where people can hang out with their friends and actually talk to strangers. That's what we wanted to re-create.
Yet the drive-in's legacy is a complicated one. It also epitomized an automobile-based and petrol-dependent culture, one that placed cars at the very heart of social existence. The theatres required a flight from urban heartlands, and vehicles were often left running for hours while the films played. The Bicycle Drive-In both evokes this nostalgia and interrogates it. It models a new form of cinematic viewing that is urban, sustainable and participatory, while preserving the informality and sociability of the traditional drive-in.
We want to re-create the drive-in according to a new model, as a social space that is also sustainable. The St Boniface location is important to me. I've lived here for more than a decade, and I feel like it's the ideal place to try to create a social space like this. People are friendly and have a sense of community, but they don't always have opportunities to actually meet one another. We wanted to give people one night where they can turn off Netflix and watch films alongside other people.
The films will be short ones made by independent filmmakers from Manitoba and Quebec. They will be in both French and English, and they will centre around the theme of energy and illumination. The project is sponsored by the Winnipeg Arts Council and Nuit Blanche Winnipeg. It takes place Saturday, September 29 beginning at 7 p.m. and runs all night. It is in the parking lot across from the St Boniface Public Library on Tache. The event is free and open to all – even people without bikes.