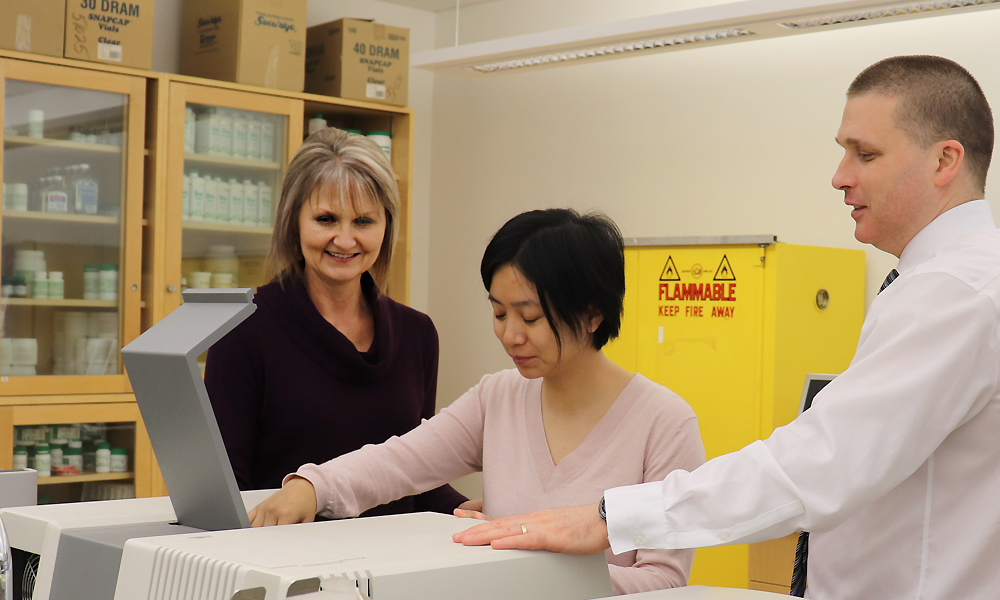 The Right Dose
April 6, 2021 —
"Interprofessional" is a pervasive term in the health sciences these days.
Dr. Sheryl Zelenitsky [B.Sc.Pharm/89], a faculty member of the College of Pharmacy for the past 28 years, studies the optimal use of antimicrobials (antibiotics), particularly in hospitals. Her research was interprofessional long before it became a buzzword.
"I think I was onto something!" says the professor, who has worked closely with experts in anesthesiology, surgery, critical care, kidney disease, infectious diseases and more.
"This field is not limited to one organ," she says. "You can have bloodstream infections, lung infections, kidney infections. It allows you to work with a lot of different disciplines. And with antimicrobial resistance, things change constantly, so it's a very dynamic area."
Zelenitsky, who grew up in Winnipeg Beach, Man., knew she wanted to pursue research that had strong clinical applications even before she earned her bachelor's in pharmacy at UM. After completing her doctorate at the State University of New York at Buffalo, she spent two years as a clinical pharmacist at St. Boniface Hospital before joining UM in 1993.
She has a particular interest in preventing and treating infections in high-risk patients, such as those who are immunocompromised or critically ill.
The problem of bacteria being overexposed to certain drugs and becoming resistant to them has worsened over the course of her career. "When I was in Buffalo in the early 1990s, new antibiotics were being marketed and there was a feeling that we were on top of it," she says. "Since then, there's been a steep increase in resistance."
Zelenitsky recently received a prestigious appointment. She is one of about 15 experts worldwide who have been named to the Antimicrobial Resistance Commission, a new group established by the International Pharmaceutical Federation to guide global action against this threat.
Although new antimicrobials are needed to stay ahead of resistance, there is often reluctance to invest in developing them, Zelenitsky says, in part because new drugs may fall victim to resistance themselves.
The professor is an expert in pharmacokinetics (how a patient's body handles a drug) and pharmacodynamics (how a drug works in the body), often abbreviated PK-PD.
Her more than 80 peer-reviewed publications include lab experiments on drugs' effects, clinical studies of patients at St. Boniface Hospital, and studies that use computer simulations to predict the PK-PD effects of different antibiotic regimens in various patient populations.
Zelenitsky has a strong drive to see her findings adopted into practice. "The most important thing to me is 'How does that translate to patient care?'"
Some of her most impactful studies have tested dosing regimens to prevent post-operative infections in surgical patients.
"I did a clinical study in colorectal surgery," she says. "It was one of the first to show that the amount of antibiotic in the blood at the time that the surgeon closed the incision was highly correlated with the patient getting an infection or not, post-surgery. That work was broadly referenced in clinical practice guidelines and had a really positive impact."
A recent study by one of her graduate students evaluated the standard regimen for cardiac surgery. "Based on our findings, we recommended that the standard antibiotic dose be given more frequently. There has been good uptake from that study, and the first to change its protocol was the Winnipeg Regional Health Authority cardiac program."
Zelenitsky has also led many studies of infections in patients on kidney dialysis – an under-studied population that she says is prone to receive taken-for-granted doses that are not sufficiently grounded in evidence. "Some of our work has been internationally adopted," she says.
Across all disciplines, she occasionally meets with pushback when her findings contradict the status quo.
"Sometimes people have been using a certain antibiotic in a certain way for their whole careers, and they're bound and determined that it's right. I have been challenged, like every researcher has. You need to really know your topic, know your research, and be clear and confident in presenting the evidence."