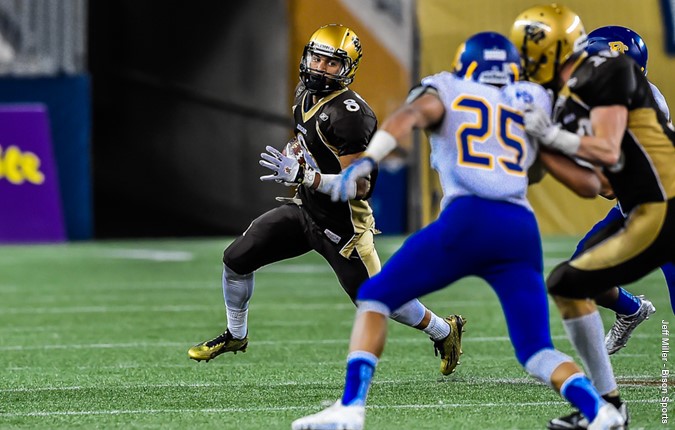 The herd is back home
Catch Bison football, hockey and soccer this weekend
October 23, 2015 —
The Manitoba Bisons football team kick off their final game of the regular season on Friday against the Alberta Golden Bears.
The herd is on a three-game win streak. Their latest win came last weekend in Saskatchewan, 49-46.
To celebrate the Bisons' football season, UMSU is hosting a pre-game party at the HUB at 5:00pm. For full information, click here.
The game kicks off at 7:00pm tonight at Investors Group Field.
HOCKEY:
The Bison men's hockey team returns to Wayne Fleming Arena Friday and Saturday for couple of games against the UBC Thunderbirds. The herd is coming off a pair of losses against Mount Royal last week.
Both games begin at 7:30pm. For ticket information, click here.
SOCCER:
The Bisons' soccer team finish their regular season at home against Regina and Saskatchewan on October 24 and 25.
Ten Bisons have scored in 2015, amounting for 22 goals on the season, making the herd second-best in the East Region thus far.
Both games take place at 12:00pm at the Turf Fields – West Side at the university's Fort Garry Campus. For ticket info, click here.