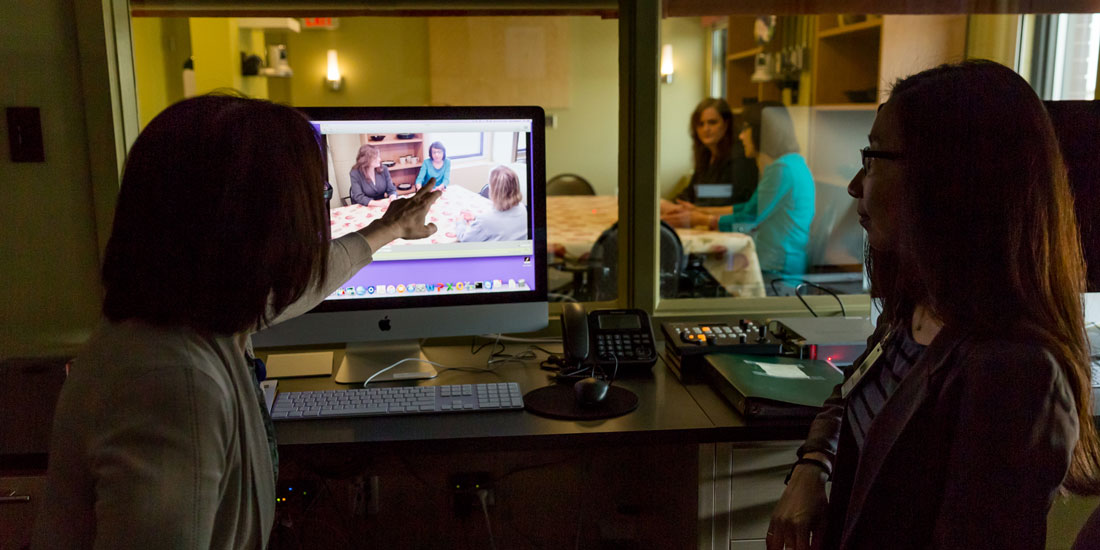 The empathy app
November 15, 2019 —
Do you want to become a more empathic communicator? There's an app for that – well, not just yet, but it's coming.
Michelle Lobchuk [BN/92, MN/95, PhD/01], associate professor in the College of Nursing, believes everyone can become a more empathic communicator. That's why she's taking an exercise she uses in her lab to people's smartphones – a convenient tool to practise empathy in the palm of one's hand.
"To understand another person's needs is key in practising health care," says Lobchuk, who has been a research scientist of the Canadian Cancer Society through an award from the National Cancer Institute of Canada and recently, a Research Manitoba Chair in caregiver communication.
Lobchuk, who grew up near Beausejour, Man., is a proud U of M alumna. Her research focuses on empathic communication, inter-professional team empathy, family caregiving and self-care management.
One of her published studies examined the messages posted in an online community for lung cancer patients and caregivers. Lobchuk found that the community was an accessible avenue for emotional support.
She has also studied the emotional state of family caregivers of people with multiple sclerosis, and the empathic responses of family caregivers toward patients recovering from strokes.
With Dr. Alan Katz [M.Sc./95], director of the Manitoba Centre for Health Policy, Lobchuk is co-principal user of the CAregiver Communication Research Environment (CAreLab) at the Grace Hospital. The lab was established in 2014 with support from the Canada Foundation for Innovation and other funders.
The CAreLab is equipped with one-way mirrors, video cameras and video-conferencing equipment. It features a home-like kitchen and living room where students take part in scenarios and exercises to improve their empathic communication skills with patients, caregivers and families.
The current exercise begins with 15 minutes of one-to-one coaching on perspective-taking, which is the act of perceiving a situation from another person's point of view and becoming more self-aware of one's biases.
The next step is an empathy-coaching video-feedback process in which a student practises empathic dialogue with an actor who portrays a patient. The student talks with the actor about at-risk health behaviours such as lack of exercise.
After the discussion, the actor reviews the video, identifying and tagging each time he or she felt the student should have picked up on a thought or feeling.
Then it's the student's turn to watch the video, which stops each time the actor tagged it, and infer what the actor was thinking and feeling. The student is then given an empathic accuracy score out of 100.
Lobchuk created the exercise based on the work of Dr. William Ickes, a distinguished professor of psychology at the University of Texas at Arlington. More than 100 students from the College of Nursing, College of Rehabilitation Sciences, Faculty of Kinesiology and Recreation Management and Red River College have gone through the process so far.
When the exercise is developed into a smartphone app, it will have the potential to reach people in fields ranging from health care to business, law and education, Lobchuk says.
App users will video-record a 10-minute conversation between themselves and another person. As with the exercise in the lab, the conversation partners will each tag the video. Then, using an algorithm, the app will provide the user with an empathic accuracy score out of 100.
"Here's the thing about the app and teaching people about perspective taking: it's not a nursing thing, it's not a health-care thing, it's a psychological thing that each and every one of us probably taps into," the professor says. "Our brain lights up on an MRI when we engage in empathic processes."
Lobchuk is currently working with the U of M's Technology Transfer Office and department of computer science on the app project. In December, a university-wide survey was conducted by Dr. Lisa Hoplock, a postdoctoral fellow in the College of Nursing, asking students and faculty for their thoughts on the app. The team also engaged with students from the Asper School of Business to develop a business plan.
"I've never worked with these other disciplines before, so I'm learning, too," Lobchuk says. "They talk in a different language than we do, so you have to walk into these situations like we're expecting our students to do, with open-mindedness and willingness to learn."
Lobchuk hopes to have the app live within two years. It hasn't yet been determined whether it will use a free, paid, or subscription-based model. Her goal is to have the app embedded in the curricula of the colleges in the Rady Faculty of Health Sciences, and then at other universities.
The importance of empathic communication is huge, she says, adding that in a nursing environment, patients won't remember the nurse's technique for giving a needle, but they will remember how that nurse communicated.
"Communication has to be another skill learned in tandem with – if not above in importance – technical skills," she says. "Students want to work on themselves. And students have suggested that clinicians should repeat this exercise for themselves at least once a year."
Lobchuk says she loves seeing the transformation of the students who pass through the CAreLab. "It's that self-growth," she says.