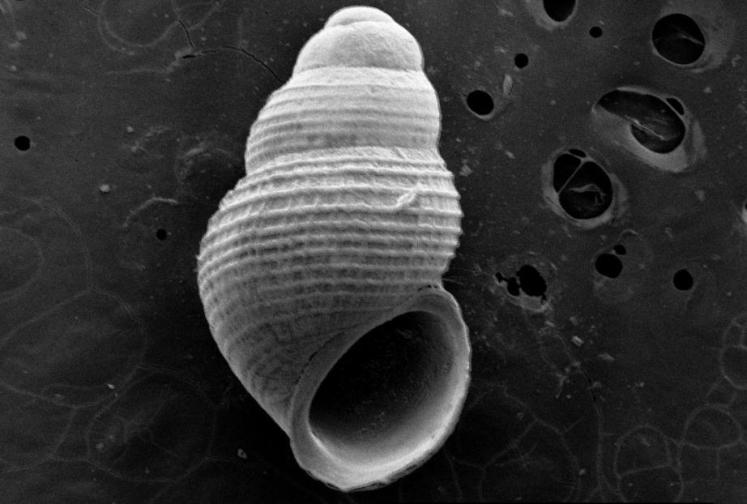 Extreme close ups
November 13, 2013 —
If you use teflon frying pans, this is what the surface of it looks like, magnified 1,600 times. Above this image, is a mollusc, magnified 50 times.
The images on this page are courtesy of the U of M's Manitoba Institute for Materials (MIM).
MIM facilitates and enhances basic and applied materials science at the university and across the Prairies. The institute encompasses a number of multidisciplinary research themes with professors from numerous departments across campus. They take images of many things, like silicon rods and this image below — salt on a poorly washed membrane.
Below is an image of pollen, magnified 3,600x,  from the perennial wildflower balsam ragwort  (Senecio pauperculus, Asteraceae). A graduate student working with MIM used pollen grain images such as this to construct a "pollen library" of co-flowering species associated with the endangered small white lady's slipper orchid (Cypripedium candidum). Co-flowering pollen was collected from insects and from residual pollen inadvertently left on the orchids themselves. Samples were compared with images in her pollen library.  This comparison allowed her to determine which flowering plant species were important to the pollinators of Cypripedium candidum.
Pollen grain is from balsam ragwort (Senecio pauperculus, Asteraceae)
Below is an image of pollen from blue flax (Linum lewisii, Linaceae). The image was used by Jordan Becker in his taxonomic study of the Linum lewisii complex in North America:

Blue flax (Linum lewisii, Linaceae)
Research at the University of Manitoba is partially supported by funding from the Government of Canada Research Support Fund.