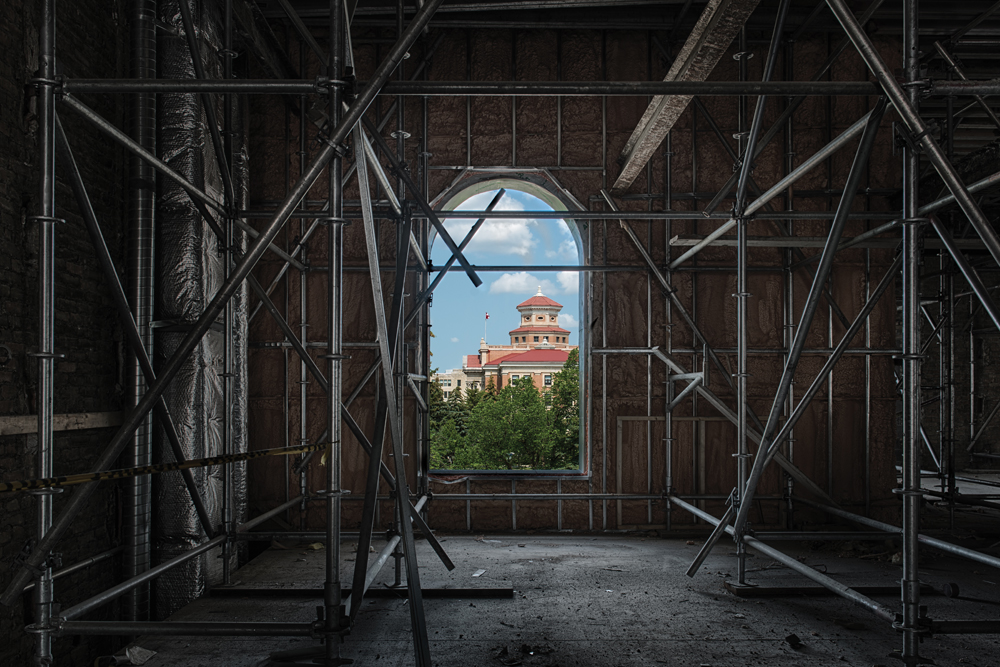 Taking our place, Front and Centre
U of M introduces Manitoba's most ambitious philanthropic campaign
November 19, 2014 —
The University of Manitoba has embarked on a campaign to position this province front and centre on the world stage.
Today, the University of Manitoba introduces its Front and Centre comprehensive campaign. Its visionary goal is to raise $500 million to support the university's strategic priorities in teaching and learning, discovery, and community engagement. This transformational campaign will attract the largest philanthropic investment in Manitoba's history, forever changing the trajectory of our province's long-term economic, social, and cultural vitality.
Front and Centre will officially launch in the fall at Homecoming 2015. At that time we will celebrate Front and Centre's progress to date, and share how everyone can take their place in this campaign and shape the story of Manitoba.
The University of Manitoba is also excited to introduce the Front and Centre campaign chair, Mr. Paul Soubry, President and CEO of New Flyer Industries. An alumnus of the U of M, Soubry has been CEO of New Flyer since 2009; prior to this he was CEO of StandardAero.
"As an alumnus and Manitoban, it is a great honour for me to be able to give back to the community through this campaign," Soubry says. "The University of Manitoba is this province's social, economic and cultural engine, constantly elevating every aspect of life here. It's exciting and rewarding to be the chair of this campaign, which will enrich Manitoba in so many different ways."
Front and Centre has five priorities, strategically chosen to ensure it has enduring influence on Manitoba's success for generations to come:
Indigenous Achievement – Manitoba will become a centre of excellence for Indigenous education and research.
Graduate Student Support – Manitoba's capacity for innovation will grow with an increased number of exceptional graduate students.
Research Excellence – Our researchers and scholars will make discoveries that contribute to knowledge, grow the economy, and improve lives here and around the world.
Outstanding Student Experience – Our students will benefit from exceptional experiences and support.
Places and Spaces – Our community's quality of life will be enhanced through new environments for learning, discovery, and engagement.
'The legacy of this campaign will be profound….'
"We named this campaign 'Front and Centre' because the University of Manitoba's place of influence in our province and the world lies at the front of crucial national conversations, and in the centre of communities and lives at home and around the world," says David Barnard, President and Vice-Chancellor at the University of Manitoba. "The legacy of this campaign will be profound, supporting transformational change at the University of Manitoba and beyond: in our city, our province, and our global society."
Front and Centre is currently in its "quiet phase," during which time the University has been gauging support from community members, working with them to shape the campaign's vision and securing preliminary fundraising before officially launching the campaign in September 2015.
"We are inspired by the overwhelming support and encouragement we have been receiving from our community and we are confident this will translate into us achieving our ambitious goal," says John Kearsey, Vice-President (External) at the University of Manitoba.
The last philanthropic campaign undertaken by the U of M—Building on Strengths Campaign—completed on March 31, 2004, and it surpassed its $200 million goal and raised over $237 million. This supported the Engineering and Information Technology Complex, the trendsetting facility for the Faculty of Pharmacy, the inner-city social work program, the expansion of the Faculty of Law, and many other projects.
No other Manitoba institution that thrives on philanthropic support has the scope and breadth of impact of the University of Manitoba. The U of M generates approximately $1.8 billion towards the provincial economy, attracts more than 180,000 visitors to the province annually, and supports more than 20,000 Manitoba jobs.
Manitoba is at a tipping point, experiencing a surge in population growth and a revitalization of economic, social and cultural life. Front and Centre will ensure the University of Manitoba can respond to Manitoba's most pressing needs, and be responsive to some of the world's most pressing issues. University of Manitoba graduates have been instrumental in virtually every advancement in Manitoba, and University of Manitoba graduates will continue to be at the front and centre of Manitoba success stories.
Members of the Front and Centre campaign team are:
Harvey Secter, Honorary Campaign Chair, Chancellor, University of Manitoba
Paul Soubry, Campaign Chair, President and CEO, New Flyer Industries
Gail Asper, President, The Asper Foundation
Alan A. Borger, President and CEO, Ladco Company Limited
Doneta A. Brotchie, FUNdamentals -Creative Ventures
Polly Craik, President and CEO, FineLine Solutions
Arthur A. DeFehr, President and CEO, Palliser Furniture Ltd.
Rick Duha, Managing Director and Principal, Duha Color Services
Mark Evans, Consultant and Past President and CEO, EISI
Albert D. Friesen, CEO, Medicure Inc.
David G. Friesen, Chairman of the Board, Friesens Corporation
Arthur V. Mauro, Past President and CEO, Investors Group
Leonard J. Penner, Past President, Cargill Limited
Hartley T. Richardson, President and CEO, James Richardson & Sons, Limited
Richard E. Waugh, Retired President and CEO, Scotiabank
David T. Barnard, President and Vice-Chancellor
John E. Kearsey, Vice-President (External)
Stephanie Levene, Associate Vice-President (Donor Relations)
What others are saying
Research at the University of Manitoba is partially supported by funding from the Government of Canada Research Support Fund.