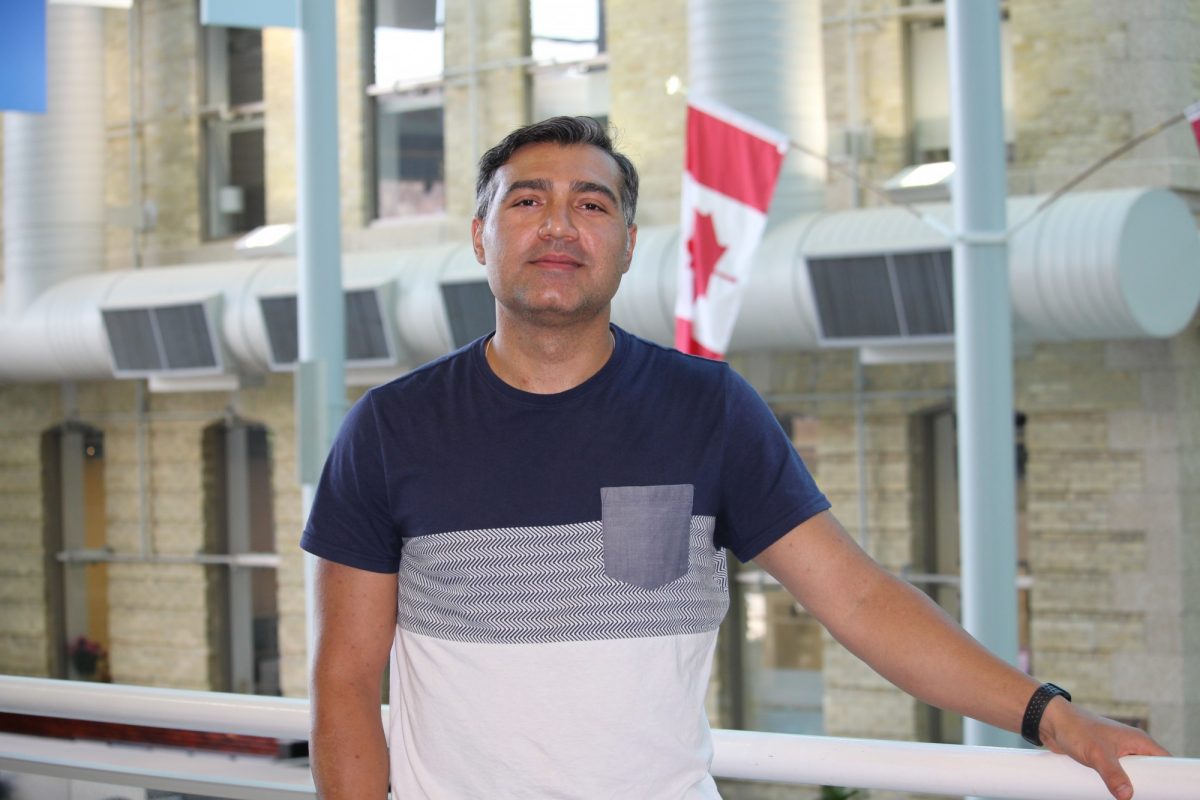 Taking aim at lung cancer's spread
October 24, 2022 —
As soon as cancer cells begin to metastasize, spreading from their original site to other parts of the body, the life expectancy of the patient drastically drops.
Javad Alizadeh, a PhD candidate in the department of human anatomy and cell science in the Max Rady College of Medicine, is attempting to slow this process to contain cancer in one part of the body.
Alizadeh studies non-small cell lung carcinoma. It's not the most aggressive form of lung cancer, but it is the most common, making up about 85 per cent of all cases.
"We know how to treat this type of cancer when it's in the lungs," the scientist says. "As it spreads, it becomes much more difficult to treat. After metastasis, the survival rate for this kind of cancer is 5 to 10 per cent. It's the main cause of death among lung cancer patients.
"If we can slow down or reduce the spread of cancer cells from the primary tumor to other organs, we can improve a patient's prognosis."
To describe the challenge of this work, Alizadeh says to imagine adding sugar to a salt shaker. It becomes more difficult to find the grains of sugar as they mix with the salt. Similarly, as cancer cells spread from the lungs to other parts of the body, they get harder to target and treat.
Alizadeh holds a prestigious Vanier Canada Graduate Scholarship from the Canadian Institutes of Health Research and is a trainee with the Children's Hospital Research Institute of Manitoba. He was awarded a Dean of Graduate Studies Student Achievement Prize for 2021-2022.
Using both cultured cells and a mouse model of non-small cell lung cancer, Alizadeh is studying how autophagy (the "recycling" of old and damaged parts inside cells) is involved in the escape of lung cancer to other organs.
"We think that manipulating this recycling process inside cells can slow down and potentially prevent the metastasis of lung cancer cells," he says.
After finishing his bachelor's degree in medical laboratory sciences and his master's in medical biotechnology at Tehran University of Medical Sciences in his home country, Iran, Alizadeh sought to conduct cancer research.
While working at the top cancer research institute in Iran, he struck up a conversation at a conference with UM associate professor Dr. Saeid Ghavami. The result was that in 2015, Ghavami offered Alizadeh a research assistant fellowship position at UM and became his supervisor.
Alizadeh was interested in science from a young age, but also has a personal connection to his research area.
"In high school, I really liked chemistry and mainly biology. Learning about how our cells work and how our body functions was so interesting," he says. "Then in university, I got more interested in cancer research. I think one of the main things that steered me to that track was my dad passing away from cancer."
That experience also gave him an understanding of what patients and their families are going through when they come to CancerCare Manitoba for treatment.
"Every morning I walk to school here. I see either cancer patients or their family members bringing them for chemotherapy. I wish I could speak to them and explain a bit more about what we do and how they will benefit from the research," he says.
His research is the first step toward a different way to treat non-small cell lung cancer, one he recognizes will likely take time.
"I hope that the findings from my research will be the start of other research projects because there is a long road ahead. That's why we need collaboration with all other researchers in the field to build on this," he says.