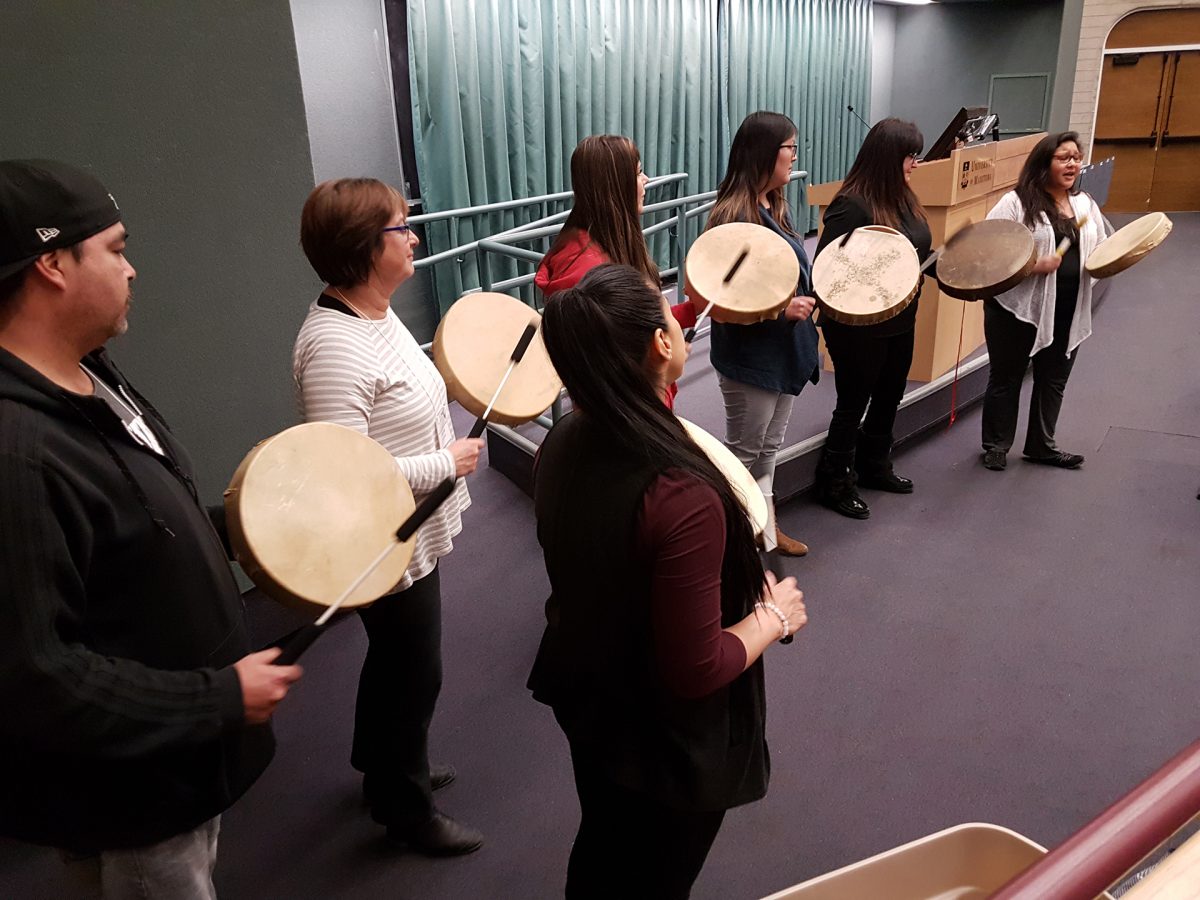 Upcoming symposium to focus on Indigenous voices in health research
January 21, 2020 —
Ongomiizwin – Research, part of the Rady Faculty of Health Sciences' Indigenous Institute of Health and Healing, will host its seventh annual Indigenous Health Research Symposium, "Past, Present, Future: Telling Our Stories" on January 23 and 24 on Bannatyne Campus.
The symposium will bring together Elders, community members, current and prospective researchers, health professionals and partners who are committed to improving health outcomes in Indigenous communities. Participants will present research findings and share ideas about Indigenous health research.
This year's theme, "Past, Present, Future: Telling Our Stories," explores the importance of centring the Indigenous voice in health research and the critical role that language plays in disrupting colonial narratives.
"The annual symposium is an opportunity for us to come together, exchange ideas about programs, innovations, research and emerging ideas in a safe space," said Dr. Josée Lavoie, director of Ongomiizwin – Research and professor in the Rady Faculty of Health Sciences. "This year will be our largest ever, and promises to be a very dynamic and exciting learning and networking opportunity for all."
The symposium will feature 28 concurrent sessions, 10 panels, and nine workshops over two days on topics such as Indigenous experiences of motherhood; fostering better Indigenous cultural competence in health care; and improving Indigenous access to health care in remote regions. A number of sessions will focus on Indigenous youth, their perspectives on wellness and the importance of mentorship.
There will also be poster sessions featuring 16 university and community-based researchers, students and others who are engaged in research or knowledge translation projects relevant to the health of the region's Indigenous communities.
The symposium will host the premiere of the documentary "Pac-Ow-Tay: Our beating heart stories." The documentary explores heart and heart health rooted in Indigenous worldviews and experiences. It features five First Nations Wisdom Keepers who share stories about Pac-Ow-Tay, which means 'beating hearts' in Cree. A panel and Q & A session with the Wisdom Keepers and two of the story consultants will follow the documentary.
Ongomiizwin – Research is a centre of research excellence. It is committed to building and maintaining productive and respectful partnership-based relationships with First Nations, Metis, Inuit and Indigenous communities, to recruiting Indigenous students and scholars, to providing effective support and mentorship, and to sharing and building knowledge internationally.
This year's symposium is in collaboration with Ongomiizwin – Health Services' (OHS) 50th anniversary of providing health services to northern and remote Manitoba and Nunavut communities through Ongomiizwin – Health Services (formerly the J.A. Hildes Northern Medical Unit.) The OHS 50th anniversary gala celebration on Friday, January 24 will celebrate the University of Manitoba's leadership in Indigenous health, pay tribute to the many partners and communities with whom OHS has worked over the past five decades, and launch the OHS 50th Indigenous health workforce legacy fund to support and expand opportunities for Indigenous people to enter careers in the health sciences.